Art students are taught by artists. That is how our law students are learning about the art of law.
They learn from our outstanding law faculty, supported by the multidisciplinary academic platform of Jacksonville University, alongside the finest legal artists of the Northeast Florida bench and Bar.
From these teachers, role models and mentors, our law students learn inside and outside the classroom about legal theory, law in practice and the imperative virtues of excellence, professionalism, ethics and service to others so that someday soon they will, in turn, become legal artists whose admirable work will make the people of Jacksonville proud.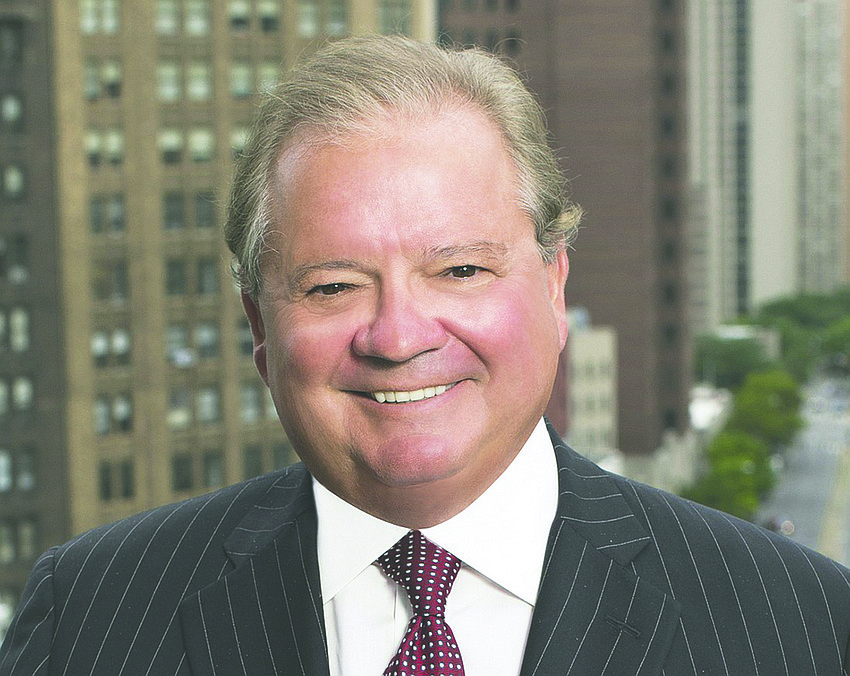 Recently, thanks to the enthusiastic and generous collaboration with JU's Linda Berry Stein College of Fine Arts and Humanities, overnight Terry Concert Hall — primarily used for musical rehearsals and evening performances — was transformed into a real, working courtroom that delivered a powerful and educational legal experience for the JU community.
This experience, which brought to life what our law students are learning in the classroom, marked multiple firsts — it was the first time the 5th District Court of Appeal held court in Jacksonville and the first time that either the university or college of law hosted such an event.
When you think about it, Terry Concert Hall is an apt venue for viewing and learning about law in practice. After all, law is performance art — more art than science.
It is certainly dramatic. Law involves procedural steps reminiscent of many dance styles, from slow waltzes to jaunty allegorical tangos and complex kabuki dancing.
And the language of law is nonfiction exposition that, at its best, rises to poetry. When spoken, law is inherently musical, sometimes baroque, even classical.
As our captivated students observed, legal argument in a courtroom can be downright jazzy, featuring all the elements of that quintessential American genre featuring complex chords, shifting rhythms and tempos, call and response and lots of improvisation by soloists.
From their first days in class, and then continuously, our law school wastes no time getting our students into court. However, the 5th DCA argument enabled us to bring the courtroom to them. And we are thrilled that the judges have indicated that they hope to return regularly.
There are countless other examples of how the leaders of the legal profession in our city teach our students how to put legal education to good use.
This was certainly on display Oct. 5 during the powerfully moving investiture ceremony at the Duval County Courthouse for Judge Adrian Soud.
The speakers, without exception, including Judge Soud's father, Judge A.C. Soud, praised him for embodying the cardinal virtues of our honorable profession: integrity, civility, honesty and dedication to the rule of law.
For me, the highlight was hearing JU undergraduate Emily Soud deliver a powerful, heartfelt, poised tribute to her father.
Our students also benefit from the numerous mentors and learning opportunities they encounter during their regular attendance at legal proceedings at the Duval County Courthouse, use of the federal courthouse library, and their membership in the Jacksonville Bar Association and Jacksonville Women Lawyers Association.
When they attend Bar association lunches and events, they get firsthand exposure to best practices by leading practitioners.
For example, in 2022 and 2023, when the JBA opened its monthly lunch series, The Florida Bar president was the featured speaker. Both times, the president delivered a compelling message about professionalism and compliance with professional rules, reinforcing what we try to drive home to our students inside the classroom.
Our programming, from the Professional Development Panels that our community graciously volunteers their time for, to the 5th DCA event on our campus exemplifies that at our law school, classroom learning is consistently interwoven with practical training.
What sets our law school apart is the engagement with students and outstanding role models who provide vivid lessons about life after law school.
During both of our law school's previous convocations, Chief Judges Mahon and Day, Bar leaders and I emphasized the importance of professionalism, ethics and values in legal education and practice.
This year, prior to convocation, many of our law students attended the portrait dedication of JU alumna, Judge Emeritus Karen Cole. Without fail, speakers praised her for focusing on the hardships of others throughout her long career, especially troubled families and children at risk.
During law school orientation for both of our entering classes, Judge Cole was a featured inspirational speaker. I can think of no better professional beacon for our students to follow. Similarly, every time I am introduced as the Founding Randall C. Berg Jr. Dean of the College of Law, it is both a humbling privilege and a meaningful teaching moment. That is because it ties our college of law to the memory of the iconic Jacksonville lawyer whose entire career embodied the highest aspirations of our honorable profession for excellence, ethics and selfless service, especially helping the underserved and less advantaged.
Both Judge Cole and the memory of Randy Berg are emblematic of the mission of your rising law school: To ensure that when anyone encounters a student or graduate of the Jacksonville University College of Law, they will smile with admiration for the quality of their work, their integrity and contribution to the public good.
This is realistic because of the exceptional educational advantages we have from the contributions of the university, bench and Bar, and Jacksonville community.