Natural foods distributor KeHE Distributors LLC broke ground Nov. 16 on an $88.5 million, 530,474-square-foot warehouse and Southeast headquarters in St. Johns County.
The warehouse is on 40 acres at 3800 Deerpark Blvd. in Elkton, which is less than a mile from the company's current location where it has two warehouses.
The project is expected to open in July 2025.
KeHE will have 29,887 square feet of office space, 390,000 square feet of dry storage and another 105,000 square feet for cold and frozen goods.
Evans General Contractors of Alpharetta, Georgia, is the contractor.
Chicago-based developer Stotan Industrial is developing the build-to-suit development warehouse for KeHE Distributors. It bought the property Aug. 9 for $7.25 million from InLight Real Estate Partners of Ponte Vedra Beach.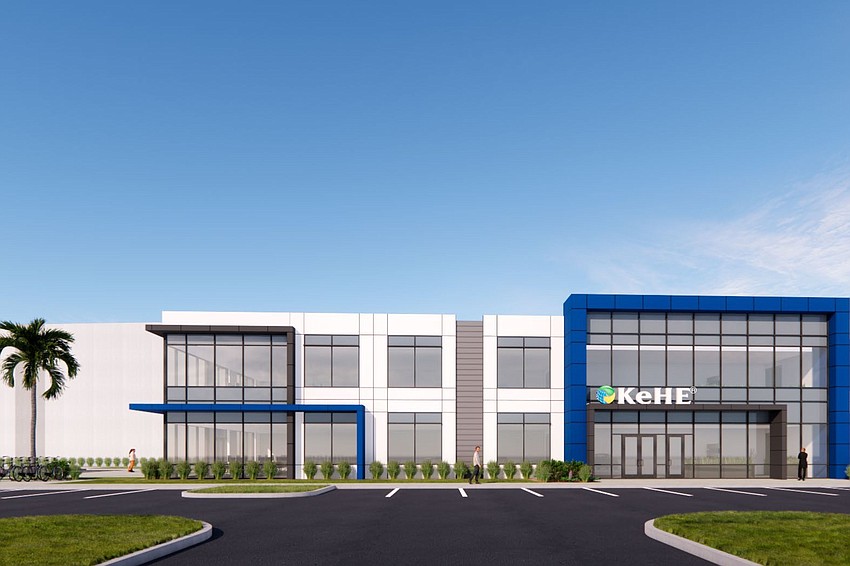 KeHE, also based in Chicago, is the largest distributor of natural, organic, specialty and fresh products to more than 31,000 natural food stores, chain and independent grocery stores, e-commerce retailers, and other specialty product retailers throughout North America. 
KeHE will use the St. Johns County property as one of its Southeast distribution centers, which will include 29,887 square feet of office space for employees, 390,000 square feet of dry warehouse and 105,000 square feet of cooler/freezer space. 
The facility will serve several of KeHE's retail partners throughout parts of the Southeast.
The company has occupied a 241,626-square-foot facility at 4055 Deerpark Blvd. since 2008. The proposed project would more than double KeHE's footprint in St. Johns County. 
KeHE employs about 380 people at the facility and ranks among the top nongovernmental employers in the county, said Chris Sieburg, executive vice president of operations.
KeHE plans to hire 100 more employees after completing the project.
Sarah Arnold, vice chair of the St. Johns County Board of County Commissioners, said a new traffic light will be installed at Florida 207 and Deerpark Boulevard to ease truck access.
In June the St. Johns County Board of County Commissioners agreed to provide an economic development grant of $1,341,410 that will begin in 2027.
KeHE says it distributes organic, specialty and natural food products to more than 31,000 natural food stores, independent grocers as well as general food stores like Publix. It has 16 distribution centers in the United States and Canada.
The St. Johns County branch serves stores from North Carolina to the Florida Keys and west through the Florida Panhandle.
Sieburg said that during the site search it was important that the company kept its location in St. Johns County.
"The hardest thing in this economy is to find great talent and retain them," he said.
"Our bias was always to be here because it costs millions of dollars to rebuild (a new workforce)."
In 2010 KeHE acquired Tree of Life, whose U.S. operations were based in St. Johns County. The purchase also included Tree of Life Canada and together it was a $190 million deal.
KeHE is based in Naperville, Illinois. Its 2022 revenue was $1.2 billion in 2022, according to zippia.com.
Colliers Executive Director Guy Preston in Jacksonville and Vice Chair Frederick Regnery in Chicago represented KeHE in the site selection.