The restaurant in the Casa Monica Hotel in St. Augustine has changed its name, menu, decor and even its tableware.
The Cordova Coastal Chophouse & Bar was formerly called Costa Brava.
The hotel building was constructed in 1888 at 95 Cordova St. At one time, it was owned by Henry Flagler and operated as the Cordova Hotel. 
The current hotel opened in 1999 and is part of The Kessler Enterprise brand.
Executive Chef Rob DeGrassi has created a menu that reflects the flavors and ingredients of Southern Spain and Morocco.
It is part of an estimated $3 million renovation that includes the lobby and will eventually include room makeovers, said Jordan Stokes, Casa Monica Hotel general manager.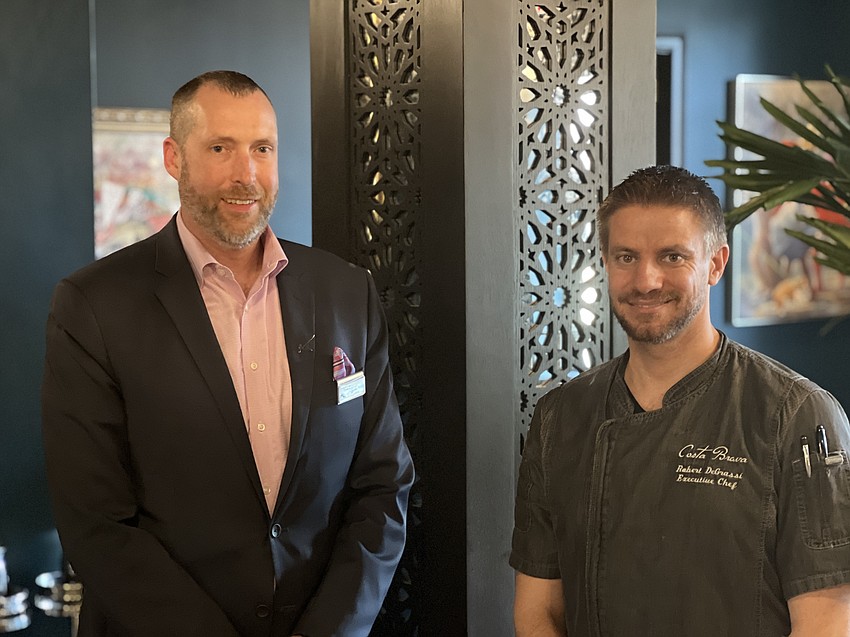 When creating the new restaurant, Stokes said the target market is locals. His experience is that in a tourist area like St. Augustine, a hotel guest may have breakfast or even lunch at the hotel, but they most likely want to eat dinner elsewhere.
"We want to get the locals in. There's nothing similar to what we are offering in town," DeGrassi said.
The menu is the expected chophouse fare – steaks, fish and seafood – with sides sold a la carte. Appetizers are $14-$19 and protein entrees are $36-$72. Stokes estimated that the average cost per customer will be $90 to $120, depending on the choice of wine.
When the hotel decided to make restaurant changes, DeGrassi and Stokes looked at the types of cuisine St. Augustine had to offer. They found a niche in the traditional chophouse space.
By serving familiar dishes, DeGrassi found he could experiment with seasoning to give diners an unexpected flavor experience. That process was made more difficult because the restaurant did not close during the menu changeover. 
Besides working on new dishes, the cooking team still had to prepare breakfast, lunch and dinner as well as serve any banquets or business meetings.
"After writing the menu, I worked through the menu to see what was executable and what was not," he said.
"About 75% of it stayed. The process started in my head, went to paper and then to the plate."
Córdova Chophouse & Bar is open daily for breakfast from 7 a.m. to 11 a.m. and lunch from 11:30 a.m. to 4 p.m.
Dinner hours are Sunday to Thursday dinner from 5 p.m. to 9 p.m. and Friday and Saturday from 5 p.m. to 10 p.m.