GuideWell Mutual Holding Corp., the parent company of health insurer Florida Blue, is the biggest company headquartered in Jacksonville.
But as a mutual holding company that doesn't publicly report financial results, we don't often have a chance to know how big it is.
However, as the company announced the appointment of a new chief financial officer Sept. 27, its news release indicated GuideWell has grown significantly in just the last two years.
The announcement of Jeffrey Goddard's appointment said GuideWell has grown into a "health solutions enterprise" with annual revenue of $30 billion.
That would make GuideWell one of the 150 largest U.S. companies, based on Fortune 500 data. But Fortune magazine's annual list of largest companies doesn't include businesses that don't publicly report data.
Just two years ago, GuideWell was saying annual revenue was at $20 billion.
The company did expand in February 2022 with the acquisition of Triple-S Management Corp., licensee of the Blue Cross Blue Shield insurance brand in Puerto Rico, adding about $4 billion in revenue.
Besides Florida Blue and Triple-S, GuideWell said it owns or has significant interests in several other health care businesses.
GuideWell is about double the size of the largest Jacksonville-based company in the Fortune 500.
Railroad company CSX Corp. ranked 279th with 2022 revenue of $14.86 billion.
GuideWell said Goddard joined the company as executive vice president and CFO, succeeding Thurman Justice, who took over leadership of the managed care business at Triple-S.
Goddard was most recently senior vice president and CFO for CVS Caremark.
ICE: Black Knight deal helps mortgage 'ecosystem'
After Intercontinental Exchange Inc. agreed in May 2022 to acquire Jacksonville-based mortgage technology firm Black Knight Inc., antitrust officials were concerned the deal would give ICE too much control over mortgage technology in the U.S.
Now that the deal is completed, ICE officials said in a Sept. 28 conference call the merged businesses will benefit everyone involved in the mortgage process.
Ben Jackson, president of ICE's mortgage technology business, said the company was convinced when it agreed to buy Black Knight that the deal would result in an improved mortgage workflow.
"Over the last 16 months, our confidence in that strategic vision has only increased," he said.
ICE's technology will be able to handle mortgage loans from origination to final settlement "in one digital ecosystem," Jackson said.
Black Knight dominated the market for technology for servicing existing home loans, handling processing for nearly two-thirds of all first mortgage loans.
ICE is the market leader in technology for originating mortgage loans.
"The breadth and depth of what we have assembled touches nearly every home mortgage in the United States and is a platform that we believe will enable us to provide the foundation for improving risk management in this major consumer credit market," ICE Chief Executive Jeff Sprecher said in the conference call.
"Together with Black Knight, ICE is well positioned to improve the execution and subsequent settlement and servicing of U.S. home mortgages, the major credit exposure for most U.S. consumers," he said.
To satisfy antitrust concerns and gain Federal Trade Commission approval for the merger, the companies agreed to sell off Black Knight's loan origination technology business called Empower and its data subsidiary Optimal Blue.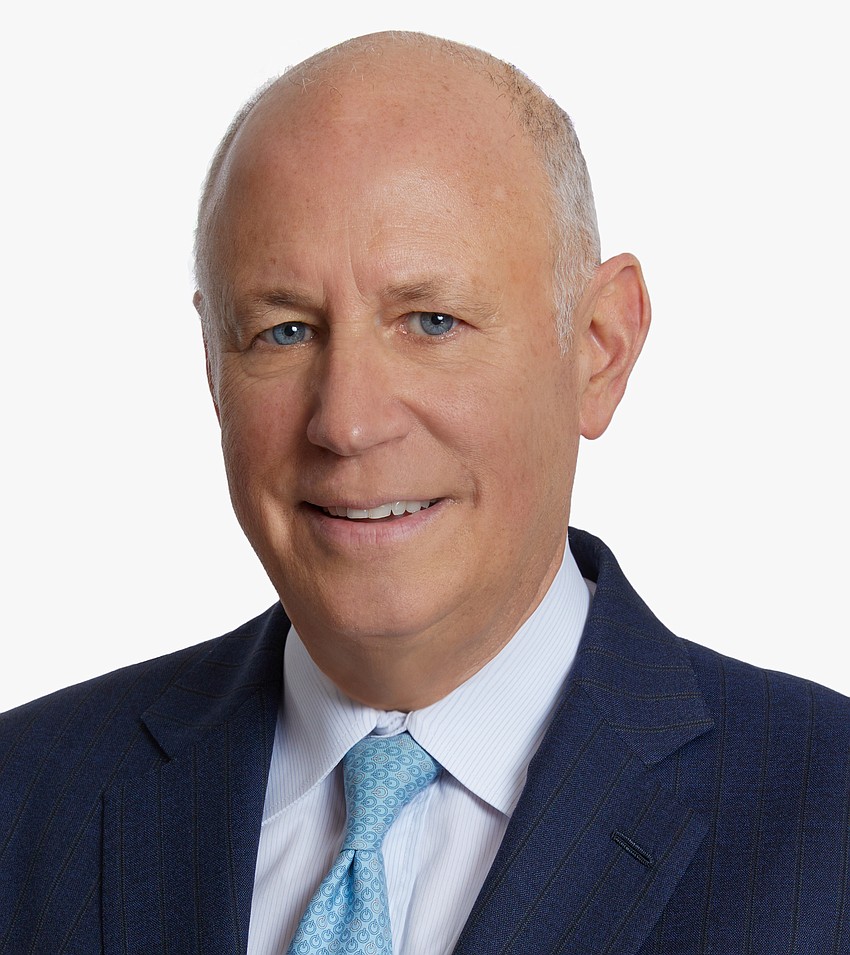 However, the deals to sell those units to Constellation Software Inc. included an agreement that will give ICE mortgage technology clients access to Optimal Blue's data services under its new ownership.
While ICE's mortgage technology operations serve business customers, Sprecher said the merged company will be able to provide data that will help its clients deal with consumers.
"With Black Knight, we are now in a position to see data and micro trends that give us valuable insight into existing homeowners and prospective homeowners in the United States," he said.
Black Knight is a successor to a long line of Jacksonville-based companies that have provided mortgage technology services since the 1960s.
ICE has not announced any specific plans for Black Knight's Jacksonville operations after the merger.
A company spokesperson said in an emailed statement Oct. 3: "With about two thousand people already in Jacksonville, and room to grow, it will quickly become an important part of ICE's operations."
Atlanta-based ICE provides financial technology in a number of areas and is best known as operator of the New York Stock Exchange.
Jackson said in the conference call that with Black Knight added to the company, the mortgage technology business will increase from 14% of ICE's total revenue to 25%.
St. Joe gains help chairman's fund
Reuters news service reported that a strong third-quarter stock performance for The St. Joe Co. helped its chairman's mutual fund produce some of the best returns for the quarter.
St. Joe Chairman Bruce Berkowitz's Fairholme Fund controls about 34% of the company's stock, according to its latest Securities and Exchange Commission filings, and Reuters said the fund has more than 80% of its assets in St. Joe stock.
As the overall market fell in the third quarter, St. Joe's stock rose 14%, with a big gain in late July after the real estate development company reported strong third-quarter earnings.
As a result, Fairholme rose 17% in the quarter while another fund with a large stake in St. Joe, the Schwartz Value Focused Fund, rose nearly 15%, Reuters said.
Meanwhile, the Dow Jones Industrial Average fell 2.6% and the S&P 500 fell 3.6% in the quarter.
Panama City Beach-based St. Joe was a long-time conglomerate headquartered in Jacksonville before selling off its other businesses to focus on real estate development.
The company moved the headquarters to the Florida Panhandle in 2010 to be closer to its real estate holdings.
High rates affect Dream Finders, other homebuilders
Dream Finders Homes Inc. was the best-performing stock among Jacksonville-based companies in the first half of 2023, nearly tripling in price.
However, continued high interest rates are hurting the homebuilder sector, and Dream Finders' stock has dropped sharply since peaking in early August.
The stock ended the third quarter at $22.23, down nearly 30% from its Aug. 7 peak of $31.60 and down nearly 10% for the entire third quarter.
However, Dream Finders still had a net gain of more than 150% for the first nine months of the year.
FPL parent's stock drops sharply
NextEra Energy Inc.'s stock dropped sharply after a related business said it was cutting its growth expectations.
Juno Beach-based NextEra is the parent company of Florida Power & Light, which provides electricity to 5.8 million Florida customers. It serves most of the state's East Coast outside of Jacksonville.
NextEra formed a limited partnership in 2014 called NextEra Energy Partners, or NEP, to own and manage clean energy projects.
The limited partnership announced Sept. 27 it was cutting the expected growth rates for distributions to its shareholders to 5% to 8%, with a target growth rate of 6%, down from the previous level of 12% to 15%.
NEP cited tighter monetary policy and higher interest rates for the cut.
That caused NEP units to lose more than half their value, falling from about $50 two weeks earlier to a low of $24.25 on Oct. 2.
NextEra's stock fell from the upper $60s to a low of $50.18 on Oct. 2.
Wells Fargo analyst Neil Kalton cut his rating on NEP from "overweight" to "equal weight" Oct. 2 and cut his price target from $80 to $33.
"Despite a still strong secular backdrop for renewables and a high quality sponsor (NEE), NEP's existing cost of capital raises questions about the  partnership's ability to execute on growth initiatives," Kalton said in his research note.
In a Sept. 28 note, J.P. Morgan analyst Jeremy Tonet said he was maintaining his "overweight" rating on NextEra Energy Inc., or NEE, after the NEP announcement.
"While these concerns and sharp NEP weakness could weigh on NEE in the near-term, we see the sell off as overdone. We still see FPL as one of the best utilities in the country (benefiting from a constructive regulatory backdrop and favorable economic trends)," Tonet said.
FEC Railway expanding intermodal services
The Jacksonville-based Florida East Coast Railway announced a deal Sept. 27 that will expand its intermodal business.
FEC, which operates a 351-mile railroad from Jacksonville to Miami, said it agreed with Norfolk Southern Corp. to provide intermodal service at FEC terminals in Fort Pierce and Fort Lauderdale.
Norfolk Southern was already providing services at FEC terminals in Miami and Titusville, it said.
Atlanta-based Norfolk Southern is the main competitor of CSX, providing railroad services in much of the Eastern U.S.
Its railroad connects to FEC's rail line in Jacksonville.
FEC said the new agreements will help it offer services for freight customers to more U.S. cities outside of Florida.
FEC is owned by GMXT, the transportation subsidiary of Mexico City-based Grupo Mexico.
GMXT acquired the Florida railroad in 2017.
Safe & Green Holdings spinoff completed
Safe & Green Holdings Corp. completed the spinoff of its real estate development subsidiary into a separate company on Sept. 28, and Safe and Green Development Corp. is now trading on Nasdaq under the ticker symbol "SGD."
Safe & Green Holdings continues to trade under the ticker "SGBX."
The company's main business is converting cargo shipping containers into buildings, and it announced its plan to spin off its real estate development company in December 2022.
The company was formerly known as SG Blocks and was headquartered in Jacksonville, but it moved its offices to Miami in early 2023.
Both companies are headquartered in Miami.