Rayonier Advanced Materials Inc., or RYAM, held an investor day Oct. 10 at the New York Stock Exchange to highlight its operations.
However, a recent action by a competitor was the "top-of-mind issue" for the Jacksonville-based company, according to CEO De Lyle Bloomquist.
Atlanta-based Georgia-Pacific announced Sept. 18 it is closing its cellulose products mill in Perry, near Tallahassee.
"This in my mind is an inflection point for the industry," Bloomquist said as he began his presentation to investors.
"It's going to address about 50% of the excess capacity in the cellulose specialties business."
High purity cellulose products are RYAM's main business, producing $1.34 billion of its $1.72 billion in 2022 revenue.
RYAM has struggled with disappointing financial results since it split up with timber and real estate company Rayonier Inc. in 2014, and reduced capacity in the cellulose products industry will likely help pricing for RYAM's products.
While RYAM officials addressed other issues at the investor meeting, "we think the most important takeaway from the day was the confirmation of the materiality of GP's closure as it relates to CS industry supply-demand balance, and the readthrough to improving production mix and pricing for RYAM," RBC Capital Markets analyst Paul Quinn said in a research report.
"RYAM is well positioned to pick up a good share of its business compared to competitors. Management noted that some of GP's historical CS customers are already customers of RYAM, which we think helps put them on solid footing to win the business," he said.
RYAM operates cellulose product plants in Fernandina Beach and Jesup, Georgia, and two plants in Canada and France.
The company also produces paperboard and high-yield pulp at the Canada plant and Bloomquist said it was looking at strategic options for those noncore assets.
RYAM then announced Oct. 13 it engaged a financial adviser to explore a sale of those assets. It would use the proceeds to help pay down debt.
Bloomquist, who was appointed CEO in May 2022, said debt reduction is a top priority. RYAM has reported losses from continuing operations for the last four full years and the losses continued in the first half of 2023.
"Q3 was another weak quarter, unfortunately," Bloomquist said.
"We do believe Q4 will be much stronger," he said.
"We do fully understand the near-term challenges that we have to face and we need to correct, but we do think it's more than doable."
Mill closure hurts Taylor County
An Oct. 16 story in the Tallahassee Democrat said the closing of the Georgia-Pacific mill will have a major economic impact on Taylor County and all of Florida.
The company said 525 people will lose their jobs when the mill closes in November. 
Citing a report from the University of Florida Institute of Food and Agricultural Sciences, the Democrat story said the mill accounts for more than 12% of county employment with about 500 additional jobs, including loggers and truckers, affected.
The UF report said the total impact on Florida will be a loss of nearly 2,000 jobs and $9.9 million in state and local taxes, the newspaper said.
FRP taking patient approach to development
As FRP Holdings Inc. held its investor day Oct. 11, CEO John Baker II said the Jacksonville-based real estate developer is taking a patient approach to new projects in the current market.
FRP develops multifamily and mixed-used properties mainly in the Washington, D.C., area. 
During the presentation at one of its Washington properties, Baker said the company is willing to wait out the current environment of high interest rates and construction costs.
"We believe this speaks to what differentiates us from other real estate companies," he said.
"We have a patient, long-term focus."
FRP sold off most of its property portfolio in 2018 and has been working to invest the sale proceeds in new projects.
Baker said FRP has 10 to 15 years of projects in its pipeline and the company expects to continue building value.
"We've got a plan, we've got a machine and we've got a focus," he said.
Ex-Stein Mart CEO Williams dies at 85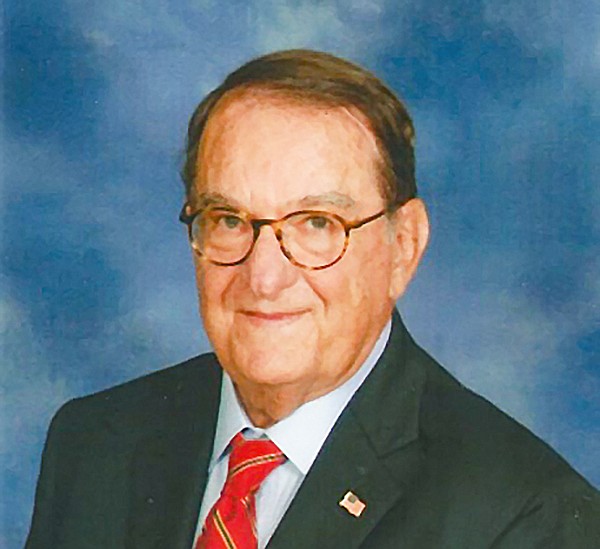 John "Jack" Williams, a longtime Stein Mart Inc. executive who served as CEO from 2001 to 2003, died Oct. 10 at age 85, according to an obituary posted at dignitymemorial.com.
Williams joined the Jacksonville-based fashion retailer in 1980, became president in 1990 and succeeded Jay Stein as CEO in 2001.
After retiring from his executive position, he remained as vice chairman of the board before retiring as a director in 2018.
Stein Mart filed for Chapter 11 bankruptcy and closed its stores in 2020.
CSX upgraded ahead of earnings
Before CSX Corp. kicks off earnings season for Jacksonville companies with its third-quarter report Oct. 19, J.P. Morgan analyst Brian Ossenbeck upgraded the railroad company from "neutral" to "overweight."
"U.S. rail stocks are generating more interest but sentiment on the group is mixed and the model is often considered broken," Ossenbeck said in an Oct. 11 report on transportation stocks.
"CSX has the best near-term growth opportunity with top-tier service and the easiest 4Q23 comps combined with a clear long-term growth strategy," he said.
Ossenbeck said CSX should be trading at a higher price-to-earnings model than other rail stocks because "its best-in-class service will create end market opportunities faster than peers, which is critical as the entire industry now pivots to growth."
He also thinks CSX has done a good job rebuilding its train crews as the industry recovered from the coronavirus pandemic.
"The management team also recognized the labor shortage earlier than peers and we believe likely priced better for inflation embedded in its contracts than peers, which under-accrued for the last labor deal," he said.
Ossenbeck sees the Sept. 8 hire of Mike Cory as executive vice president and chief operating officer as a positive for CSX.
"The appointment of Mike Cory as COO should also provide a boost to the collaborative efforts between marketing and operations while also bringing in an experienced veteran who saw firsthand what happens when the sales organization overcommitted capacity," he said.
Ameris Bancorp upgraded by D.A. Davidson analyst
D.A. Davidson analyst Kevin P. Fitzsimmons upgraded Ameris Bancorp from "neutral" to "buy" on Oct. 10, ahead of the bank's Oct. 27 earnings report.
"We view the bank as benefiting from healthy capital that seems uniquely insulated from unrealized losses tied to higher rates – which we expect will be of heightened interest for investors," Fitzsimmons said in his research note.
He said Ameris is close to a trough in its net interest income and he expects its net interest margin to improve in 2024 as fixed-rate loans are repriced.
"On credit, Ameris has proactively built the reserve the past few quarters, and now has an above-peer allowance for credit losses," Fitzsimmons said.
Ameris moved its executive offices from Jacksonville to Atlanta in 2019 after the bank expanded with an acquisition in Atlanta. However, Jacksonville remains a significant market.
Fitzsimmons' report shows Ameris has 60 of its 168 branches and $8.5 billion in deposits in the Atlanta market, followed by 18 branches and $2.6 billion in deposits in the Jacksonville market.
No other market has more than seven Ameris offices.
MedMal Insurance to be acquired by Connecticut firm
Glastonbury, Connecticut-based Integris Group announced an agreement Oct. 11 to acquire MedMal Direct Insurance Co.
MedMal is a Jacksonville-based medical malpractice insurance company founded in 2010 which operates in Florida, Georgia and Texas.
Integris is a member-owned medical professional liability insurer founded in 1984.
With the acquisition of MedMal, Integris will be licensed to operate in 23 states and Washington, D.C.
"We are pleased to announce this partnership with MDIC in order to continue to expand and diversify the company's geographical footprint," Integris CEO Stephen J. Gallant said in a news release.
Terms of the deal were not announced. The transaction is expected to close in December.
Florida Gulf & Atlantic railroad wins $23.2M grant
Gulf & Atlantic Railways announced Oct. 11 that its Florida Gulf & Atlantic Railroad will receive a federal grant of up to $23.2 million for track improvements.
The grant from the Federal Railroad Administration will be used for the railway's $31.1 million Florida Panhandle Rail Resiliency and Connectivity Project.
The project involves track improvements, strengthening and reinforcing the right-of-way along Escambia Bay and upgrades to several bridges along a 100-mile stretch of the railroad's main line in the Panhandle.
The Panhandle railroad is one of five short-line and regional railroads owned by Jacksonville-based Gulf & Atlantic.
"Much like others, this railroad is the economic lifeblood of cities and towns throughout the Florida Panhandle," Gulf & Atlantic CEO Ryan Ratledge said in a news release. 
"Paired with our matching funds, this federal grant will go a long way toward enhancing this corridor's vitality, improving its safety and fostering the revitalization of the communities it serves."
Revalize acquires food-service software firm
Jacksonville-based Revalize announced Oct. 11 it acquired KCL, an Orlando-based company that designs software for food-service equipment.
Revalize, which provides software for manufacturers, was formed in June 2021 by AutoQuotes LLC and private equity firm TA Associates.
Revalize CEO Mike Sabin said in a news release the acquisition of KCL "further strengthens our already market-leading capabilities within the foodservice industry."
"This addition continues to expand our global footprint and bolsters our commitment to reshaping the world of manufacturing software across industries," he said.
Terms of the deal were not announced.