Projects totaling about $8 billion are in the works for Downtown Jacksonville, a $5 billion increase from a year ago, according to the 2023 State of Downtown Report released Oct. 26 by Downtown Vision Inc. 
Downtown Vision is the nonprofit Business Improvement District for Downtown Jacksonville. 
The report, created by the DVI, the Downtown Investment Authority and Build Up Downtown, focuses on development from Jan. 1, 2022, to June 30, 2023.
The Downtown area includes the Brooklyn, LaVilla, North Core, City Center, Cathedral Hill, Southbank, Sports and Entertainment and Working Waterfront areas.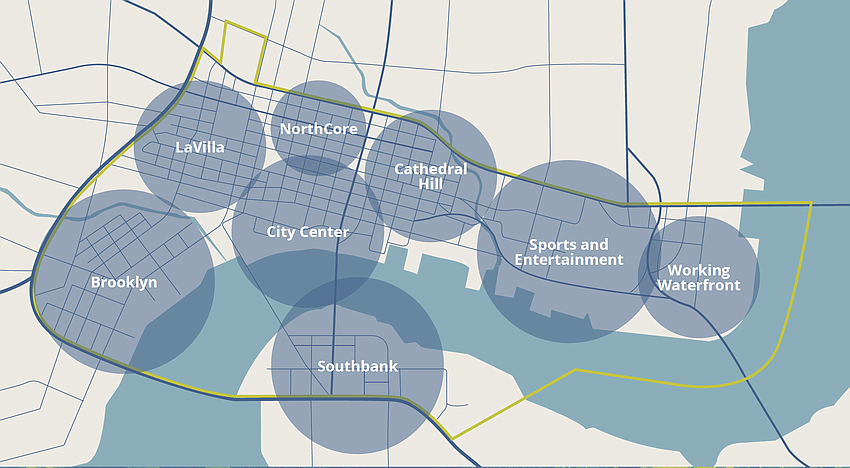 "Our annual State of Downtown Report outlines and analyzes all the Downtown data to view our progress all in one place. From expanded waterfront access and tourism amenities to unprecedented residential growth, this report shows many sides to the growth of DTJax," Jake Gordon, CEO of Downtown Vision Inc., said in a news release.
The report said $723 million in projects have been completed since 2022, $2.42 billion are under construction, $1.57 billion are in review and $3.39 billion are proposed.
Among the projects under construction include the Artea apartments; Home2 Suites by Hilton; Johnson Commons town homes; Fincantieri North Florida Dry Dock; the Lofts at Cathedral apartments; the One Riverside Avenue apartment and retail development; The Shipyards and Four Seasons; Rise: Doro apartments; and RiversEdge: Life on the St. Johns.
Some of those in review include the American Lions apartments, Laura Street Trio, RD River City Brewery Apartments and Pearl Street District.
Downtown residential
The report said 1,442 housing units have opened in the past five years and 1,580 are under construction. 
It said three residential buildings have opened since 2022: The Southerly, Ashley Square Apartments and 218 Church Street, with a combined 329 units.
There are eight communities under construction, totaling 1,580 units.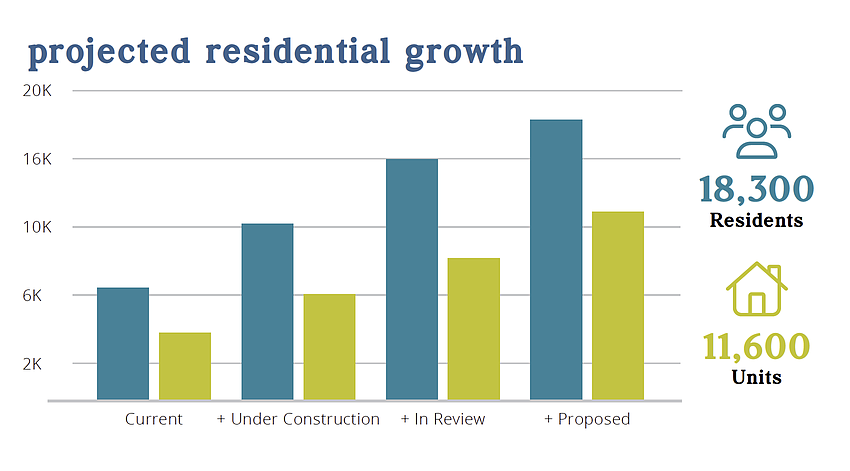 In addition, 14 communities are in review totaling 3,448 units and four are proposed totaling 1,984 units.
The report found more than 7,695 Downtown residents in 4,619 units with an average occupancy of 97.4%.
The report projects a population of 18,300 residents in 11,600 units if all the proposed, in review or under construction projects are completed.
"The number of residents has grown by more than 50% in the past five years and Downtown is on track to quickly surpass 10,000 residents," the report said.
Downtown residents
According to the Downtown 2023 Downtown Resident Survey, 89.3% like or love living Downtown, 56.5% have an annual household income of $80,000 or more and 72.2% have a four-year degree or higher.
It said that 45.2% live in two-person households, 67.7% are renters and 55.4% have lived Downtown for more than three years.
It said the best things about living Downtown were waterfront/river access, walkability and bikeability, a city living atmosphere and vibe, restaurants and proximity to work.
The worst things about living Downtown were panhandling and loitering, feeling unsafe, a lack of retail and shopping, a lack of cleanliness and businesses not open evenings or weekends.
Downtown office market
The report said 53,600 employees work Downtown in 2,400 businesses.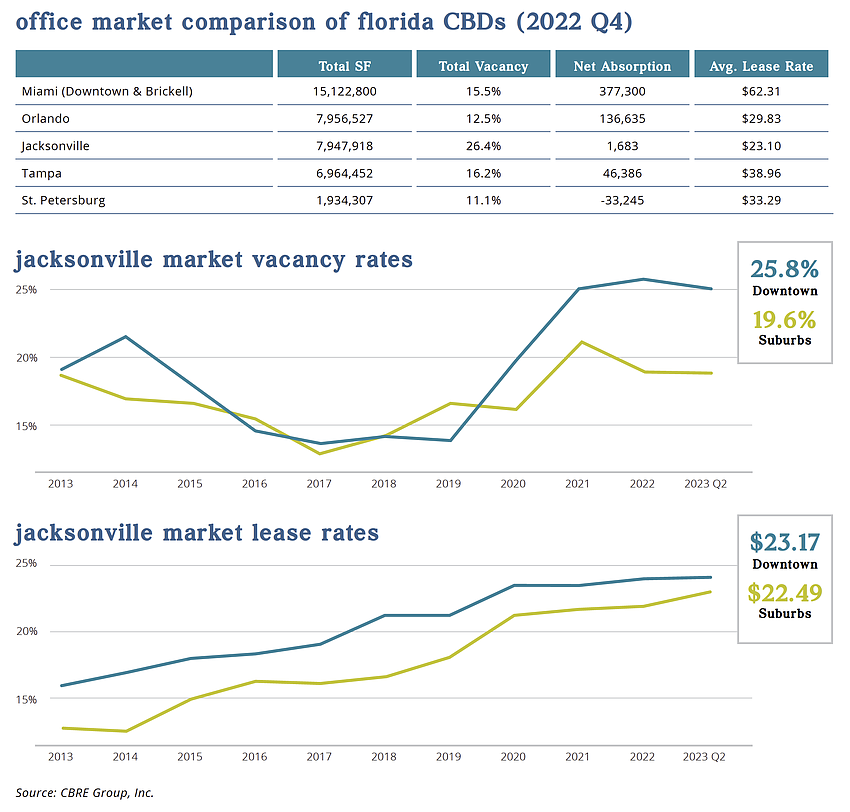 It said the Downtown has 7.95 million square feet of office space, about the same as Orlando.
The report said that two new headquarters buildings, for Fidelity National Information Services Inc. and JEA, have added more than 500,000 square feet of space.
It found a Downtown vacancy rate of 25.8% compared with 19.6% in the suburbs. The Downtown market lease rate was $23.17 vs. $22.49 in the suburbs. 
By comparison in the 2022 State of Downtown Report, the vacancy rate was 26.1% compared with 19.8% in the suburbs. The 2022 market lease rate was $22.96 Downtown vs. $21.94 in the suburbs.
"The market is experiencing larger fluctuations in occupancy due to businesses seeking greater flexibility, the rise of hybrid work schedules, and concerns over inflation and a potential recession," the report said.
Workers
According to the Downtown Vision 2023 Downtown Employee Survey, 84.4% of workers like or love working Downtown, 64% have an annual household income of more than $80,000 and 73.2% have a four-year degree or higher.
For workers driving Downtown, 48% have a commute of 20 minutes or less.
The report also offers insight on hybrid work, with 42.5% of respondents working remotely part or full-time.
It found 24.6% are hybrid with flexible remote days; 12.2% are hybrid with designated remote days; and 2.7% are remote with limited or no days in-office. Another 3% reported other.
Downtown workers said the restaurants; waterfront; convenience/central location; walkability and bikeability; and culture are the best things about working Downtown.
Panhandling; lack of sense of place/curb appeal/empty storefronts; feeling unsafe; the cost of parking; and the lack of retail and shopping were the worst things.
Retail market
The report said that 245,000 square feet of retail space is under construction.
Businesses opening in 2022 and 2023 include Cava Grill, CX904 (Creative Exchange), Indulgence Southern Bistro, My Salon Suites, Ocean Street Tacos, Panera Bread, The Greenhouse Bar, City Grille & Raw Bar, Industry West, Insomnia Cookies, Panda Boba and Tea Shop, Plenti | Poke, Bowls and Blends, Setlan Coffee Co. and The RL Lounge: Jacksonville Cocktail Lounge.
The report found 16 establishments announced, including Alder & Oak, Pet Paradise and Whole Foods.
Visitors & hotels
The report said 18.5 million people visited Downtown Jacksonville in 2022, up from 16.4 million in 2021. It said in the first two quarters of 2023, the number of visits is up 4.4% from a year ago.
The first new hotel to open Downtown since 2009, a Residence Inn, opened in 2022, bringing the number to nine with a  total of 2,496 rooms.
The report said three hotels are under construction, The Ambassador Hotel - TRYP by Wyndham, Home2 Suites by Hilton and the Four Seasons at the Shipyards, totaling 390 rooms.
The report found a total of 532,945 hotel room nights in 2022, down from 556,448 in 2021. Occupancy fell from 64.6% in 2021 to 61.9% in 2022. 
As of June 30, Downtown hotel occupancy is at 63%.
Culture, entertainment, education and medicine
The report highlighted recent openings and planned projects in culture, entertainment, education and medicine:
• The Jacksonville University College of Law, Florida's first new law school in 20 years, which opened in 2022.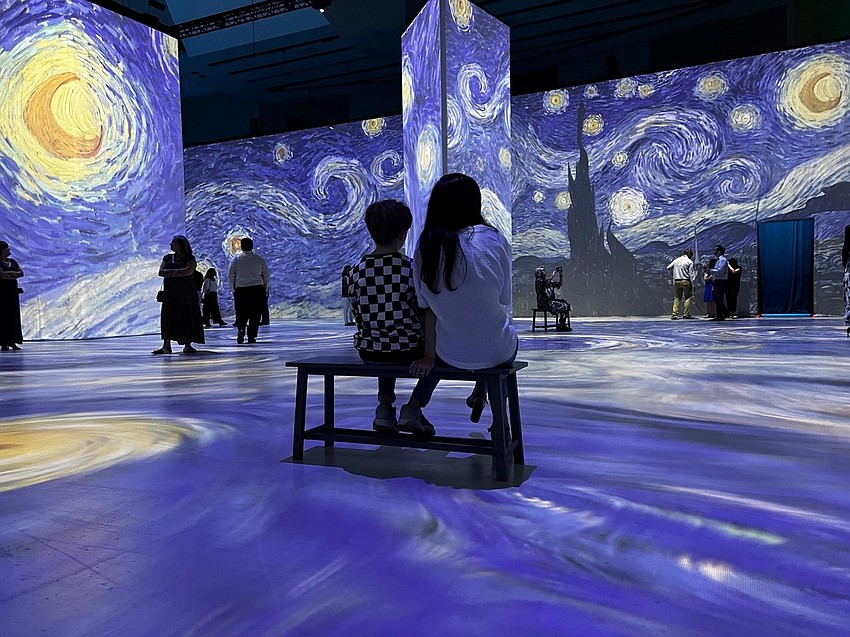 • The 40,000-square-foot NoCo Center to host immersive experiences such as Beyond Van Gogh and Beyond King Tut.
• The University of Florida JaxLab, a Center for Architecture Education and Research in the Gothic St. John's Episcopal Cathedral education building and its proposed $200 million graduate campus.
• The Mayo Clinic Community Health Collaborative.
• The renovation of the Florida Theatre.
• The opening of Miller Electric Center, the new practice facility for the Jacksonville Jaguars.
• The planned new Museum of Science & History at the Shipyards.
• The Jaguars announced conceptual plans for a new "stadium of the future."
Parks
The report said there are 18 parks and trails within 1 mile of Downtown on nearly 70 acres. In addition, eight more are under construction, in review or proposed.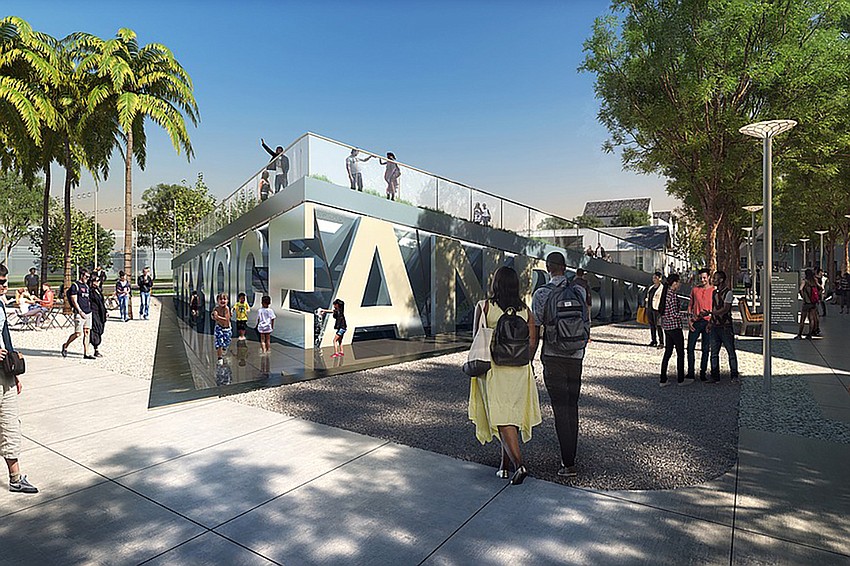 Those under construction include St. Johns River Park and Friendship Fountain; Musical Heritage Garden; Riverfront Plaza; McCoys Creek Restoration & Greenway; Lift Ev'ry Voice and Sing Park and Artist Walk. They total $166.7 million.
Shipyards West Park is in review and the Hogans Creek Restoration & Greenway Trail is proposed.
Find out more
The full report is available for review and download at DTJax.com/downtown-reports. In addition to the report, users can find additional Downtown research at DTJax.com/Research.