The number of closings on single-family homes in the region fell 16.4% in July compared with June, according to a monthly report from the Northeast Florida Association of Realtors.
Though sales slumped, the median price for a single-family home rose to $395,000, up 1.3% from June.
NEFAR tracks the housing market in Baker, Clay, Duval, Nassau, Putnam and St. Johns counties.
"Interest rates, the cost of goods and services, and available supply are all factors in the decline in closed sales," said NEFAR President Diana Galavis in a news release.
Galavis said interest rates and inflation were the primary reasons for the sales dip.
"This reflects Northeast Florida's home affordability index rate registering at 65, which is down 3% from last month and 12% from last year," she said.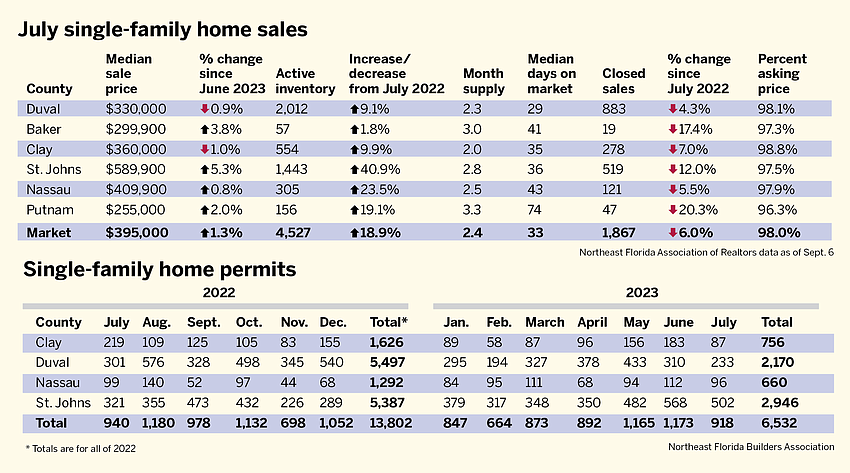 The Home Affordability Index continues to be a concern. The closer the index is to 100 or higher, the better, according to NEFAR.
The index measures the ability of a typical family to afford a typical home based on current interest rates, median income and median home prices.
The index was 65 in July, down from 67 in June and 74 in July 2022. 
The last time the Home Affordability Index was over 100 points was in January 2022 when it was 104.
There were 2,706 new listings in July, compared with 2,844 in June. Sellers received 98% of their asking price. Active inventory in July increased by 2.9%, providing a 2.4-month supply of houses to sell compared with a 2-month supply in June. 
Despite an increase in inventory, it is still not meeting consumer demand.
"Many people are looking to buy, invest, and move to Northeast Florida, and this is reflected with the months' supply of inventory," Galavis said.
"There are more buyers in the market than there are homes."
St. Johns County remains the most expensive in the region with a median price of $589,900.
Within St. Johns County, Ponte Vedra Beach area homes regularly sell above $1 million. In that area alone the median price is $950,000. 
Putnam County remains the most affordable with a median price of $255,000 and a Home Affordability Index of 101.
NEFAR's August report is expected Sept. 11.
Housing starts continue to lag
While the inventory of homes for sale is tight, it hasn't sparked more building.
Through July, 6,532 permits have been issued for single-family homes, according to the Northeast Florida Builders Association. For the first seven months of 2022, 8,762 permits were issued.
That's 25% fewer permits.
In May, 1,165 building permits were issued and 1,173 in June, the best month so far in 2023. The number fell to 918 in July.
The market comprises Clay, Duval, Nassau and St. Johns counties.
The July number mirrors the drop in permits in July 2022 when the number fell to 940 compared with 1,193 in June 2022. 
Despite the decrease in permitting, July proved to be the third-best month of 2023.