It starts with the culture, says CBRE Jacksonville Managing Director and market leader Tommie Reilly, who was promoted to the position Aug. 21.
"My priority is continuing what is good and building on it," Reilly said that day.
She succeeds William "Tripp" Gulliford III, who had been the executive managing director of CBRE's Florida region and Jacksonville market leader. He joined the firm in 2013.
Gulliford, 54, said Aug. 17 that he hit his 10-year anniversary at CBRE in June and reflected on what he wanted to do next.
A Jacksonville native, Gulliford said that after the Sept. 1 transition he will be in a principal role with a real estate investment company in Jacksonville that he expects to announce soon.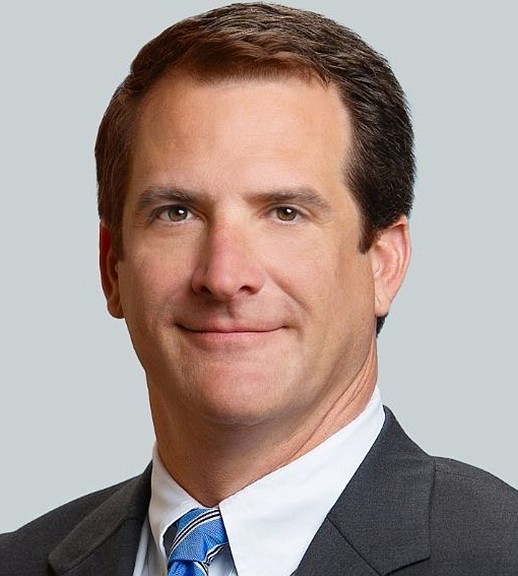 "Tripp has been such a great mentor and valued partner, I think to all of our brokers, so I want to make sure that they feel and understand that I can continue that partnership and that mentorship," Reilly said.
"My charge is to take what is already a good culture and just continue to make it that sought-after place to work with a really sticky culture to make people that want to be here to stay here, that they're passionate about coming to the office every day."
Reilly, 44, joined CBRE in 2017 as a sales manager of CBRE's North and Central Florida markets, including Jacksonville, the Panhandle, Orlando and Tampa.
She was promoted to sales director in March 2020.
As managing director and market leader, Reilly will oversee business operations and drive the office's growth strategy for all advisory services lines of business, including leasing, sales, valuations, project management and property management.
Having grown up in Jefferson City, the Missouri state capital, Reilly has a Bachelor of Science in Business Administration and Bachelor of Arts in International Relations from the University of Missouri – Columbia.
She earned an MBA from the University of North Florida.
In addition to her experience at CBRE, she has more than 10 years of leadership experience in sales and the mortgage banking industry.
Reilly leads a team of 83 based on the ground floor of One Enterprise Center Downtown at 225 Water St., which CBRE began occupying in October 2002.
The Water Street lease expires in December.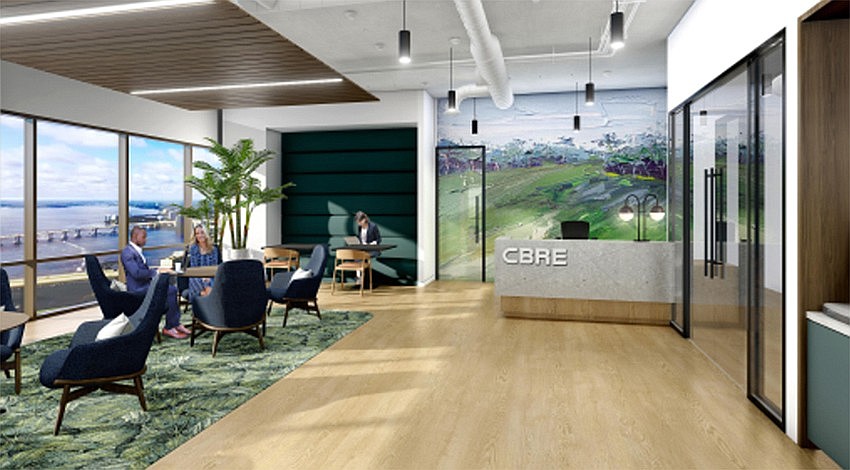 The office is preparing for a move to the 30th floor of Wells Fargo Center at 1 Independent Drive W.
Both buildings are on the Northbank of the St. Johns River.
In addition to continuing to create the culture to ensure a smooth transition internally, Reilly also wants to spend time with community partners.
She is meeting with the CBRE brokers first.
"My charge here in the next six weeks is really to focus on my brokers and making sure that their clients and their businesses are supported," she said.
"As I work into the community, I will start with those entry points and meet with them to understand who are the best people I get in front of, who do I need to make sure that I'm connecting with and then work with my community partners, my Chamber partners, JAXUSA and others."
JAXUSA Partnership is the economic development division of JAX Chamber.
Reilly said she and Gulliford created a short list of people to network with immediately.
"We'll use that as a jumping-off point. And it's interesting in this market, you always say the rule is six degrees of connectivity, but I really think in Jacksonville, it's really something much smaller."
Reilly said that having been with CBRE for six years, she has had an opportunity to understand all of the service lines in the business and the office's professionals.
"Tripp has been such a great mentor over these years that I can really take everything that is already good, and build on that," she said.
"There's a tremendous amount of energy and strategic planning ongoing in our community around enhancing its vibrancy, attracting and retaining talent, tracking high-wage jobs, creating diversity in our market and creating global connections in businesses."
Reilly said CBRE can partner with the community in those goals.
"My goal is to be a good partner with the community and continue to bring the sophistication of CBRE solutions through our professionals."
Reilly said the team covers all the service lines between debt and structured finance, capital markets, appraisal, property management and leasing professionals for retail, office and industrial.
"I go back to the tremendous amount of energy our community is showing around development and all the various ways that we're touching that development in our community," Reilly said.
"I've spent the last six years focusing on being a business development and a strategy partner for the brokers. So as they have pursuits and they need to elevate their own business plans, that's where I would jump in and be a strategic partner," she said.
The office focuses on seven Northeast Florida counties and also offers services west to the Panhandle where she has a team of four brokers.
The coverage stretches to Tallahassee and south into Daytona Beach and Gainesville.