Gateway Jax announced plans Sept. 20 for a $500 million mixed-used development in the North Core area of Downtown Jacksonville that includes apartments, a grocery and retail space, the first phase of a project that could grow to 22 acres and a more than $2 billion investment over the next decade.
Gateway Jax is a commercial real estate company backed by DLP Capital and sponsored by JWB Real Estate Capital. The Downtown North Core area is north of the Duval County Courthouse and west of First Baptist Church, where the developers have been acquiring property.
DLP Capital said in a news release it is providing the majority of funding for the project, planned to break ground in mid-2024, "through its private evergreen funds that invest in building thriving communities."
The first phase of the project, called the Pearl Street District, is five blocks, but the full project would span more than 20 blocks and "will mark one of the largest-ever urban-core revitalizations in the US, in terms of its geographic span, and will complement already-existing initiatives by the city to spur on new decades of economic vitality."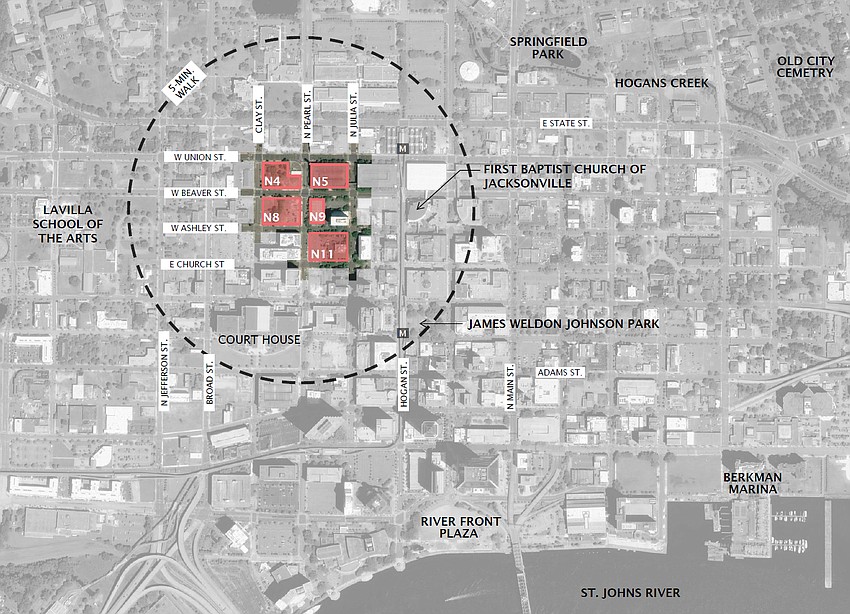 "Gateway Jax will make an impact far beyond any buildings that we'll build, with our redevelopment initiatives adding to the vibrancy of downtown Jacksonville," Bryan Moll, CEO of Gateway Jax, said in the release. 
"We plan to create thriving, walkable neighborhoods that create a sense of place, attracting residents and workers who'll be able to find everything they need within the city's core.
"Jacksonville is the gateway to Florida and a key to the state's economic future, and the city is on the cusp of an unheralded transformation."
Gateway Jax says its leadership developed Water Street Tampa, a $4 billion development revitalization of Tampa's waterfront and the National Landing development, the site of Amazon's HQ2 in the Washington, D.C., area. 
On Sept. 14, the Downtown Development Review Board unanimously awarded conceptual approval to the site plan for the mixed-use Pearl Street District, which is being developed by Gateway Jax.
Those properties are bordered by Union, Julia, Church and Clay streets and bisected by Pearl, Beaver and Ashley streets.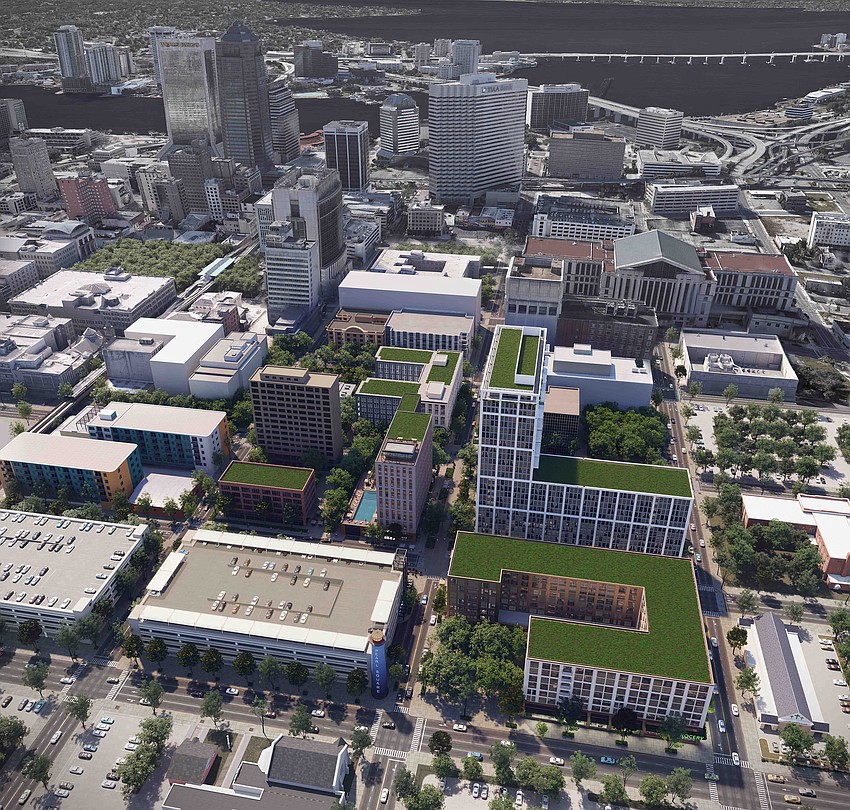 The company said its near-term plans include the development of three buildings along Pearl Street that will offer more than 1,000 multifamily units, 120,000 square feet of grocery-anchored retail and new public spaces that encourage community interaction.
Conceptual project renderings show several new multistory buildings surrounded by green space. One building will be 22 stories tall.
Gateway Jax said its development "will create dynamic and interconnected, walkable neighborhoods that will invigorate downtown Jacksonville."
It said its streetscape designs will encourage connectivity including public spaces, courtyards and sidewalk cafes. Future development phases are expected to include office, hotel and other mixed-uses. 
Development goals include "creating pedestrian flows along green corridors leading to the public waterfront's cultural and recreational amenities, complementing the city's 30-mile Emerald Trail that will encircle the urban core."
Gateway Jax said the development will "pay homage – through design, art, and architecture – to the rich history and culture of micro-neighborhoods."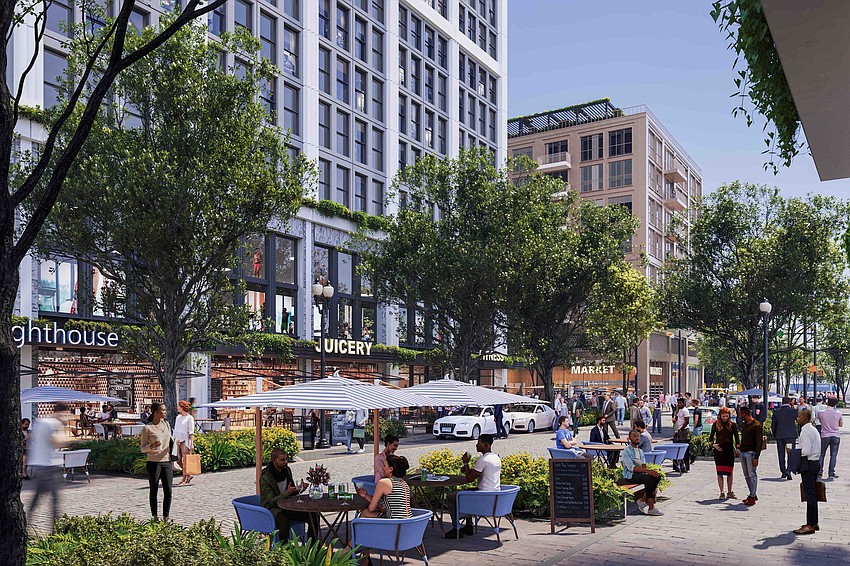 "Creating thriving communities is at the core of our decades of development expertise, and there's no better place to engage that expertise than in our own backyard of Jacksonville," said Don Wenner, founder and CEO of DLP Capital.
"Any builder can build space; we invest in and build communities that serve America's workforce families. In the case of Jacksonville, with the support of the city's residents, we plan to polish the underlying gem to help it shine brighter."
 JWB acquired the majority of the Downtown properties that have since segued into the Gateway Jax portfolio, the release said.
"We will complement the phenomenal initiatives already begun by the City of Jacksonville and its Downtown Investment Authority, which jump-started Jacksonville's revitalization, helping to round out their initiatives and that of so many others that see the enormous potential that Florida's biggest city has to offer," JWB Real Estate Capital President Alex Sifakis said in the release.
No proposed city financial incentives package for the project has been released by the DIA. However, a preliminary "Pearl Street Incentives Summary" spreadsheet by Gateway Jax dated March 22, 2023, shows potential taxpayer incentives of $135.64 million.
Gateway Jax said its project is expected to be near the $400 million graduate campus that the University of Florida proposes to build in the Downtown Jacksonville area. The location of that campus has not been announced.
Sites near Florida State College at Jacksonville, which is near the North Core, and the Jacksonville Fairgrounds in the Sports Complex have been discussed. A Jacksonville Jaguars affiliate has an agreement to buy the fairgrounds property.
JWB Real Estate Capital and DLP Capital said they are each donating $500,000 toward development of the new campus.
DLP Capital says it is a private, diversified real estate investment firm headquartered in St. Augustine with offices in Allentown, Pennsylvania, and Asheville, North Carolina.
JWB Real Estate Capital, based in Jacksonville, offers passive real estate investments and affordable housing.