Gateway Jax LLC publicly unveiled its $2 billion plan for Jacksonville's Downtown North Core on Sept. 20.
Under a tent on a vacant lot at 501 N. Julia St. in that Downtown neighborhood, Gateway Jax CEO Bryan Moll and investment partners JWB Real Estate President Alex Sifakis and DLP Capital LLC CEO Don Wenner described their 22-acre, $2 billion mixed-use development spanning more than 20 city blocks.
"We have amassed critical scale that allows Gateway Jax to create dynamic and interconnected walkable neighborhoods that will invigorate Downtown Jacksonville now and for years to come," Moll told an estimated 150 people attending the announcement on a site next to the Porter House Mansion along Julia Street in the North Core.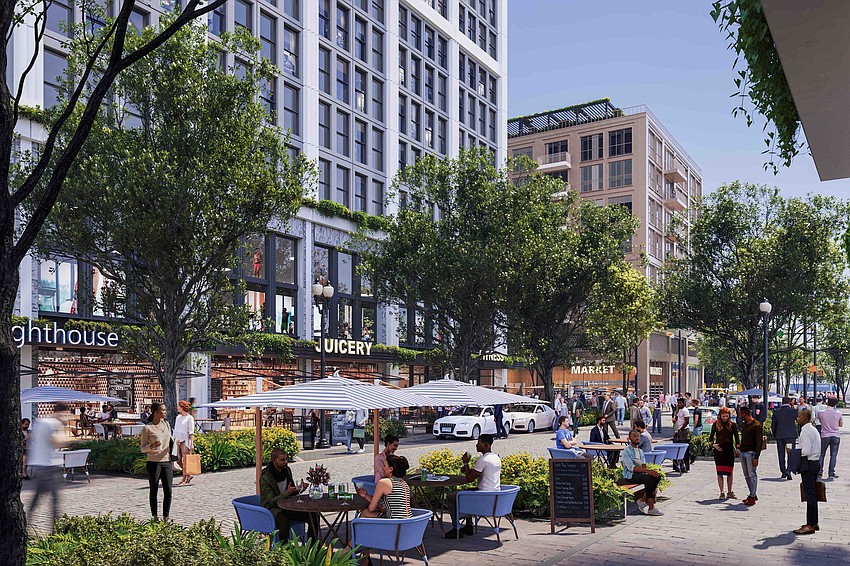 The project's $500 million first phase, the Pearl Street District, would transform five city blocks into 1,000 multifamily units, 120,000 square feet of grocery-anchored retail, a 22-story apartment tower and new public spaces that encourage community interaction.
Moll called it one of the largest urban redevelopment projects in the U.S.
The Gateway Jax team invited several city officials to speak about the proposal and the request for city incentives, including Mayor Donna Deegan, Downtown Investment Authority CEO Lori Boyer, City Council President Ron Salem and Council member Jimmy Peluso.
"It makes us a national leader and it's exactly the type of project that we need to kick-start our next wave of Downtown development," Deegan said. 
"It's also a project that will catch us up to the progress that some of our peer cities and their Downtowns."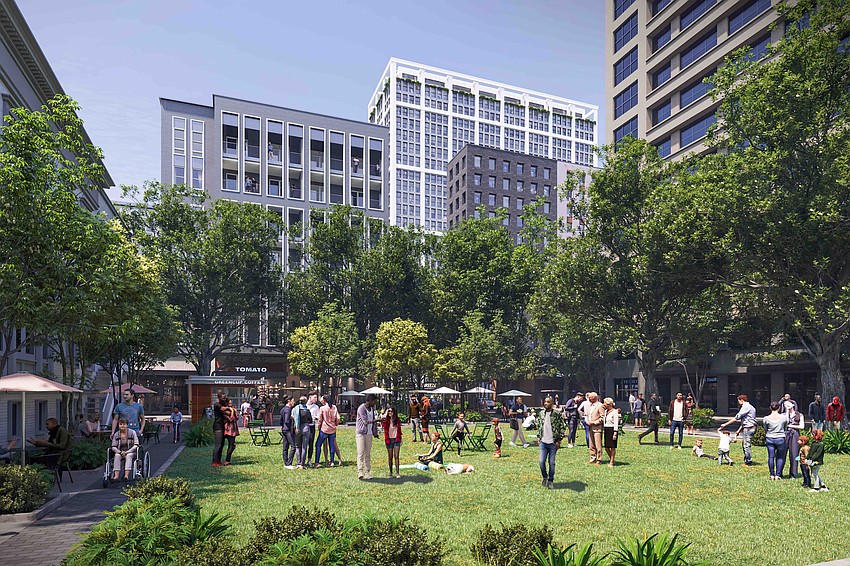 Gateway Jax says its leadership developed Water Street Tampa, a $4 billion revitalization of Tampa's waterfront, and the National Landing development, the site of Amazon's HQ2 in the Washington, D.C., area.
Deegan said she frequently discusses the transformation of the Tampa waterfront with that city's former Mayor Bob Buckhorn and current Mayor Jane Castor and called the Water Street development "nothing short of miraculous."
City incentives 
Moll said Gateway Jax would request a city financial incentives package for the Pearl Street District that includes a property tax rebate and a $40 million completion grant.
It's the first time the Gateway Jax team has provided details to the public on how much it might ask the city to contribute toward Pearl Street District's $500 million first phase.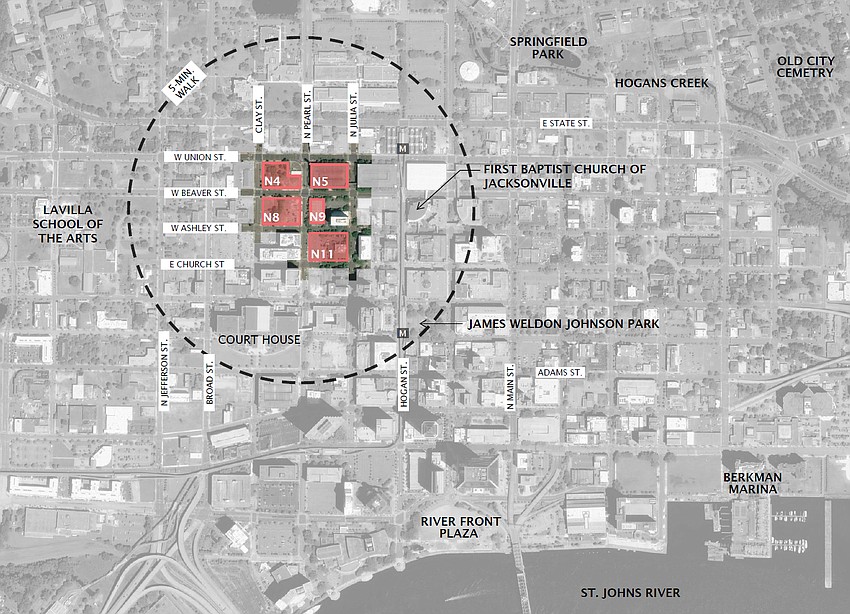 The Daily Record reported May 22 that a preliminary "Pearl Street Incentives Summary" spreadsheet by Gateway Jax dated March 22, 2023, shows potential taxpayer incentives of $135.64 million.
That summary outlined a potential $464.4 million project, one of the largest deals ever done on Jacksonville's Northbank, with a return on public investment calculated at $1.04 for every $1 invested.
Moll did not provide an amount Sept. 20 for the tax rebate referred to by the city as a Recapture Enhanced Value Grant.
If approved by the DIA board, Gateway Jax will need the mayor and Council's support for the funding.
According to Moll, the total $2 billion project would generate $210 million in new ad valorem property tax revenue annually for the city, or nearly $4.2 billion over 20 years. 
Moll said the new money would "allow Jacksonville to take its rightful place center stage as one of the most vibrant cities in the Southeast and in the United States."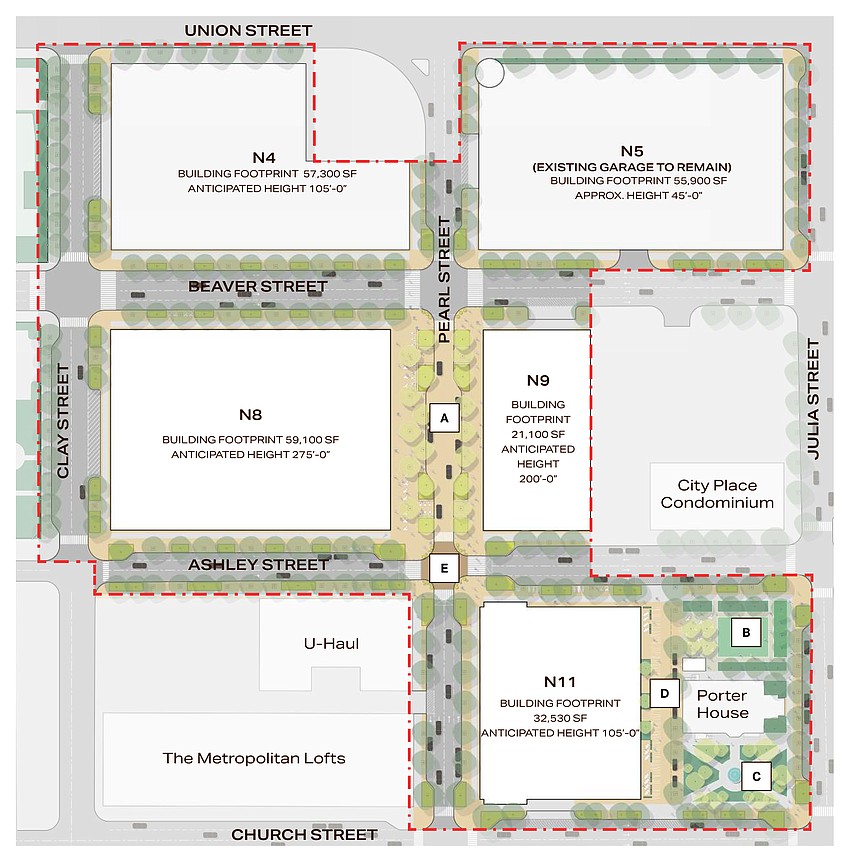 Deegan pitched the project's expected revenue as a way to reinvest in infrastructure needs in Jacksonville's historically neglected areas. "It's a critical source of revenue to put back into our neighborhoods that have been left behind as well. And it is key to everything we want to be as a city," she said.
Salem praised the project but said Council will need to see the specifics of the deal before he can make a judgment on the incentives.
The Council president acknowledged that a $40 million completion grant would be competing with other large city general fund properties expected in the next five years, such as a possible $1 billion-plus stadium renovation for the Jacksonville Jaguars and relocating the Duval County Jail and Police Memorial Building out of Downtown. 
"We've just got to look at that and see what it's going to cost us and see the revenue. Fortunately, Jacksonville is exploding in terms of ad valorem taxes that are coming in," Salem said.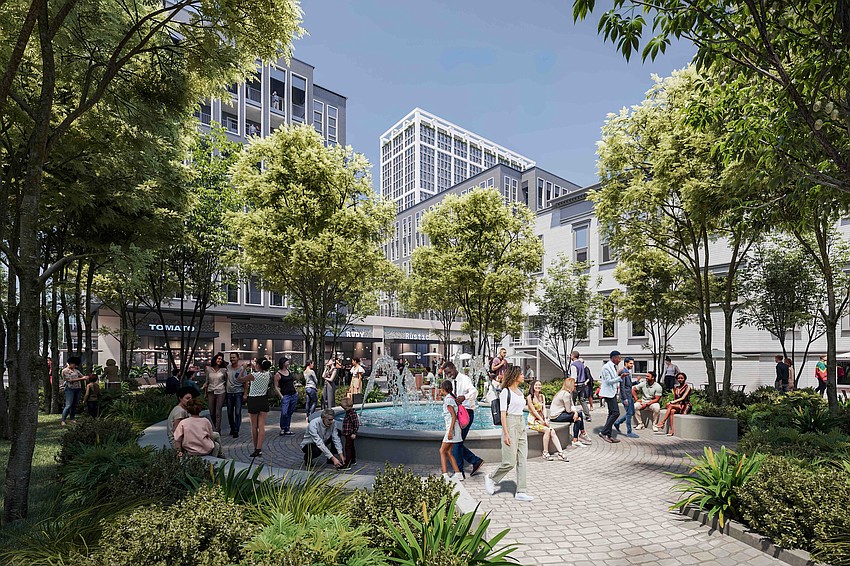 Salem is an investor in JWB and has abstained from voting on all Council legislation that includes a financial benefit to the real estate developer. 
He said Sept. 20 he could debate any deal and lead the conversation on a Pearl Street District incentives package but would not be able to vote on it.
Salem said the Pearl Street District project would qualify for a completion grant within the parameters of the DIA and city's economic development incentives program and likely would not need a waiver from Council.
To qualify for the cash incentive, Boyer said a project would need to demonstrate a financial gap, show it meets the goals and objectives set in the DIA's Downtown redevelopment strategy, and meet a return on investment to the city of at least $1 for every $1 invested. 
According to Boyer, a final dollar amount has not been reached in the DIA's negotiations with Gateway Jax but a deal could come to the DIA board in October.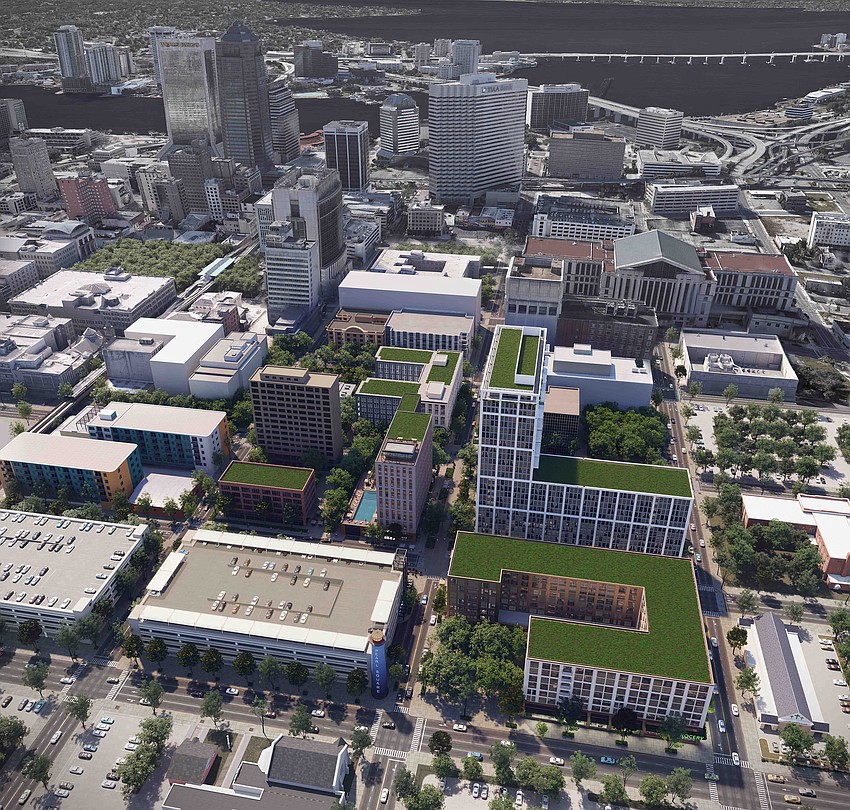 "We're not down to the nitty-gritty, exact number. But I can tell you that we're close enough that we'll get to an ROI of 1, and we'll have a package that we can then move forward to Council," she said after the annoucement. 
Sifakis said Sept. 18 that the project's focus would be on "high-end" residential and retail products, but Moll said during the event that the development would have more affordable options.
Moll told Council member Michael Boylan during a question-and-answer session that Gateway Jax intends to include workforce and affordable housing in the broader $2 billion project.
It's unclear whether the affordable housing would be included in the first phase. 
"It's pretty early on in the conversations," Moll said. "But we will have price points that will hit workforce housing, there's no question about it."
Moll said the 800-space lighthouse parking garage at 721 N. Pearl St., which is in the five-block first-phase site plan, would provide the primary parking for the project. 
More parking would be needed to reach Gateway Jax's target of one parking space per residential unit and more for retail. 
"It's (lighthouse garage) existing infrastructure that we can utilize to help build projects without overbuilding parking Downtown," Moll said.
"That's not to say we're not going to have ample parking.
Grocery 
Matthew Clark, senior vice president at real estate broker Colliers, said Sept. 20 that his team has been working on leasing the retail space for Pearl Street District for nearly 1½ years.
Asked if the grocery tenant would be Publix, Moll sad he could not make an announcement at the event, but the development could have more than one grocery option.
"We have a tremendous amount of interest and ranging in size from full-service grocers all the way down to more specialty grocers," Moll said.
"And I can tell you I think everybody that spends time in Downtown will agree, we can use more than one grocer Downtown." 
Boyer said that there are 1,000 residential units under construction in Downtown and the Pearl Street District would add another 1,000 units if it breaks ground as scheduled in mid-2024. 
Investors
DTJ Fund LLC, formed in June 2022 by DLP Capital and JWB, has a goal to raise $300 million in capital to provide equity for the project. To date, the fund has raised $228 million, according to Sifakis. 
In her remarks, Boyer alluded that some of those investors were in the crowd Sept. 20.
Boyer pledged that the city would do its part to make sure that investment is sound. 
"I'm very grateful for your participation and your buy-in on the vision," Boyer said. 
"But even more importantly, I want to give you an assurance that we're going to work very hard to make sure that investment is well spent and that you see the return you envision on that." 
Sifakis said Sept. 18 that JWB and DLP Capital wrote into the DTJ Fund's charter documents that decisions for the development would be based on what's best for the city.
"And most importantly, we live here too," Moll said. "We're proud residents of Jacksonville. And every decision we make is guided by what's best for our city."