Another tenant is coming to the North Core Downtown.
Olivia Steinemann, an associate of  The Urban Division of Colliers North Florida, announced on LinkedIn that The Co-op Frosé & Eatery will be incorporated into 218 W. Church St., which is the Florida Baptist Convention Building.
The 2,000-square-foot space will include almost 1,500 square feet of patio use next to the Federal Reserve Building and Sweet Pete's in the historic Seminole Building.
"This all-day frose bar originated in Sullivans Island, SC, and quickly gained a celebrity following due to its tasty sandwiches, hundreds of flavors of FROSE, and finally, its comedic-party vibe," Steinemann posted.
Frosé is an alcoholic beverage that is basically a frozen blended rosé wine.
She said the Urban Division team "travels across the county to discover best-in-class retailers in bustling mixed-use environments with the goal of bringing them to Jacksonville."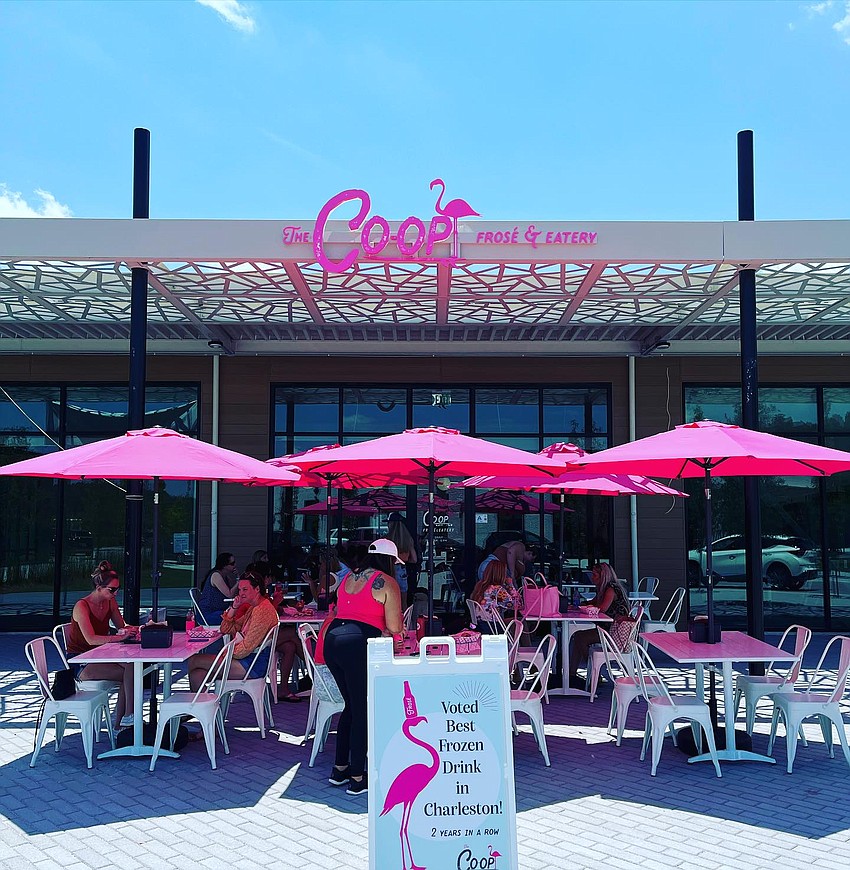 It's part of Jacksonville-based JWB Real Estate Capital's proposed  $18.55 million redevelopment of the Florida Baptist Convention Building and the neighboring historic Federal Reserve Building at 424 N. Hogan St.
The structures are at Church and Hogan streets near City Hall.
The design for the five-story, almost 26,000-square-foot Florida Baptist Convention property includes restaurant space, retail suites and studio and one-bedroom apartments on the upper floors.
Steinemann posted that the Co-op is the first of many new-to-market restaurant concepts that will be announced in the Urban Core.
The Co-op has locations in Charleston and Summerville, South Carolina; Nashville and Chattanooga, Tennessee; Charlotte, North Carolina; and Las Vegas.
It offers frosé, breakfast, sandwiches and salads.
In a March interview in Charleston Magazine, Co-op owner Jess Patterson said Co-op has more than 50 rotating flavors.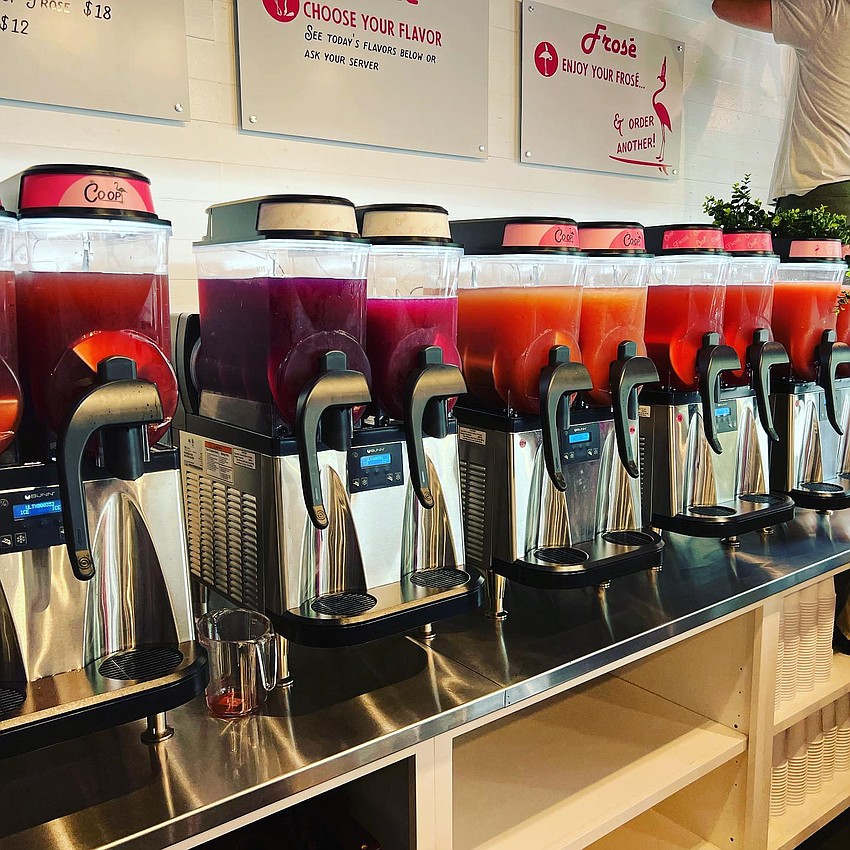 "We try to have at least four at a time at each of our locations so you can do a flight, like you would at a winery or brewery. Our most popular by far, that's always available, is strawberry. I don't really like sweets, so my personal favorite is the aperol spritz where instead of all rosé, we use a lot of Champagne."
On thecoopsi.com, the breakfast menu shows sandwiches, bagels and toasts.
The sandwich menu includes California turkey, cowboy chicken, caprese panini, cubano, veggie sammie, The Masters, The Italian, tuna salad and chicken salad.
The lease comes as Sam Middlekauff, also an associate with The Urban Division of Colliers North Florida, said the 19,420-square-foot, three-story historic Federal Reserve Building is fully leased.
Middlekauff said his group is under a nondisclosure agreement about the tenant's identity.
"But this prestigious group will breathe new life into downtown Jacksonville and revitalize a building that has sat vacant for decades," Middlekauff said.
The property has been marketed for use as a restaurant and event space along with the 4,500-square-foot courtyard for an outdoor seating and lounge area.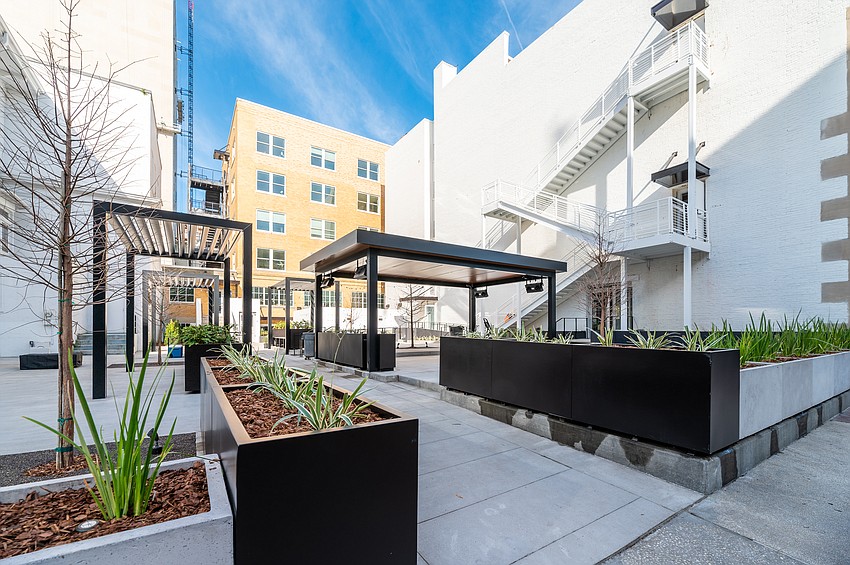 Middlekauff confirmed the building and courtyard "all will all be leased by one group."
JWB paid more than $2.4 million for the Hogan and Church street properties in August 2020, comprising $1.75 million for the Federal Reserve Building and $675,000 for the Florida Baptist Convention structure.
The city issued permits in September 2021 for Auld & White Constructors LLC to renovate 18,430 square feet of the Federal Reserve Building for a $3.2 million adaptive reuse.
JWB intended to build-out restaurant, business and event space at the three-story building and in its basement.
The permit came two months after the city issued one for Auld & White to renovate the Florida Baptist Convention Building at a cost of $5.8 million. It was built in 1924.
Construction costs totaled $9 million for the two buildings.
The Jacksonville City Council approved an $8.6 million incentives package for the historic restoration project for the two buildings.
JWB also owns the historic Seminole Building on the same block at 400 N. Hogan St. and plans to build an outdoor courtyard for restaurant seating connecting the three properties. 
The structures also are part of the Gateway Jax vision to redevelop more than 20 blocks Downtown primarily assembled by JWB.