Florida Power & Light Co. bought about 1,310 acres in Nassau County in September, but hasn't announced development plans for the purchase.
The Juno Beach-based utility bought the bulk of the 1,814-acre Crawford Diamond Industrial Park owned by Yulee-based Rayonier Inc. for $13.1 million.
Florida Power & Light spokesman Stephen Heiman said the utility "is always planning ahead to ensure we are prepared to meet the needs of our customers in the future."
"Accordingly, we routinely purchase parcels that we believe would help us meet those needs, whether they be for distribution facilities, a service center or a solar power plant," he said.
Rayonier said in its November Investor Day presentation that recent transactions included the sale of 1,311 acres at Crawford Diamond for $10,000 an acre.
The sale was recorded Sept. 7 with the Nassau County Clerk of Courts.
Heiman said by being pro-active and planning for the long-term, the utility is "ensuring that we maintain low bills and high reliability for all of our customers today and for years to come."
Florida Power & Light serves about 4.9 million customer accounts, about 10 million people, across about half the state. It is a subsidiary of NextEra Energy Inc. 
As of 2016, it served customers in 35 of the state's 67 counties,  including Nassau, Duval, Clay, Baker and St. Johns in Northeast Florida. Most of Duval is served by Jacksonville-owned JEA.
The Crawford Diamond acreage is similar to Florida Power & Light's Horizon Solar Energy Center in Putnam and Alachua counties on about 1,310 acres. 
However, Nassau County was not included in the utility's 10-year 2017-26 Power Plant Site Plan report among the 12 counties identified as "potential sites for future generation additions to meet FPL's projected capacity and energy needs."
A reference to the Nassau County land transaction was included in requests for a formal wetlands determination by Raydient LLC and Florida Power & Light to the St. Johns River Water Management District. The requests were received Nov. 27.
Raydient Places + Properties is Rayonier's real estate services subsidiary.
In a Nov. 21 letter to the district included with the requests, engineering consultant Golder Associates Inc. wrote that Florida Power & Light bought the property Sept. 7.
The letter says the use of the property for silviculture has not changed since the existing petition was approved in 2012.
The requests show Florida Power and Light's parcel at Crawford Diamond comprises about 1,310 acres and Raydient's is 494 acres.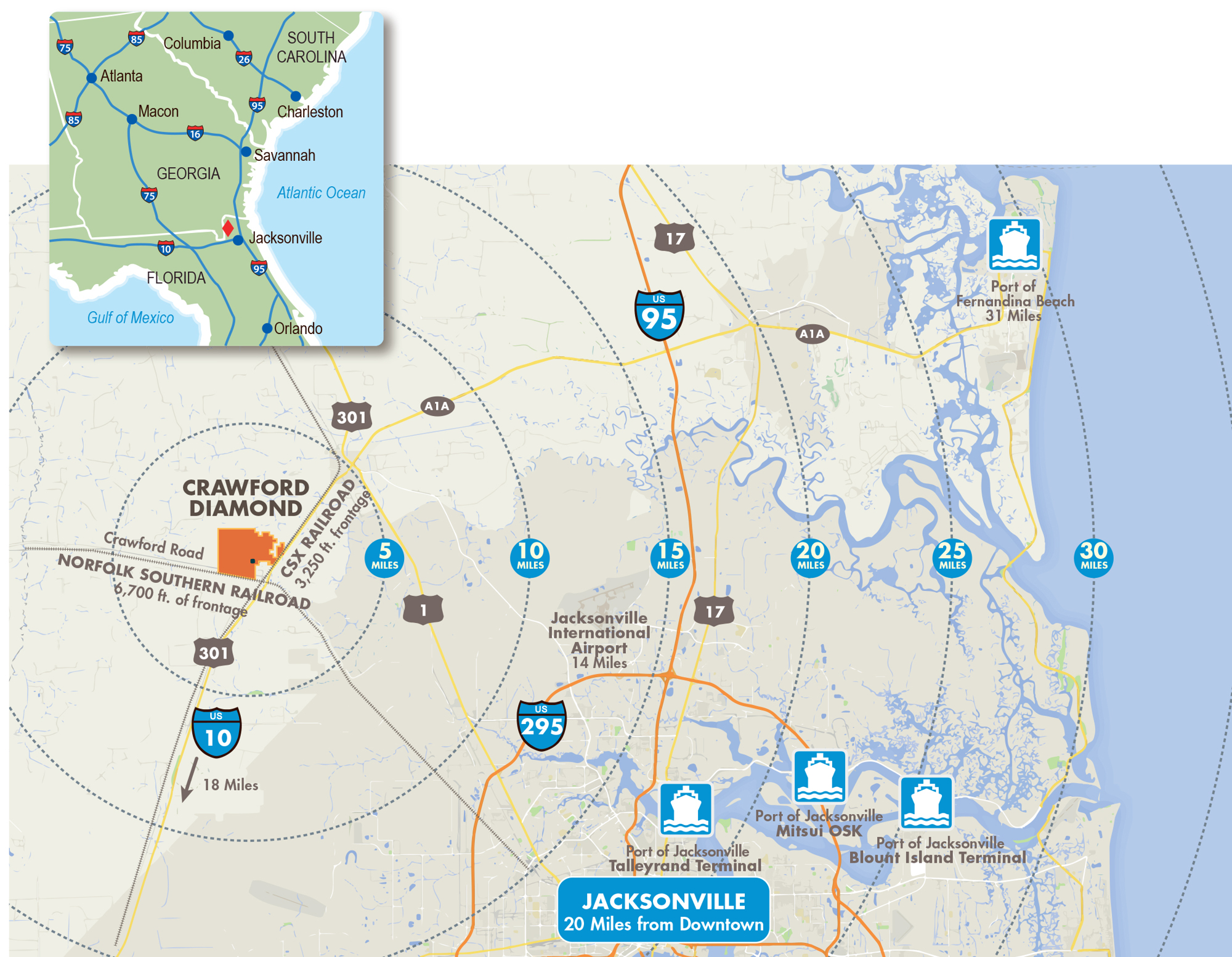 A certified megasite
Crawford Diamond comprises 1,814 acres in west Nassau County along U.S. 301 and south of U.S. 1, between interstates 95 and 10. The CSX and Norfolk Southern rail lines cross at the property.
As a certified megasite, Crawford Diamond is considered a location for major industrial projects.
The megasite certification by McCallum Sweeney Consulting of Greenville, South Carolina, is considered a significant step for marketing industrial properties, setting up standards that allow a user to be operational with 12 months.
Crawford Diamond has been approved for up to 10.5 million square feet of industrial uses that can include manufacturing, assembly, warehousing and distribution as well as use as an intermodal inland port or logistics center.
Alejandro Barbero, director of strategic development and communications, said Rayonier's approach to Crawford Diamond is to make sure "the site gets a look" if a manufacturer is considering a move to the area.
He said Rayonier's approach to the remaining acreage it owns there will be the same — to make sure the site is positioned to support the county for economic development.
Laura DiBella, executive director of the Nassau County Economic Development Board, said Florida Power & Light's purchase enhances its commitment to serving Nassau County and regional residents.
She said the intended use of the property was not disclosed.
"They are very proactive in their acquisition of land throughout the state, so it didn't come as a major surprise, but it is a large commitment," she said.
DiBella said Rayonier's remaining 500 acres is the "sweet spot" for manufacturers looking at the county.
"It is really business as usual on that piece," she said, adding the county is aggressively courting companies for that site.
Raydient Places + Properties says in a marketing brochure that the park is 17 miles from the interstates and is within 30 miles of the Jacksonville and Fernandina ports. 
"Crawford Diamond can accommodate a broad range of large-scale industrial projects within an eight-hour drive of 45 million people," it says.
About Rayonier
Rayonier is an international real estate investment trust with about 2.7 million acres in the United States and New Zealand. 
U.S. land holdings include 1.9 million acres in the South and 378,000 acres in the Pacific Northwest. The company owns 429,000 acres in New Zealand.
"Our future growth is boosted by an excellent portfolio of properties suited for higher and better uses in the fast-growing US Southeast region, primarily in the coastal corridor between Northeast Florida and Southeast Georgia along Interstate Highway 95," Rayonier says in its corporate profile.
Rayonier's Forest Resources operation sells timber to markets that include pulp, paper, building products and energy production.
Its Real Estate operation "develops strategies to transition timberland for higher and better uses."
Raydient is developing the mixed-use Wildlight residential, retail, office, medical, school and services community at northeast I-95 and Florida A1A.
Florida Power & Light has operated in Jacksonville, although it is shutting down the St. Johns River Power Park. 
The coal-fired power plant in North Jacksonville is owned jointly by Florida Power & Light and JEA. JEA owns 80 percent and Florida Power & Light owns 20 percent.
It is scheduled to shut down soon. A Worker Adjustment and Retraining Notification filed Nov. 6 with the state announced that 89 employees would be laid off at the plant as of Jan. 5.