SouthEast Development Group could break ground on the Laura Street Trio and Barnett Bank building projects Downtown by the end of August. 
The historic structures have been dormant for decades as redevelopment plans started and stalled. This time, with city support, the projects are about to launch.
Lisa Goodrich, director of marketing and communications, said Steve Atkins, the principal at SouthEast, has been involved in closing tenant negotiations, which involve "dozens of people."
"That process is moving along, but we're hopeful for the end of August," she said Tuesday at the Downtown Vision Inc. quarterly stakeholder meeting for business owners and people who live and work Downtown.
Atkins owns the Laura Street Trio buildings. He owns the Barnett Bank building along with the Molasky Group of Cos. 
Goodrich said once construction starts, the Barnett Bank building could be completed within 14 months. 
The Laura Street Trio would include the addition of a new eight-story hotel and a 650-space parking garage, which would take up to two years to develop.
Atkins has 60 months to complete the projects, according to an economic development agreement with the city.
In May, Barnett Tower LLC and Danis Builders LLC applied for nearly $1 million in construction permits that include interior, structural and window replacement work on the 18-story Barnett Bank building at 112 W. Adams St.
Specific details of the plans have been sparse since Atkins and Molasky secured pledges of $9.8 million in financial incentives from the city in June to complete the $90 million combined project. 
While Goodrich didn't have specifics about Barnett Bank building tenants, she did provide insight into the layout. 
Goodrich said an "international retail banking center" will occupy the ground floor. 
A fitness center operated by a local medical institution will take the mezzanine level and part of the third floor. 
Incubator space for entrepreneurs is the plan for a couple of floors, she said, and the sixth and seventh floors will be offices.
"We have tenants for all of those, but we're not going to jinx it by putting their names out there," she said. "We're going to let them announce the partnerships on their own terms." 
She said floors eight through 18 will be "working-class and market-rate apartments," lofts and one-bedroom units, with the possibility of two-bedroom apartments on the top floor. 
Goodrich identified one tenant. Vagabond Coffee Co. will open on the ground floor, she said.
For the Trio buildings at Forsyth and Laura streets, Goodrich gave few details on how the eight-story Marriott-branded hotel would fit in with the historic structures.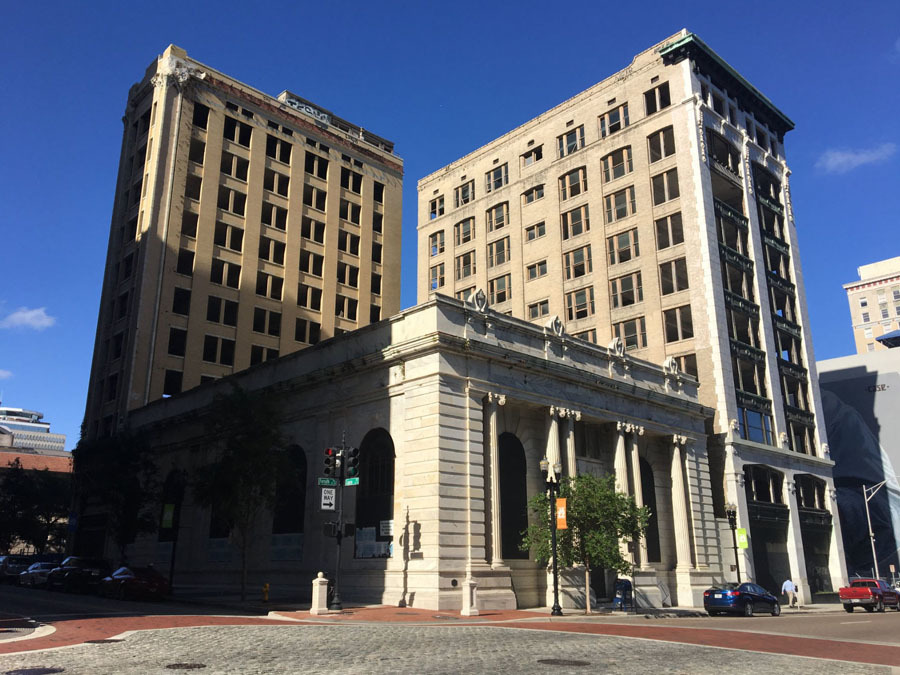 "It will be very modern, and that's part of the process of restoring the older buildings next to it," she said.
She said historic restoration "is a complete 180 from modern design, so they will be noticeably different." 
The Marble Bank building will feature an upscale restaurant and speakeasy-style bar run by chef Scott Schwartz, who owns and operates 29 South Restaurant in Fernandina Beach. 
Goodrich said there still are a few underground bank vaults that need to be opened, "so we're in for a bit of a surprise." 
Plans call for a ground-floor urban grocer inside the Bisbee Building on Forsyth Street. The rest of that and the Florida Life Building on Laura Street will be connected to the new 145-room hotel. 
The hotel will feature a rooftop bar operated by Liz Grenamyer, who owns a catering service in Riverside. 
"Once these buildings are back in service, I think everybody will be a lot more successful," Goodrich said. "Not only in the urban core, but this will have ripple effects in every neighborhood in Jacksonville."  
The state of Downtown 
Enticing more people to Downtown has been an issue for the city for years, and Downtown Vision CEO Jake Gordon said it remains a challenge. 
"The idea that there's nothing to do here is still a misconception for people in some areas of Jacksonville," he said. "They're starting to come around and I think in the next four to five years that's going to really change." 
Gordon said for the first time, he believes the Laura Street Trio and Barnett Bank building projects will proceed and that when they're completed, "it will send a powerful message about the state of Downtown." 
He said the recent momentum is due in part to Mayor Lenny Curry's commitment to the urban core and City Council's willingness to back major projects. 
"It tells business owners down here that they matter and that the city is actively working on making the conditions better for them," Gordon said.
Downtown Vision was established in 2002 and draws its funding from Downtown business owners and the city.  
Commercial property owners in the 90-square-block Business Improvement District pay an additional 1.1 mills in property taxes to Downtown Vision to market and promote the urban core.
"We use that money to invest in Downtown, to make sure those businesses have representation and that they're getting exposure," Gordon said. 
In addition to those funds, the city also is responsible for a minimum contribution. Gordon said during the last six or seven years since the Great Recession, that contribution has leveled off at about $311,000. 
"The city had to pass some tight budgets, which we understand, but it did lower our funding," he said. 
Curry's latest budget proposes a $146,000 increase in Downtown Vision's operating budget, which Gordon said was more in line with 1.1 mills the city has contributed in the past. 
This year the mayor is proposing bumping up Downtown Vision's funding to $458,491. 
Gordon said that money will go toward employing more Downtown Ambassadors and "to increase our focus on the riverfront, and a clean and safe Downtown Jacksonville." 
Council members will have the final say on the budget before the next fiscal year begins Oct. 1. 
Challenges remain
Gordon acknowledged the challenging climate for some business owners, who think progress isn't fast enough. 
Part of Downtown Vision's role is to "educate them on that business climate so they know what to expect when they open a business here," Gordon said.
In the past two months, two Downtown bars have announced they were closing. The Volstead on Adams Street is scheduled to close in August. Mark's, a nightclub on East Bay Street, closed in June.
"My hope is that new ownership can carry on that legacy, like we've seen with other bars and restaurants," Gordon said, referring to the recent change in ownership at Super Food and Brew on Forsyth Street. 
He said the impact of closings can be exaggerated because of the limited number of bars and restaurants in the urban core.
"I think it just reinforces the idea that we need more of those places here so we're not so reliant on the ones we have," Gordon said.
He said projects such as the Barnett Bank building as well as the proposed Shipyards project along the riverfront are an opportunity to bring more people Downtown.
Gordon considers those an "opportunity to experience Jacksonville in a new way, and that's what I think the future holds here."