On Sept. 12, the day after Hurricane Irma blew through Jacksonville, Paul Davis Restoration of North Florida took as many phone calls as it normally receives in two months.
Bushor's Tree Surgeons' phones began ringing, and as soon as it was safe, teams of workers headed out with cranes to lift trees off houses.
And David Lasure, owner of Freedom Building Services, began calling his commercial clients to see who had electricity, because even routinely scheduled cleaning was impossible without it. 
"That was a big part of it," Lasure said. As well as determining "if it was clear for cleaning crews to come into the buildings."
Hurricane Irma damaged many homes, buildings and trees around Northeast Florida, generating a lot of extra work for those in the business of cleaning up. 
"I expect it to continue for a while," said Marguerite Mumford, president and co-owner of Paul Davis Restoration.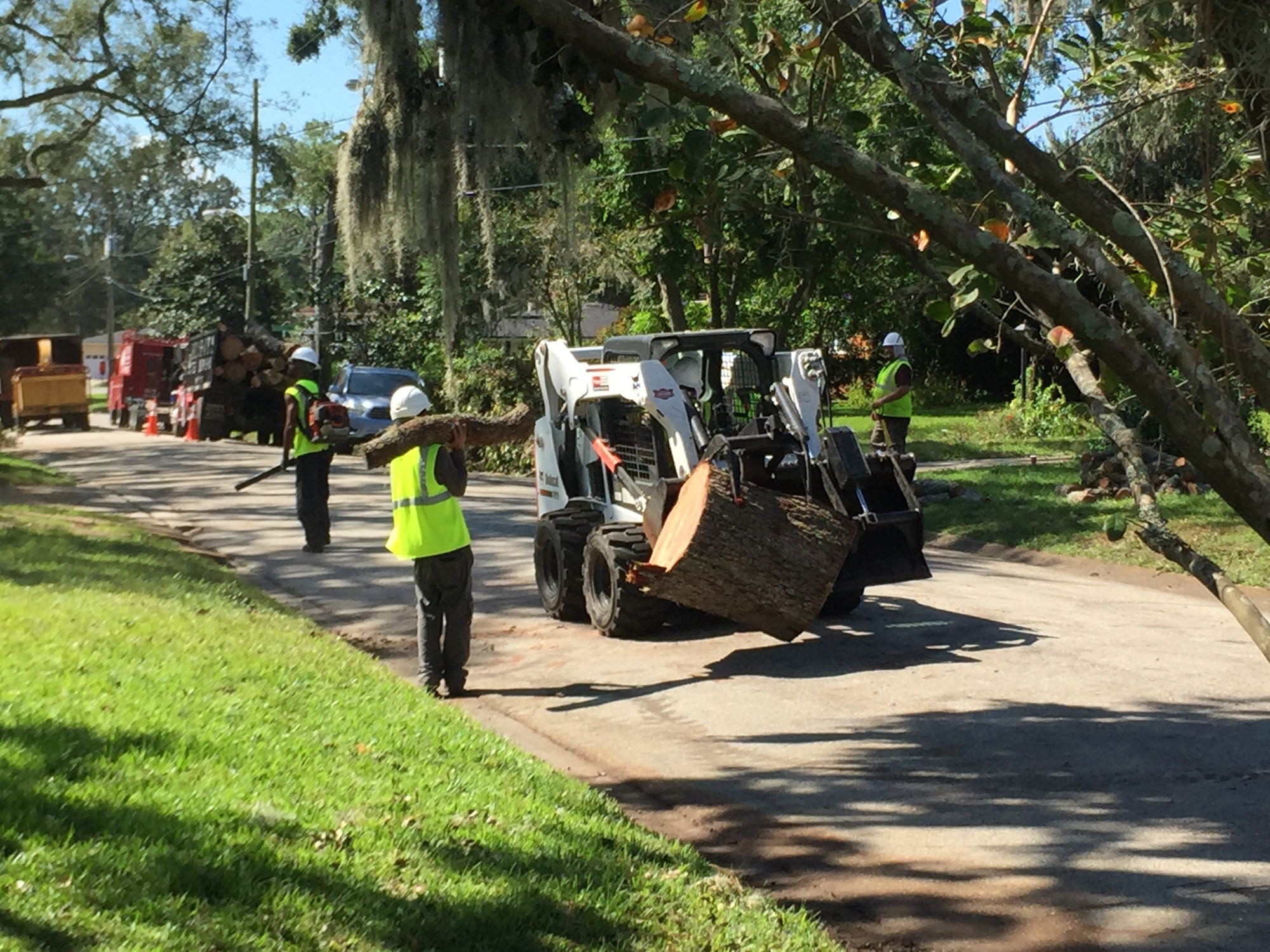 The storm created two common scenarios, she said. "Tree damage to homes and businesses, and a tremendous amount of flood damage. I think every part of the city has been impacted. I don't think there is a part of the city that hasn't been touched."
As part of a 350-office national disaster restoration company, Paul Davis services businesses and homes. 
After Irma, teams began streaming into Jacksonville from around the country to deal with fallen trees and flooded buildings.
With flood damage, time is a critical factor, Mumford said. "In a normal environment, with clean water, we say if we can get there in 24 hours, we have a very high success rate of saving effected building materials." 
The problem was that many people didn't have power within that time frame, she said. 
"You can't dry a house without power, and there are not enough generators for all of Jacksonville." She added that will lead to the necessary demolition of damaged parts.
Working quickly also is important when it comes to tree removal, said Brian Bushor of Bushor's Tree Surgeons. 
After the hurricane, his company was swamped with work at a time when it already had a full workload scheduled, he said. 
The multigenerational family business, founded in 1960 by Brian's father, Gene, has regular clients whose trees are trimmed regularly. After the storm, trees fallen by Irma on houses and cars took precedence.
"A lot of our customers were fine," Bushor said, "because if you trim trees regularly, once every five or six years, and have them checked every three years, the wind will blow freely through them."
David Miles, owner of Professional Lawn and Emergency Tree Care Service, said he had 45 phone calls the day after the hurricane, and that he had to focus on taking care of his regular clients as a priority.
"I've been in business for 25 years and taking care of customers is what I am focused on," he said.
Bushor, who does mostly residential work, said his company took care of regular customers first, but also landed a lot of new ones.
The challenge was getting crews out with all the necessary equipment, including safety gear. The company's employees are highly trained, he said, because "this is a dangerous business."
As such, they don't plan to hire additional workers, but are working with the full crew they already have.
Bushor warned people not to hire just anyone.
"A lot of people are running around right now with pickup trucks and chain saws," he said, "which can lead to big trouble" with those who don't know what they are doing. That's even more dangerous with debris everywhere and low-hanging utility wires.
When trees are uprooted, even if they have not fallen, they can crash down at any moment, Bushor said. 
"That's why it's important to hire certified arborists. We work around wires. It's illegal to go near them if not wire certified."
Bushor also warned that some people coming in from other states with saws and pickup trucks might try to get homeowners to pay in advance. He warned that customers should pay only when the job is done.
Tree damage to a home is normally covered by homeowners insurance, he said. But he said most people pay out-of-pocket because of the deductibles involved. 
Insurance sometimes covers the type of work done by Paul Davis Restoration, depending on the customer's insurance policy, Mumford said.
Rising water is covered by flood insurance and not property homeowners insurance, so she said homeowners have a much better chance of it being covered if they have flood insurance.
Even cleaning companies that do not deal with water damage are finding themselves busier after Irma. 
Lasure, whose customers all are commercial, said none sustained flood damage, but the loss of power upended regular cleaning schedules. 
The Freedom Building Services crews work mostly at night, but the company had to spend days making phone calls about the availability of electricity.
J. Archer, owner of Maid Brigade, which services residential customers, said her schedule also has been "completely blown up." 
She is busy, but in different ways. Some clients, who are sheltering family members from other parts of the state, are asking for extra cleaning because of hosting company.
Some homes are dirtier than usual because when the homeowners didn't have power, they left doors and windows open. 
Other customers are calling to postpone their regular cleaning because of too many people in the home. 
"They say there is too much going on," Archer said. "It's been a crazy, crazy week."
Archer expects busier times in the next few weeks "because we will have a big surge when we will have to catch up," she said. "We are trying to do our best to help people get their lives back together."
Through it all, Mumford urges patience. 
"Even with the severity of the devastation, as a city we are very lucky," she said. "It could have been worse. Patience and teamwork will be required to get everyone back to normal."