After eight years as Edward Waters College president, Nathaniel Glover Jr. announced Thursday he will be stepping down from his role.
The announcement comes just days after Glover helped secure $8.5 million in the city's 2017-18 budget for campus improvements.
Glover said he will leave his post in May, but intends to remain involved with the school.
"Retirement is a strong word," Glover, 74, said in a news release. "I plan to remain connected to EWC. I think this is the appropriate time to look at the transition of the College. I will remain as close as the incoming president would want me to be. I will remain engaged. … I still have work to do. And, I look forward to doing it."
Glover was named interim president of Edward Waters in May 2010 and president in February 2011.
"President Glover is a shining example of living and acting according to core principles and values," said City Council President Anna Lopez Brosche, whom Glover said he worked with closely on the investment effort. "He is a wealth of wisdom, which he imparts through powerful storytelling, and I'm grateful to be a student of his leadership teachings."
The city funding will provide support for an athletic community field, male dormitory, safety and infrastructure enhancements at Florida's oldest independent college.
"This is a long-awaited and much-needed investment in the northwest area of the city and its oldest institution of higher education," Glover said. "Edward Waters College is a resonating symbol of the history of our great city. This investment will bring safety and increased benefits to the New Town Success Zone and Health Zone 1 that includes the highest health, safety and education disparities."
Dormitory conditions resulting in mold and unhealthy environments were having a negative affect recruitment and retention efforts, according to the release. The absence of an on-campus athletic field required students to leave the campus for football games, which are played at local high schools.
The new athletic field will seat 2,800 and include a track that will be open to the public. The money also will be used to rehabilitate the oldest student dormitory on campus, Tiger Landing, which houses 176 students.
A lifetime of service
A Jacksonville native, Glover attended Duval County schools. He is a graduate of Edward Waters College, where he earned his Bachelor of Science in Social Science. He later earned a Master's in Education from the University of North Florida.
A graduate of the 130th session of the FBI National Academy, he began his career in law enforcement with the Jacksonville Sheriff's Office in November 1966. In 1969, he became an investigator in the Detective Division. He was promoted to sergeant in 1974 and led the Hostage Negotiation Team from 1975 to 1986.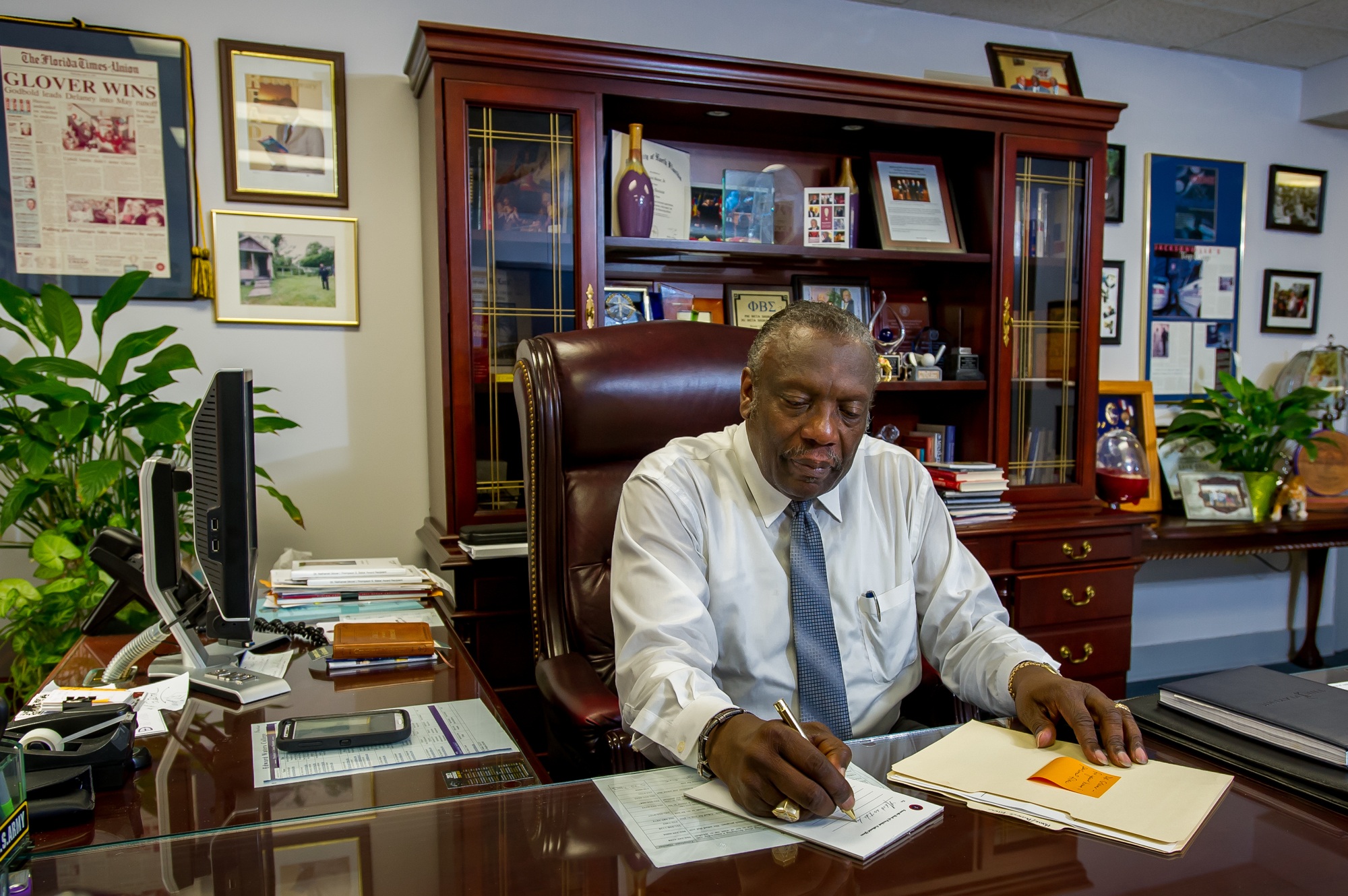 He served as chief of services from 1986 to 1988 before being appointed deputy director of Police Services. In 1991, he was named director of Police Services, one of JSO's top three positions.
That experience helped Glover become in April 1995 the first elected African-American sheriff in Florida since Reconstruction. He served two terms before retiring from the Sheriff's Office in June 2003.
During his first term, he donated $240,000 of his own pension benefits to a college scholarship fund for low-income students in Jacksonville.
Glover mounted an unsuccessful bid for mayor in 2003, then served as chairman of Mayor John Peyton's transition team after opposing him in a contentious runoff campaign.
After his retirement from JSO, Glover became a special adviser to UNF president and close friend John Delaney, simultaneously serving on the Edward Waters College Board of Trustees. Delaney had previously announced his retirement next year.
"Nat and I are as close as brothers, and we discussed our pending retirement dates for a number of years," Delaney told the Daily Record. "We talk weekly and have breakfast once per month, and I learn something new from the guy every conversation. He has a wisdom for the ages. A great, historic leader for Jacksonville."
In May 2010, Glover was asked to serve in the role of interim president of Edward Waters College, and on Feb. 12, 2011 he accepted the charge presented to him by the board of trustees to serve as the college's 29th president.
He is married to Doris J. Bailey and they have two children and three grandchildren.