If you've been Downtown recently, it's hard not to notice the construction along North Laura Street as crews continue to restore the historic Barnett National Bank Building.
Danis Builders LLC, working on behalf of SouthEast Development Group and the Molasky Group of Cos., has been active on-site since October.
The "adaptive reuse" of the Barnett is the first phase of a $100 million project that includes the restoration of the Laura Street Trio and the construction of a parking garage along Forsyth Street.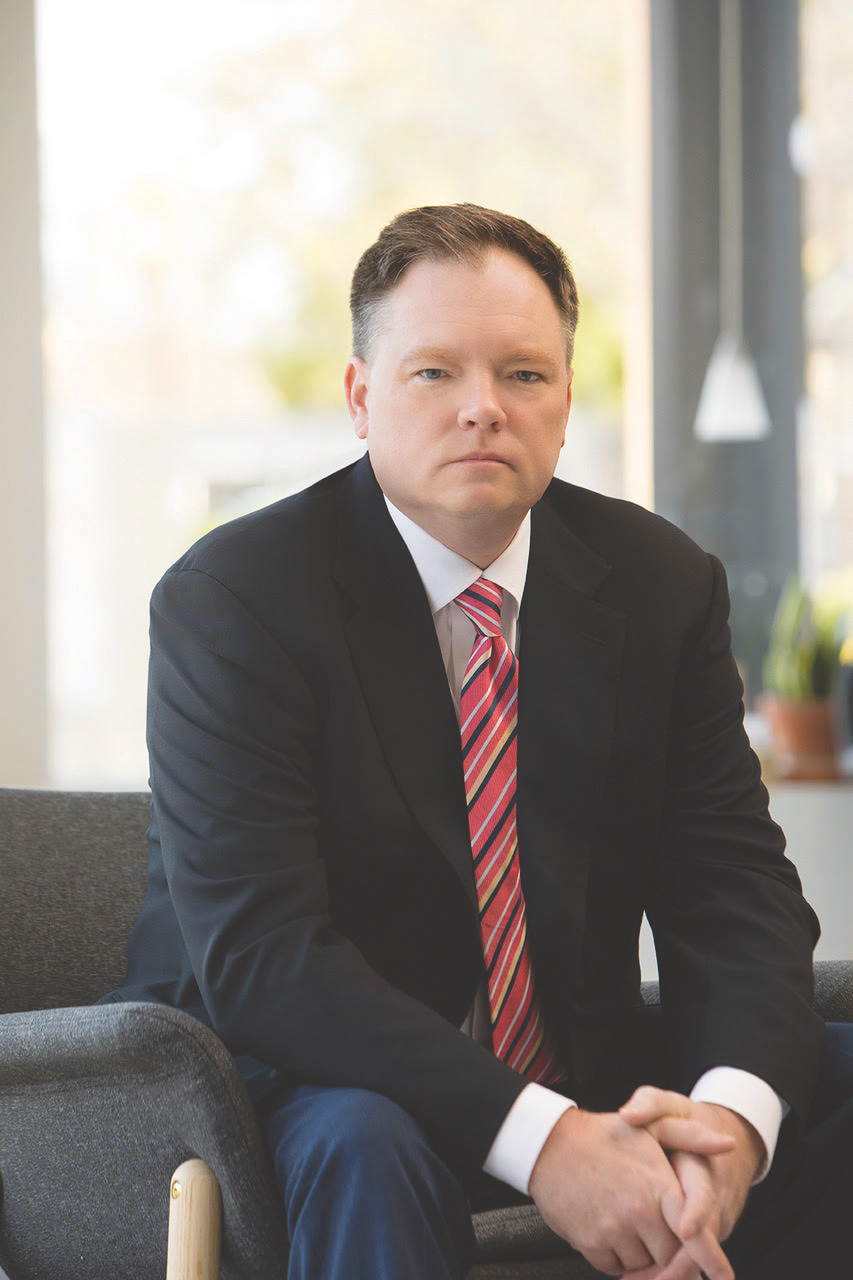 SouthEast Development Principal Steve Atkins watched closely last week as a crane lifted
about 13,000 pounds of HVAC components above the 18-story Barnett.
"It's a pretty significant step for us," he said of having the 450-ton construction crane Downtown. "It's going really fast."
The Barnett is a few months ahead of schedule, Atkins said. He expects to welcome the first tenants by early 2019.
The building will include 100 apartments, a satellite campus for the University of North Florida and office tenants. JPMorgan Chase is expected to occupy the first floor and mezzanine areas for retail banking.
Interior work is in process. The city is reviewing a permit for Danis Builders to build-out 12,100 square feet of space on the fourth and fifth floors for UNF, which has a lease for the Coggin College of Business to include classrooms and support facilities for up to 200 students.
It will include a new Entrepreneurial Center to develop and support new businesses. UNF students will work as interns at the center, earning credits while working with entrepreneurs on their emerging business programs.
Soon Atkins will turn his attention to the Laura Street Trio, which will comprise a 148-room Courtyard by Marriott hotel, a high-end restaurant and underground speakeasy-style bar.
"This side of the street is a little bit more complex because there's three buildings, and they're all treated individually when it comes to historic preservation standards," he said.
He estimates the Marriott will be completed in mid-2020.
Atkins now is looking ahead at the next opportunity to renew the urban core.
One surfaced at a July 30 JEA board meeting.
The utility is considering several sites Downtown to relocate its approximately 836 administrative employees from its headquarters at 21 W. Church St.
Atkins proposed a four-block "Energy Innovation District" for JEA to consider.
It would include demolishing JEA's 55-year-old, 19-story headquarters and rebuilding office space while adding infill development along Main Street.
Atkins said the proposal for the transitional area between the core and the Cathedral District area "was something we actually started thinking about" nearly 1 ½ year ago.
"It's not specifically designed for JEA, it was designed as kind of a second phase to this project," he said of the Barnett and Laura Street Trio.
An eight-page packet Atkins provided to JEA board members provides a look at what that could be.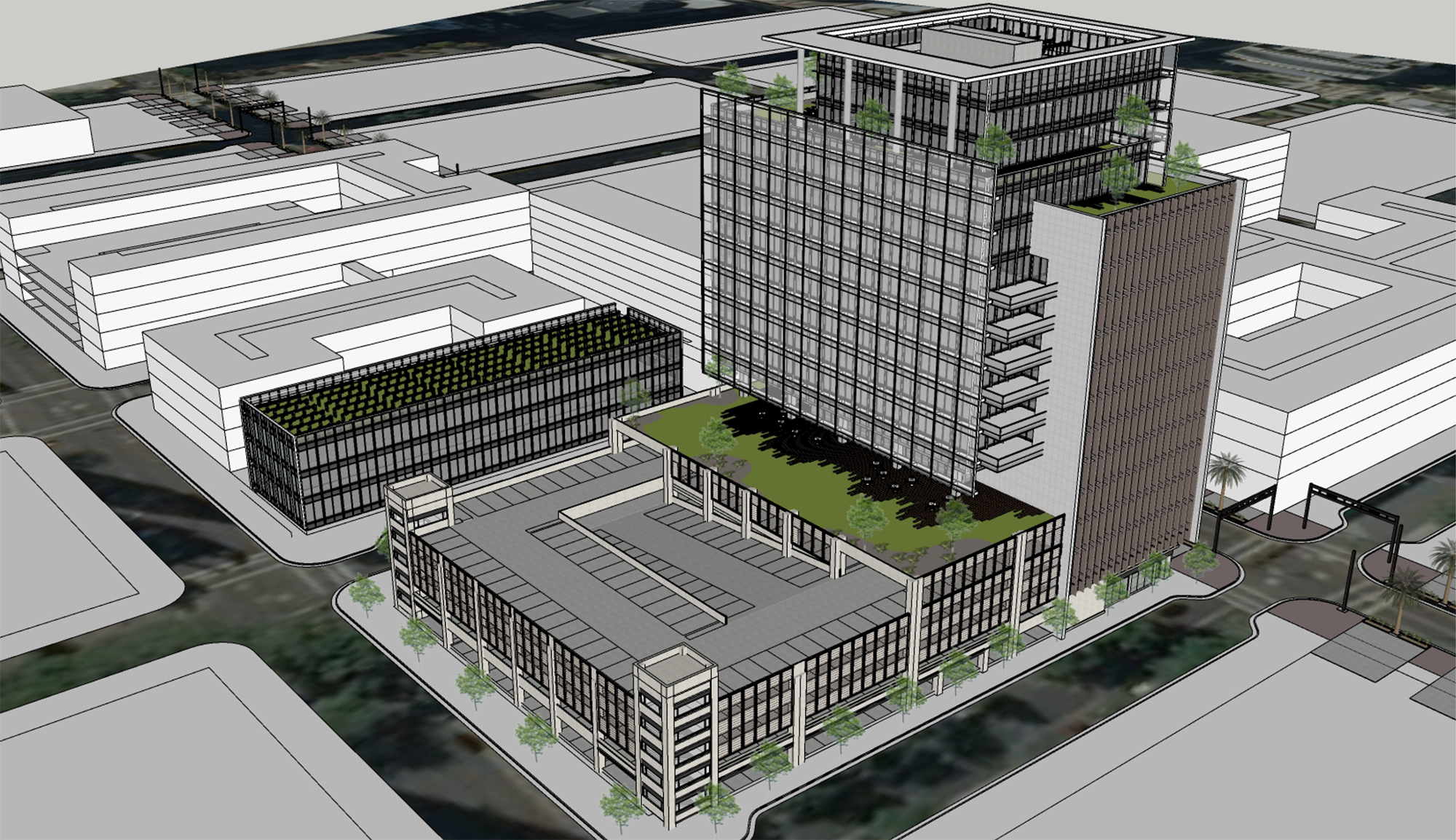 The JEA headquarters building, labeled as Block No. 1, would be demolished and replaced with a multistory mixed-use development with about 292 residential units, 44,000 square feet for a "national retailer" and another 10,000 square feet for other retail.
Block No. 2, along Main Street between Church and Ashley streets, would be developed with a 17-story corporate complex with 250,000 square feet of office space and about 4,500 square feet of street-level retail.
The building would include 800 parking spaces.
For Block No. 3, along Main Street between Duval and Church streets, Atkins envisions a 20,000-square-foot "innovation center," a 125-room hotel, another 15,000 square feet of retail space and 102 additional residences.
For the block surrounded by Monroe and Duval streets along Main Street, Atkins' group would add 155 residential units. Plans also show a 21,500-square-foot grocer, another 10,000 square feet of retail and another 380-space parking structure.
Atkins said the 550 residential units identified in the plans would be in high demand.
"We've had a tremendous response at the Barnett for the residential component," Atkins said. "We have a long waiting list, so we're really confident that we'll be able to grow the multifamily component Downtown."
He said if JEA decides on a different location, the second phase of his urban renewal project would proceed regardless.
"We think that it's a great opportunity to bring another corporate anchor to the area or to maintain a corporate anchor for that matter," he said.
"If JEA's plans happen to coincide with our plans then that would be great," he said.
Atkins said the plans are just that – plans.
"There are no agreements," he said. "This is us looking at the future beyond what's already on our plate."
For now, the focus is on completing the Barnett and starting major construction on both the Laura Street Trio and a new six-story parking garage at Laura and Forsyth streets.
"We've planted our flag in the urban core and we intend to keep it here for a while," he said.
JEA is considering five locations, including building a new headquarters near TIAA Bank Field as part of Shad Khan's $2.5 billion development of Lot J, Metropolitan Park and the property known as the Shipyards.
The board is expected to decide by 2019.