David Hicks, who quietly became deeply involved in Jacksonville's business and civic life and founded startups that evolved into major corporations, died Monday night in Colorado.
Hicks, 82, spent summers with family and friends in Colorado for the past 25 years. His death was unexpected, and his family was able to be with him at his passing.
"We were the perfect partnership. We shared the same goals and passions for our family and our city and we thoroughly enjoyed working together," said Ann Curry Hicks, his wife of 58 years.
In addition to his wife, Hicks is survived by three children: daughter Deborah Hicks Quazzo and her husband, Stephen, of Chicago; daughter Poppy Hicks Clements and her husband, Rob, of Jacksonville; and son, David Jr., and his wife, Margaret, of Jacksonville.
He also is survived by 10 grandchildren: Caroline Tyler Quazzo, Ann Clements Miller, Benjamin Curry Quazzo, Ruth Curry Clements, Robert Mossler Clements Jr., Christopher Hicks Quazzo, Phoebe Macdonald Clements, Helen Ruth Hicks, Charles Milton Hicks and Eliza Tyler Hicks.
A memorial service will be held in the early fall. The family requests that memorial gifts be directed to HabiJax, 2404 Hubbard St., Jacksonville, FL, 32206.
Hicks founded Computer Power Inc. and chaired other successful startups, including Alliance Mortgage Co., which became EverBank Financial Corp.; Enterprise Bank; and Space Maker Self Storage.
Two of his investments evolved into corporate sponsors of the city's NFL stadium.
EverBank sponsored EverBank Field and the company's sale to TIAA resulted in TIAA Bank continuing the sponsorship as TIAA Bank Field.
Before that, Computer Power was sold to Alltel Corp., which sponsored the stadium for 10 years through the 2006 season.
Philanthropist Bob Shircliff, a friend of more than 40 years, said Hicks leaves a legacy as a businessman and a community leader and supporter.
Through the years, business, nonprofit and education leaders described his tenacity, vision, generosity, dynamic leadership and business capabilities.
"What made this all the more unique was that David is an introvert," said former CPI associate Fred Parvey in a 2015 interview.
Parvey said Hicks led CPI with "the strength of his personality, his unwavering vision and his absolute adherence to the rules he created" to mold a company full of people with "a relentless pursuit of perfection in the service they delivered and the credibility they established."
Hicks was born in Nashua, New Hampshire, the second of five boys, and spent his youth in Worcester, Massachusetts. His father was in manufacturing.
He is survived by three brothers: Peter Clayton Hicks, Robert Hicks and James Everett Hicks. He is predeceased by one brother, Donald Jeffrey Hicks.
He earned his bachelor's degree in economics from Amherst College and his MBA from Harvard University in 1960. He became a nationally ranked high school tennis player and the 1952 national champion in father and son doubles.
Hicks graduated from Amherst with 12 varsity letters in tennis, squash and soccer. He continued to play competitive tennis at the highest level.
When Hicks married Ann Curry, the couple moved to her native Jacksonville and he joined legendary mortgage banker Stockton, Whatley, Davin & Co. in 1960 and then became a partner in a C&S Services affiliate. That was in 1967.
He spun it off and incorporated it two years later as Computer Power Inc., creating a mortgage software services giant that he sold to Chase Manhattan, bought back with Merrill Lynch Capital Partners and then sold it 1992 to Alltel Corp.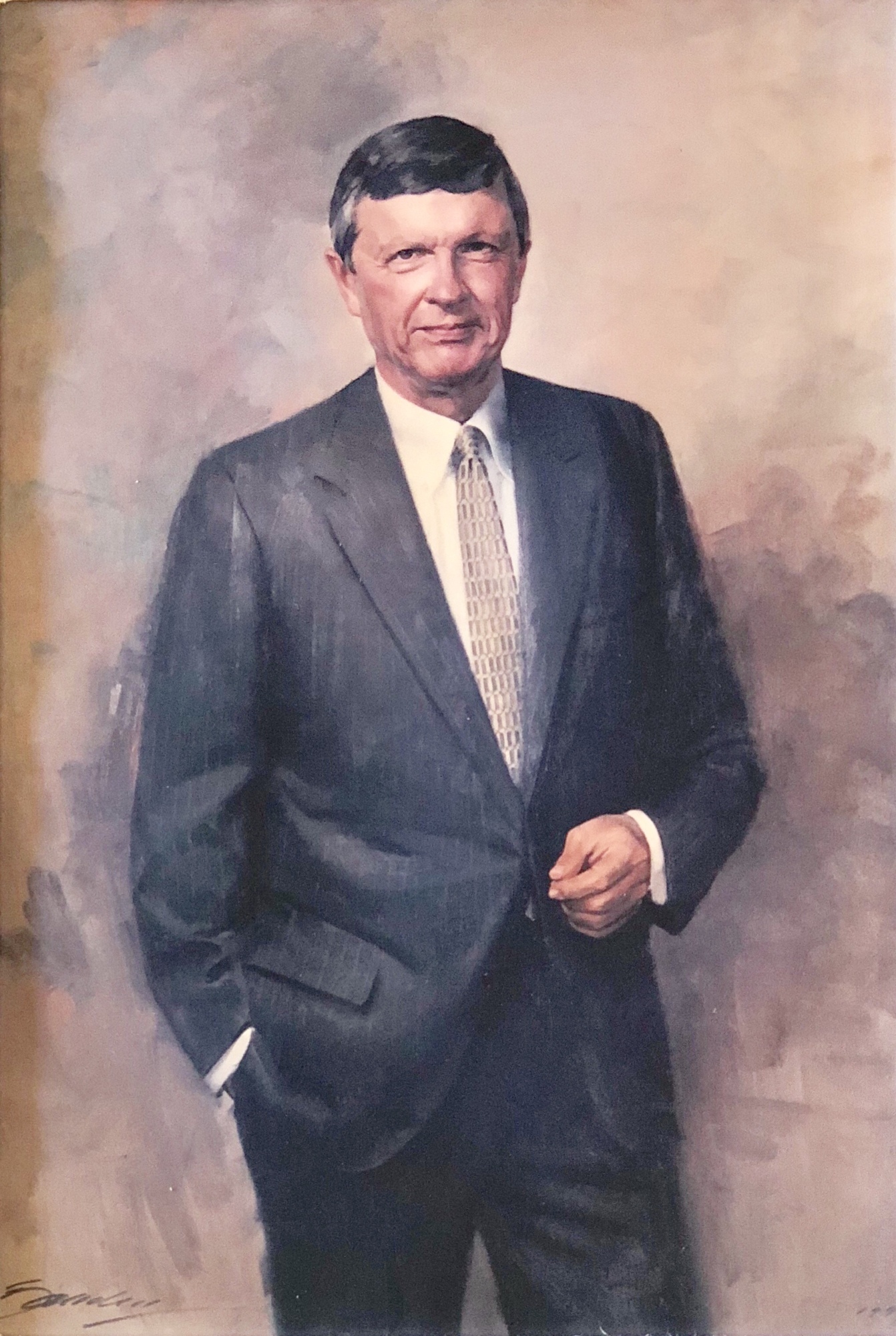 His family said Merrill Lynch described the transaction as its most successful leveraged buyout.
Computer Power processed $1.3 trillion in mortgages, accounting for 43 percent of all U.S. mortgages at the time. Hicks recalled in a 2015 interview that the software designed and written in 1966 continued to run.
"We know of no other design that has worked and help up the way that his particular software has," he said.
Alltel later was sold to Fidelity National Financial, which relocated its headquarters to the site along Riverside Avenue where Hicks developed Computer Power. Hicks retired in 1995.
"He had that touch. He was one of those people that could make something turn to gold through sheer will," said former mayor and retired University of North Florida President John Delaney.
"Whatever he did, he wanted it to be the best."
Hicks recalled in the interview that his management style at Computer Power was to assign a job and let the person "run with it."
"Don't be looking around over their shoulders, just let them go and you'll end up, in most cases, with something which will work out," he said.
At the beginning, with 10 employees, he devised a profit-sharing plan in which employees received 25 percent of the profits, which he called a revelation to people within and outside the industry. It turned out, he said, "to be an extremely successful approach to doing business."
Hicks also led startups that included Alliance Mortgage, which became EverBank and was chaired by Clements until the sale to TIAA.
In addition to his business accomplishments, Hicks is credited for his work in public housing, including the Jacksonville Housing Authority and HabiJax.
He and his wife sponsor the Hicks Endowed Scholarships for students at the University of North Florida for students from public housing and HabiJax.
In 1997, the couple established the Gray Study Abroad Scholarship in honor of Father Neil Gray, an adjunct faculty member who inspired students to reflect on their purpose in life. Ann Hicks earned a degree in liberal studies in 1995.
Ann and David Hicks established the Hicks Honors College at UNF in 2015 with a $7 million gift.
The couple previously chaired a UNF capital campaign that raised $103 million and served as honorary chairs of a second that raised $130 million, Delaney said.
Hicks said in 2015 that he and his wife primarily give to education and low-income housing.
He said that former Mayor Ed Austin, who served from 1991-95, requested that he take a look at the Jacksonville Housing Authority "and see if I would be willing to try and bail it out."
He chaired the authority for seven years, changing the board and the organization and earning high marks from the federal government. He also chaired HabiJax and connected the two organizations.
In 2015, former authority President and CEO Ronnie Ferguson said that in three years under Hicks' leadership, the newly created Jacksonville Housing Authority made significant improvements.
"In three years, the boarded apartments were renovated, stricter management of apartment complexes was established, management and reporting systems were vastly improved, crime prevention activities initiated and resident services processes were improved."
Hicks also served on board leadership at The Smithsonian Natural History Museum, The Deette Holden Cummer Museum Foundation, the UNF Foundation, Jacksonville Community Council Inc.; the Jacksonville Symphony; and the Boys & Girls Clubs of Northeast Florida.
He supported The Salvation Army and the United Way of Northeast Florida.
"Housing for the poor was so important to him," Shircliff said. "He really cared about people who didn't have much opportunity."
Hicks settled his life, career and philanthropy in Jacksonville with his wife.
He decided in graduate school that he did not want to stay in the Northeast for his career, so there was no reason not to move to Jacksonville.
He had worked for larger companies in the Northeast and wanted a smaller company. SWD, he said, "was a good prospect and they took me in."
In his later years, he regularly spent time with The No Purpose Lunch Group.
His advice to his children and grandchildren was: "Live your own life."