Anna Lopez Brosche served at her last City Council meeting as president Tuesday.
"I had been advised by prior council presidents that it was going to feel like it was two minutes long and indeed it was," Brosche said of her year as leader of the 19-member body.
"It's bittersweet," she said Tuesday.
From taking an inventory of Confederate monuments to leading the charge against privatizing JEA, Brosche said she was able to pursue her issues.
It was an active year, preceded by her win over 2016-17 council Vice President John Crescimbeni, upsetting the traditional ascension to the presidency.
From there, Brosche said her approach was to take issues as they came up.
"I really was careful not to develop a lot of expectations because expectations, in general, are the basis for disappointment," she said.
She said she's particularly proud of the work of the Task Force on Civil Rights History she established and her work to address the city's parks.
Through the year, Brosche found herself in the middle of conflicts.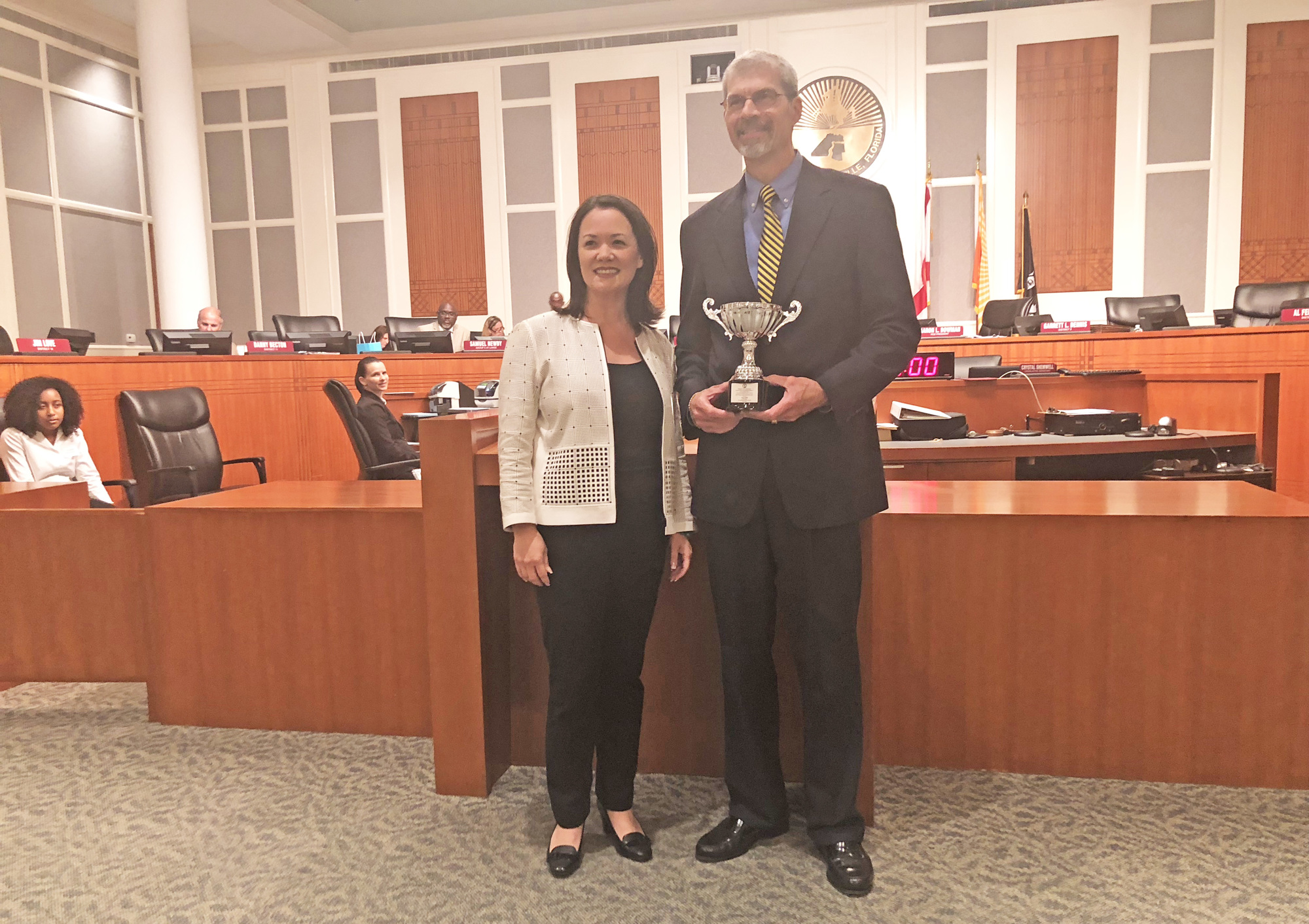 Confederate monuments
Brosche became council president July 1. Her first real challenge came on the heels of racially motivated violence in Charlottesville, West Virginia, in August when she called for an inventory of Jacksonville's Confederate War monuments and memorials.
She said it was an attempt to see if they should be relocated from public parks to a museum or educational institution. One of the highest profile monuments is the statue of a Confederate soldier in Hemming Park adjacent to City Hall.
Nearly a year later, Jacksonville residents still speak out at council meetings for and against potentially moving the statues.
Those comments, Brosche said, led to her decision to push for a memorial to honor lynching victims alongside the Confederate soldier statue.
"The sentiment was let's not move it, but let's contextualize it," Brosche said.
This year, the National Memorial for Peace and Justice opened in Montgomery, Alabama. It features 1,600 steel columns across a 6-acre park that represents the U.S. counties where documented lynchings occurred from 1877 to 1950.
The memorial is asking those counties to claim their columns to create their own memorials in places of prominence.
Jacksonville had seven documented lynchings during that time, and Brosche said it's time to bring the Duval column home.
"I think it's appropriate to tell our history and own it," she said.
She introduced legislation Tuesday to bring the memorial to Hemming Park and form a committee to oversee the installation.
JEA fight
In February, JEA board Chair Alan Howard presented the findings of a financial analysis to council of how the public utility would fare on the open market.
Mayor Lenny Curry called the Feb. 14 meeting, but Brosche caused a collective gasp in the audience when she quashed his attempt to address the council.
She has remained a vocal opponent of privatizing the electric, water and sewer utility and questioned the JEA board's naming of Aaron Zahn as interim CEO. Zahn, who has no utility experience, has applied for the permanent job.
"I would say that putting the brakes on the freight train called 'selling JEA' was a big deal for me," she said. "Also, helping the public engage in that process because I feel like they should be engaged in all of our processes."
Brosche said she believes the utility would have taken steps toward privatization if she were not president and that there are governance problems with the independent authority.
"Right now, I don't know that things are working in a way that people expect and in accordance with some defined rules," she said. "Hopefully that will change."
Indictments
Brosche, a Republican, won over Democrats representing Districts 7-10 to secure the win over Crescimbeni.
In return, she placed them on critical council committees.
Two Finance Committee members, Katrina Brown and Reginald Brown, are now defendants in a federal fraud case and are suspended.
Federal prosecutors allege they used a group of companies to illegally siphon money from a federal loan and a city-backed loan and grant to prop up a failed barbecue sauce plant in Northwest Jacksonville that was owned by Katrina Brown and her family.
The pair pleaded not guilty Monday to multiple fraud charges.
Brosche said while she knew Katrina Brown was having issues with her family business, she wasn't aware that the problems had escalated to an FBI investigation that eventually led to a federal indictment.
Katrina Brown was elected to District 8 and Reginald Brown to District 10.
"At the time of me making the decision to put them on Finance, that was an effort for me to provide Districts 7, 8, 9, and 10 with a voice," she said, "to set forth a path for diversity on the council, both in leadership and in service like we've never seen before."
Brosche said hindsight is 20/20 and that had she known the scope of the legal issues she would not have placed them on Finance.
"Nevertheless, I can't put toothpaste back in the tube, and I made some swift changes as soon we were aware of these challenges," she said. Both were relieved of council assignments after the indictment.  
Brosche said neither could have independently made a significant difference or pushed an initiative on council without nine of their peers supporting their activities.
"Ultimately, each of them is one of seven on a committee and they're one person of 19 (on council)," she said.
The future
With her term ending Saturday, Brosche said she's ready to return to her role as an at-large council member.
She said she will continue to push for government transparency and for the work of the Task Force on Civil Rights History.
"I'm 150 percent behind seeing that work continue, but I haven't quite figured out a mechanism for how to do that," she said.
Brosche has clashed with Curry, generating speculation that she might challenge him in next year's mayoral race.
She acknowledges but does not confirm the rumors.
"I'm looking forward to evaluating the future and my priorities," she said.