The Jacksonville Bar Association recognized Michael Freed as the 2018 Daily Record Lawyer of the Year at its annual meeting and Law Day luncheon on Thursday.
Freed has practiced law since 1995 and joined Gunster's Jacksonville office in 2014, but was selected not for his substantial career accomplishments, but for his dedication to helping people who can't help themselves.
He said as he accepted the award that his goals in life are to grow his faith "and make the profession a little better."
In June, he laced up his shoes and ran six marathons in six days, covering the 157 miles from the state Supreme Court building in Tallahassee to the steps the Duval County Courthouse to raise funds for Jacksonville Area Legal Aid.
Along the way, Freed gained support from members of the legal community and raised nearly $70,000 to be donated to JALA, $30,000 more than the goal he set when he began the project.
A few days before he began the series of eastbound daily marathons, 26.2 miles from one county courthouse to the next, Freed said he realized what he was attempting was out of the ordinary.
"I've found that when you do something kind of crazy, people pay attention. When you do it for a good cause, they really pay attention," he said.
He was right about that.
Publicity surrounding "Freed to Run" gained the attention of Baptist Health. Through its "Securing Tomorrow Together" campaign, the health care provider pledged to match contributions to JALA up to $1.25 million over a five-year period to support pro bono civil legal services for pediatric patients and their families.
Freed will lace up his running shoes again in December to retrace the route on "Freed to Run 2.0," this time joined by teams of runners and donors who will cover each day's distance relay-style.
Jim Bailey, JBA executive director and publisher emeritus of the Daily Record, said Freed epitomizes the qualities sought each year when members select one of their own to receive the award.
"It's about a commitment to serve the community," he said.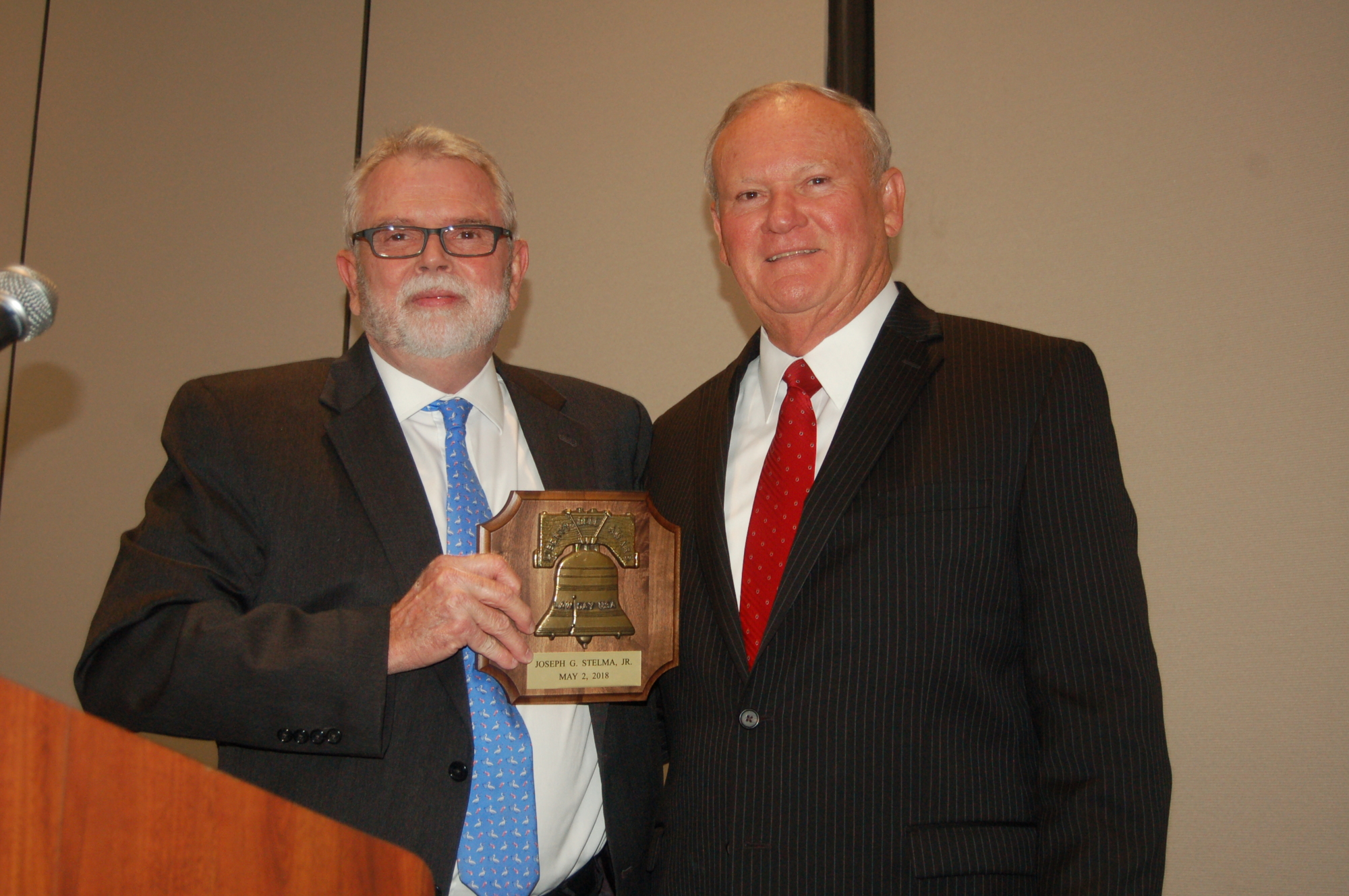 Liberty Bell Award
The association also presents each year the Liberty Bell Award that recognizes someone who is not a lawyer, but who has made a significant contribution to the legal community or profession.
This year's recipient is Trial Court Administrator Joe Stelma, who joined the 4th Judicial Circuit in 1995 after a 25-year career with the Jacksonville Sheriff's Office. He became administrator of the trial court in 2008.
Chief Judge Mark Mahon said Stelma's contributions include supporting the judges and serving as the court's human resources supervisor as well as myriad other duties such as logistics and supervising building operations.
"It's an honor to be court administrator and an honor to be around this profession," Stelma said.
State Sen. Rob Bradley delivered the keynote address at the luncheon. He represents District 5 and is managing partner of the Kopelousos, Bradley & Garrison law firm in Orange Park.
Describing himself as a "history nerd," Bradley's remarks were centered on this year's national theme for Law Day, "Separation of Powers: Framework for Freedom."
He said the American format of government with three independent branches and the system of checks and balances established in the Constitution to empower each branch to maintain its authority has proved its validity for more than 200 years.
"The framework has not only survived, but thrived," Bradley said, "because it works."