Downtown Jacksonville's business community is gaining a few new neighbors with coffee and retail options.
Murray Hill-based coffee roasters Vagabond Coffee Co. held a grand opening Wednesday at 223 N. Hogan St., its second location.
Owner Will Morgan said it's full circle for the business that began as a retrofitted camper in 2014 near Hemming Park.
From there, Morgan and his wife, Samantha, opened a storefront at 934 Edgewood Ave. in Murray Hill.
The Hogan Street shop is the first Morgan plans for Downtown. In the next year, he intends to open a larger Vagabond location in the Barnett Building, which is being redeveloped on North Laura Street.
"We wanted to find something to get down here sooner," he said. "It was the right time for us."
He said the Hogan Street location will evolve into more of a bodega-style coffee bar for customers who are in a hurry. It will open 7 a.m. to 5 p.m. Monday-Friday.
"The idea is, we'll offer more high-end or specialty items that you may not find in other coffee shops," Morgan said. "We'll offer organic produce, organic beef jerky, chocolate and pastries for people to come in quickly and go."
The 550-square-foot Hogan Street shop also will serve sandwiches, baked goods, natural juices and other coffee products. Morgan said lunch and breakfast items will be made at the Murray Hill store and brought over daily and as needed.
"We just wanted to create a high-end, bodega-style experience for Downtown Jacksonville, and I think we're going to fill a niche by doing that," said Morgan.
He hopes to be in the Barnett Building next year. Morgan said the 1,200-square-foot-space will offer a variety of products.
"It's more of the traditional coffee house experience," said Morgan. "You can come sit or host a meeting and stay a while."
Morgan said he will build out the space toward the end of the building's renovation but did not have an opening day.
When completed, the Barnett will offer 100 apartments, a University of North Florida satellite campus, offices and retail banking on the ground floor, along with Vagabond.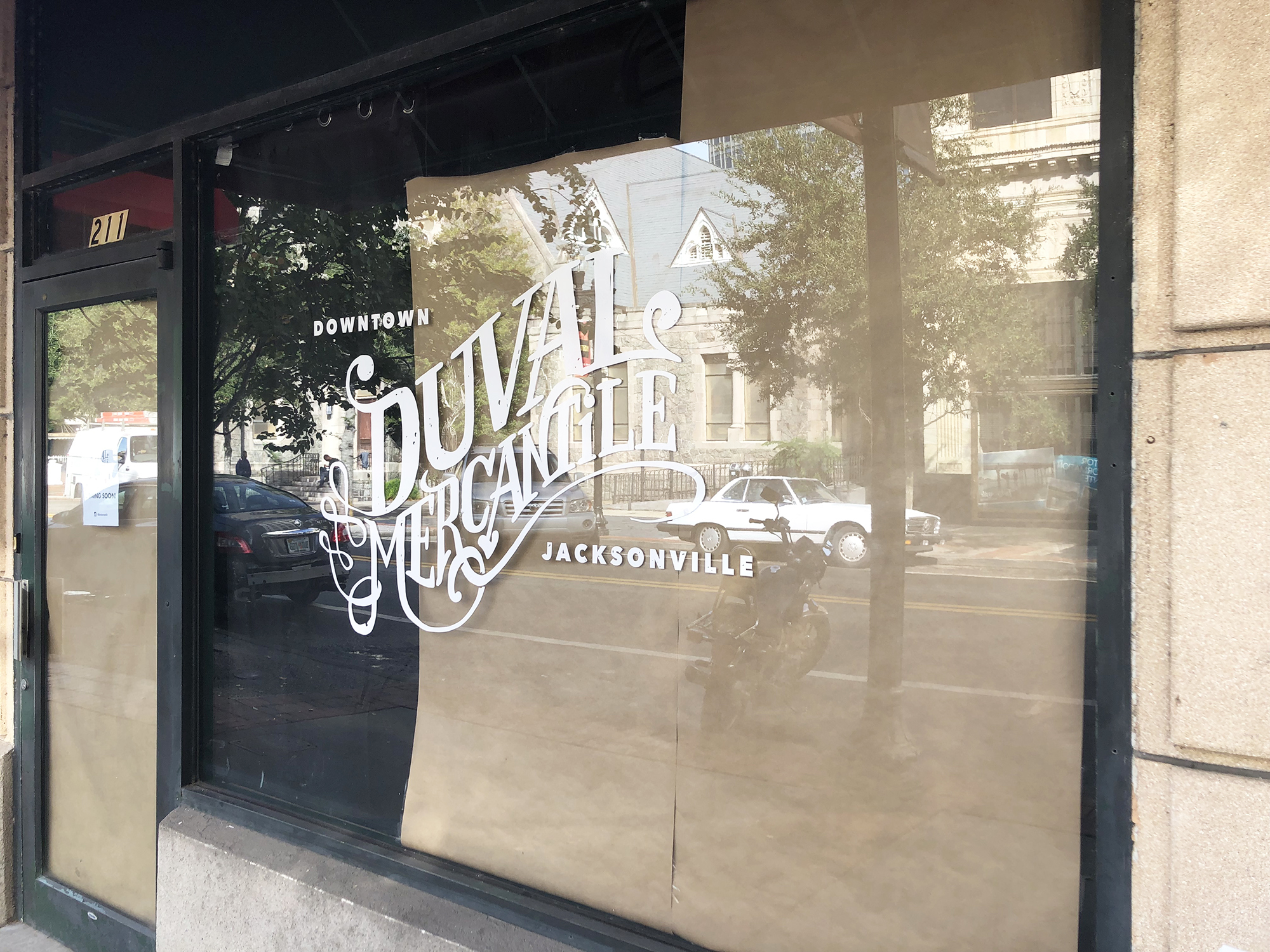 Duval Mercantile boutique opens on Laura Street
Also Wednesday, Wolf & Cub owner Emily Moody debuted a retail pop-up shop, Duval Mercantile, two doors from her 205 N. Laura St. boutique.
Moody elected to go with a short-term lease through the end of December, "sort of a test run," she said.
The approximately 700-square-foot store at 211 N. Laura St., the former La Cena Ristorante, will feature products from about 15-20 Jacksonville-based makers.
"We thought with the holidays coming up, this was a good chance to showcase ours and our friends' products in a different setting," said Moody.
"If it goes well, we'll see where it goes from there," she said.
Moody established the Wolf & Cub retail store two years ago, but acknowledged that most of the business comes from online shopping.
She said she's hopeful more retailers will open storefronts as larger developments come online in the next two years.
"There's not really any other retail shops Downtown, so we think by opening this space, we can make this kind of a destination for people who want more to do when they come here," said Moody.
Moody said Duval Mercantile will have regional produce and local baked goods, jams, meats and cheeses and other perishable items.
That's in addition to an assortment of household items like candles, packaged products, pet goods and other textiles.
"All produced here, all from local businesses which are growing like us," she said.
Jake Gordon, CEO of Downtown Vision Inc., said there's demand for Downtown space.
"It's great when these proprietors and small business owners decide to come Downtown, but we have to remember, that venture has to be successful and profitable to work," said Gordon.
Downtown Vision Inc. is a publicly funded group that advocates and represents business owners in Downtown. It puts on the monthly Art Walk and other events.
Gordon said Downtown can be tricky for retailers.
"If businesses can create a destination that people want to go to, then they'll find it," he said.
"We want new retail and dining that will complement what's already here, and not take away from the existing businesses."
Gordon said Duval Mercantile and Vagabond will fit Downtown.   
He said the next step is helping the urban core build night-time business.
"Right now, most of these restaurants and stores have business plans centered around the day time, and not so much after dark," he said.
"As more people open shops Downtown, I'm confident that's going to change."