A year after filing for Chapter 11 reorganization, radio station giant iHeartMedia Inc. is emerging from bankruptcy with a plan to go public again.
However, in the 21st century, the company once known as Clear Channel Communications Inc. doesn't want to be known as a radio company.
The San Antonio-based operator of 848 U.S. stations, including seven in Jacksonville, now describes itself as an "audio media" business.
"Audio is hot, and we are the number one audio media company in the U.S. based on consumer reach," iHeartMedia said in its registration statement last week for an initial public offering.
"Our product strategy is 'be where our listeners are with the products and services they expect from us'. Our reach now extends across more than 250 platforms and over 2,000 different connected devices — and that reach continues to grow," it said.
Besides traditional broadcast radio, iHeartMedia reaches listeners through digital services, podcasts and social media events, it said.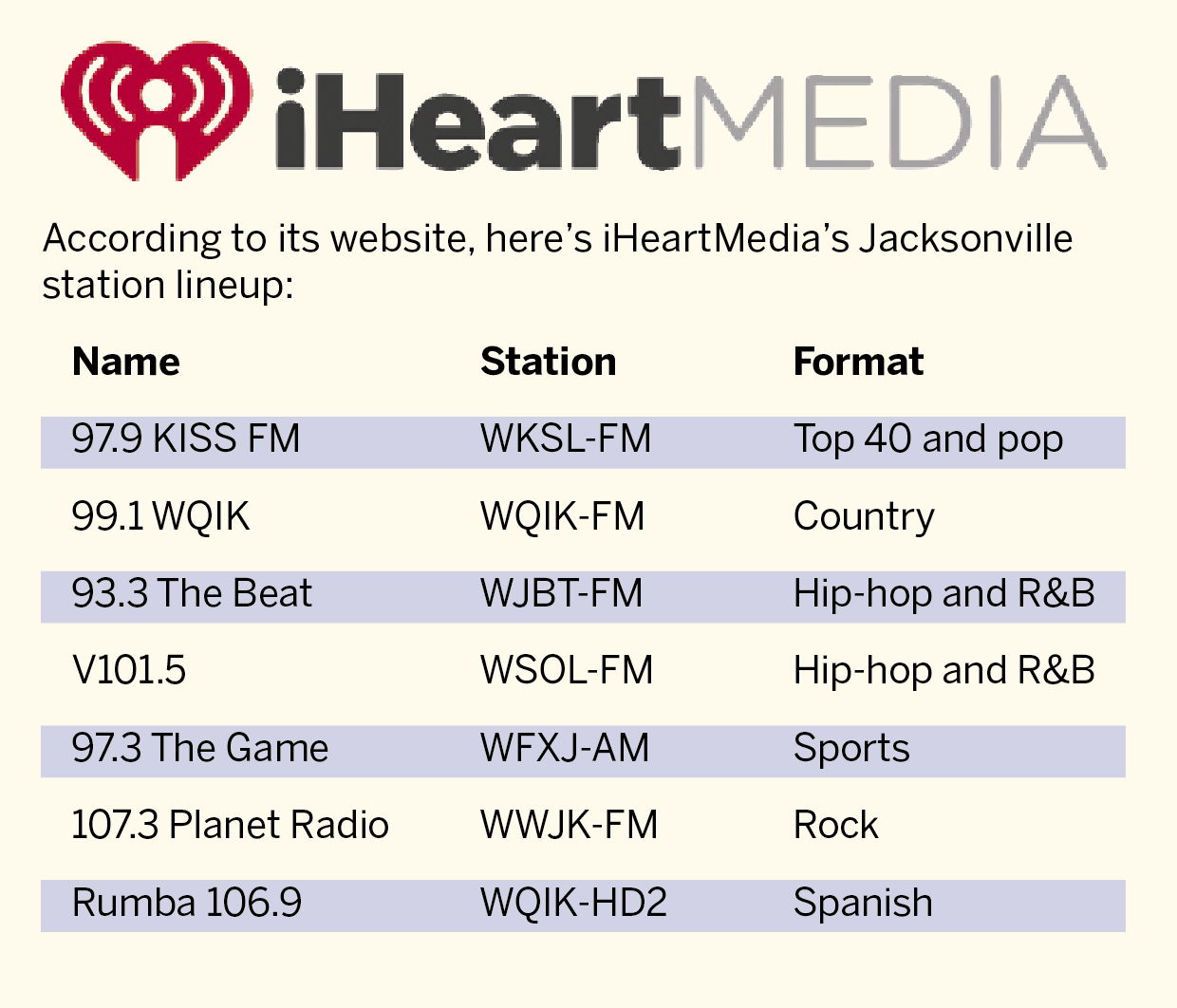 Radio advertising continues to be the company's largest source of revenue. The registration statement said it sold $1.4 billion in local advertising on its stations last year and $826 million in national ads.
But that doesn't mean listeners were hearing the ads over old-time radio receivers.
"Technology has expanded the opportunities to listen to the radio in the car, at work and at home, with new devices such as smart speakers, smartphones, gaming consoles and smart televisions," the registration statement said.
The company changed its name from Clear Channel to iHeartMedia in 2014, as it rebranded as a multiplatform media company.
Back in the quaint old pre-digital age when everybody needed antennas to receive over-the-air radio and TV signals, Jacksonville was one of Clear Channel's most important markets.
Clear Channel was a relatively small company owning a handful of television stations when it bought Jacksonville station WFOX TV-30 (then known as WAWS) in 1989.
When the Federal Communications Commission began relaxing ownership restrictions on radio and television stations in the 1990s, Clear Channel took advantage and began growing into a media giant.
Its growth included taking over management of another Jacksonville television station, WJAX TV-47 (then known as WNFT) in 1995.
Two years later, it became a force in Jacksonville radio by acquiring six stations from Paxson Communications Corp. 
At that time, it was somewhat unique to own television and radio stations in the same market and Clear Channel needed, and received, a waiver from the FCC to make the deal.
The publicly traded company agreed to a private equity buyout in 2006 and along with that deal, it put its group of television stations up for sale.
The group including WFOX and WJAX was sold in 2007 (and the Jacksonville stations have gone through several ownership changes since then) and after much haggling, the $17.9 billion buyout of the rest of the company was completed in 2008.
The timing of the buyout was bad for the new owners.
In March 2018, the company filed for Chapter 11 reorganization in U.S. Bankruptcy Court in Houston "as a result of our significant amount of indebtedness and the continued effects of adverse market conditions following the 2008 financial crisis," the IPO registration statement said.
A reorganization plan was confirmed by the court in January and iHeartMedia expects to emerge from bankruptcy by midyear.
The statement filed with the Securities and Exchange Commission does not say how much money iHeartMedia hopes to raise in the IPO, but it expects to use the proceeds to pay off debt. 
CSX downgraded after strong runup
CSX Corp. reports its first-quarter earnings Tuesday but even if the Jacksonville-based railroad company has good news, UBS Securities analyst Thomas Wadewitz doesn't expect it to push the stock any higher.
CSX's stock produced a total return of 78% in 2017 and 2018 as its new management team came in and it has continued to rise this year, up 20% so far, Wadewitz said in a research note Friday.
"Following this strong run, we believe that the stock now reflects the good news in terms of further margin improvement and industry leading OR (operating ratio) performance," he said.
"Given the move up in CSX stock and OR expectations that reflect a high bar, we believe reward/risk is no longer skewed to the upside and we are lowering our rating from Buy to Neutral."
International Speedway earnings fall
Daytona Beach-based International Speedway Corp. last week reported adjusted earnings of 57 cents a share for its first quarter ended Feb. 28, 3 cents lower than last year and also 3 cents lower than the consensus forecast of analysts, according to Zacks Investment Research.
The company owns 13 motor sports facilities, including the Daytona International Speedway, and its first quarter includes the Daytona 500 race and other events at the facility surrounding the race.
International Speedway said it sold out reserved grandstand tickets for the Daytona 500 for the fourth consecutive year. That helped revenue grow slightly by 1.1% to $150.6 million.
Earnings were impacted by 5 cents a share in costs related to International Speedway's evaluation of an offer by NASCAR to buy the company.
NASCAR is owned by the family of founder Bill France, and the family also has a controlling interest in publicly traded International Speedway.
International Speedway in November said NASCAR offered to buy the remaining shares of the company not owned by the France family. Other than the costs incurred, the company gave no other update last week on the negotiations.
Drone Aviation increases revenue
Drone Aviation Holding Corp., which produces tethered aerial platforms for government uses, reported 2018 revenue of $2.7 million, up from just $562,078 in 2017.
"The reason for the increase is that revenues in 2017 were primarily related to refurbishments and enhancements of aerostat systems and the revenues in 2018 were primarily from the sale of two aerostat systems," the Jacksonville-based company said in its annual report filed with the SEC.
Drone Aviation reported a net loss of $8.5 million, or 89 cents a share, for the year.
Sauer gets $9.8 million defense contract
The U.S. Department of Defense announced Friday that Jacksonville-based Sauer Inc. was awarded a $9.776 million contract by the U.S. Army Corps of Engineers to build a special operations forces live fire maze and tower.
Work on the contract will be done at Fort Bragg, North Carolina, and is scheduled to be completed by April 2020.
Sauer Inc. is a commercial general contracting subsidiary of Pittsburgh-based Sauer Holdings Inc.
Marker has positive cash flow
Marker Therapeutics Inc., which is developing cancer treatments but has no products on the market, recorded a net loss of $148 million for 2018.
However, because of additional sales of stock, it had a positive cash flow of $56.6 million for the year.
The company said in a corporate update it expects to have enough cash to meet its operating requirements into the fourth quarter of 2020.
Marker, formerly known as TapImmune, moved its headquarters from Jacksonville to Houston in February. The company has only 11 full-time employees, according to its annual report.
The company still has a small office space at 5 W. Forsyth St. in Jacksonville under a lease that expires in 2022, the report said.
While it's not selling any products, Marker did recognize $206,000 in grant income for 2018. That money was paid by the Mayo Clinic to the company as part of a U.S. Department of Defense grant to research Marker's cancer therapies at Mayo in Jacksonville.