Job growth may be slowing this year but proponents of one industry are projecting strong growth in employment, particularly in Florida: the legal cannabis industry.
Government agencies do not break down payroll data for the industry but a report last month by cannabis information company Leafly shows explosive growth in 2018, which it expects will continue this year.
Leafly said the industry increased jobs by 44% last year and Florida created the most new jobs, 9,068.
The legal cannabis industry employed a total of 1,290 people in Florida at the beginning of 2018, so that was a growth rate of 703%.
"That hiring surge was spurred in part by a near-tripling of Florida's medical marijuana patient population, which grew from roughly 65,000 to 165,000 in 12 months," it said.
The growth came as Florida moved toward removing restrictions on medical marijuana use, after voters passed a constitutional amendment in favor of it in 2016.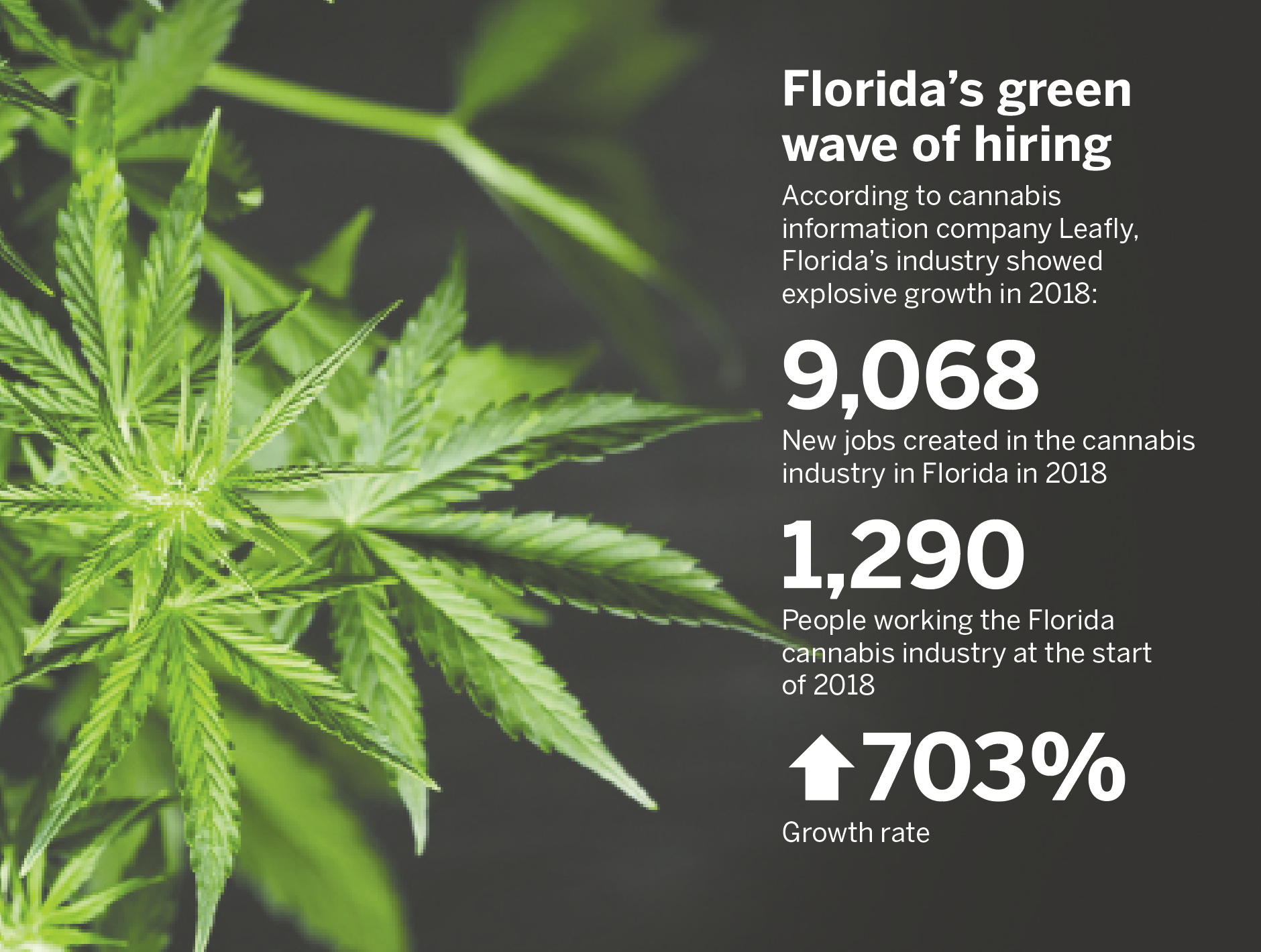 Leafly does not expect such big growth in 2019 but it projects Florida will add 5,136 legal cannabis-related jobs, a 50 percent growth rate. That's based on expectations of 100,000 new medical marijuana patients in the state this year.
Florida's statewide job growth rate was 2.6 percent from December 2017 through December 2018. The highest growth for any industry measured by government surveys was 6.7 percent for the real estate and rental and leasing sector.
The government does not collect data on cannabis industry jobs because while many states have eased restrictions, it's still illegal at the federal level.
"But they are real jobs, held by real Americans supporting themselves, their families, and their communities. Those cannabis jobs count," Leafly said.
With no payroll surveys to count cannabis jobs, Leafly partnered with an Oregon firm called Whitney Economics to determine employment, using available data on the industry.
It said 29 states allowed medical marijuana at the beginning of 2018 and four states and the District of Columbia legalized adult use of cannabis.
By the end of the year, five more states legalized medical marijuana and six more states allowed all adult use.
Legal U.S. cannabis sales rose 34% to $10.8 billion in 2018, it said.
The growing market produced 64,389 new full-time jobs in the industry, bringing total direct cannabis employment to 211,000, it said.
"That growth shows no signs of slowing down," the report said.
"A majority of cannabis consumers in California have yet to transition from the illicit market to the legal market. Michigan, a state with twice the population of Colorado, is expected to open its first adult-use stores in early 2020."
The Wall Street Journal reported Friday that cannabis-related stocks are surging. The ETFMG Alternative Harvest exchange-traded fund, which invests in medical marijuana companies and cannabis producers, is up 44% so far this year, it said.
Besides the push toward more legalization in the U.S., Canada's decision to legalize marijuana for recreational use also is pushing cannabis-related stocks higher, the Journal said.
Leafly said the U.S. cannabis industry is growing without any help from government sources in areas like tax incentives, which many large businesses demand before bringing jobs to cities.
"Amid the roiling debate over American jobs, the legal cannabis industry remains a substantial and unrecognized engine of grassroots job creation," it said.