Mayo Clinic opened its $32.4 million Discovery and Innovation Building on Thursday.
The  75,000-square-foot building houses the Life Sciences Incubator for biotech entrepreneurs, a lung restoration facility and an automated stem cell manufacturing site.
The incubator also will help commercialize the discoveries of Mayo Clinic researchers. 
The facility offers coworking space, wet labs, business resources, networking events, academic entrepreneurial training and external partnerships to help design, launch and grow the companies.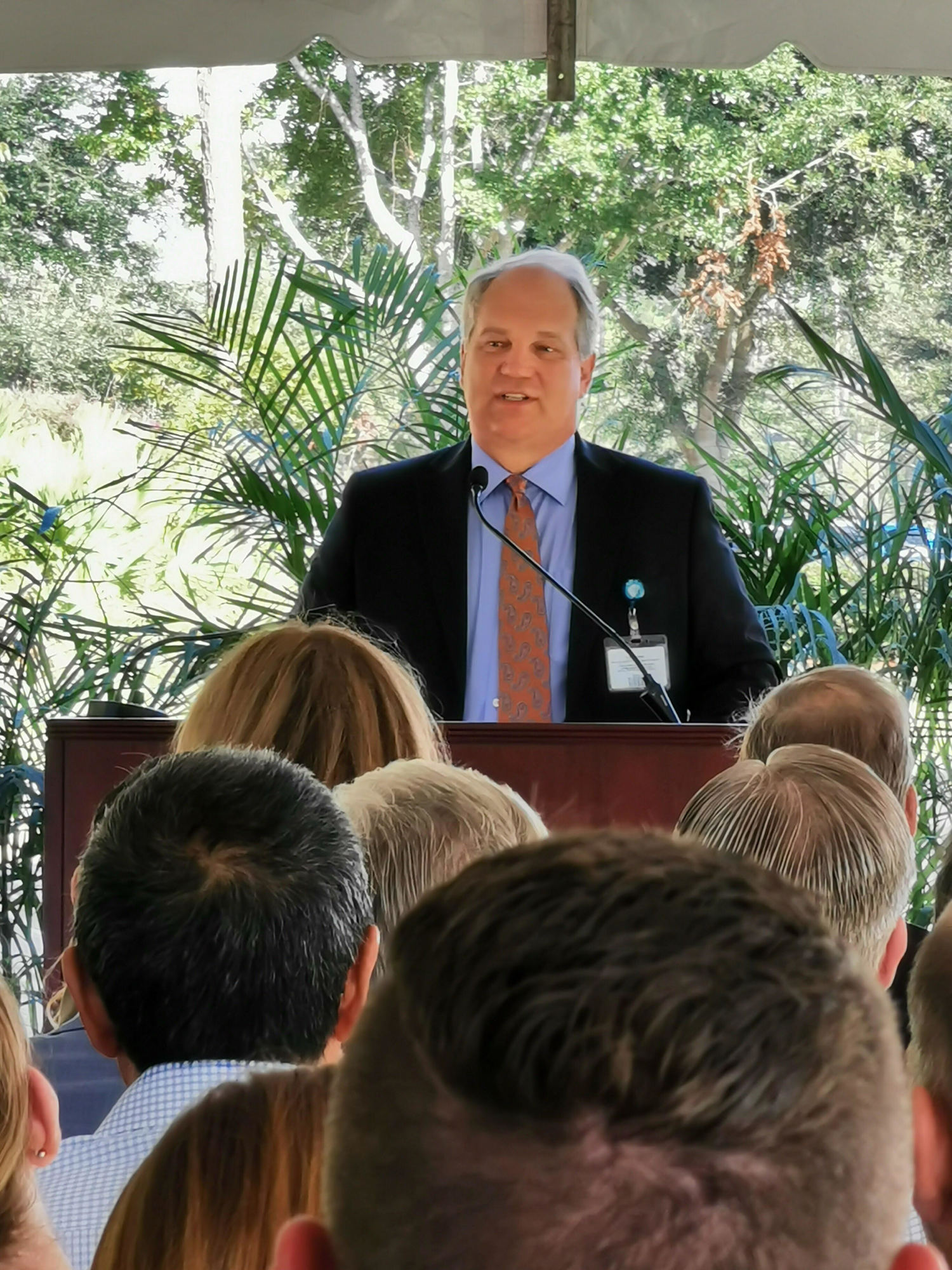 In July, the incubator received a $750,000 i6 Challenge grant from the U.S. Economic Development Administration. The grant is designed to grow entrepreneurship and provide capital for communities across the country. 
"It's going to give Mayo innovators an opportunity to bring new products and technologies to market, hopefully creating new companies that would provide more jobs," said the incubator's Executive Director Vic Nole. "At the same time, part of our strategy is to attract life sciences and health care companies from across the U.S. and the world that would have an interest in co-locating with Mayo Clinic."
Life Sciences Incubator partners include the University of North Florida's Center for Entrepreneurship and Innovation, PS27 Ventures,  Jacksonville University, the University of Central Florida, the University of Florida and Georgia Tech.
"We're actively looking to build a broader ecosystem that would benefit not only the companies coming through our incubator, but business opportunities that we could introduce to other folks in the region," Nole said.
The Life Sciences Incubator is on the third floor. An automated stem cell manufacturing site is on the second floor, one of the first of its kind in the country. 
The technology, approved by the FDA last year, allows Mayo Clinic's Center for Regenerative Medicine to produce cells from the bone marrow of a stem cell donor in large enough quantities to be used as treatments in clinical trials. It allows for the treatment of multiple patients at the same time. 
The ground floor is home to three ex-vivo lung perfusion surgical suites, which are used for lung restoration, a form of regenerative medicine, which turns donor lungs that would have been previously discarded into viable transplant organs.
In 2015, Mayo Clinic and United Therapeutics announced a partnership to combine Mayo Clinic's medical expertise with United Therapeutics' ex-vivo lung perfusion technology. As part of that agreement, Mayo Clinic leased the land on its Jacksonville campus to Lung Biotechnology PBC, a subsidiary of United Therapeutics to construct, equip and operate the center. 
Mayo Clinic will provide medical oversight and coordinate the procurement and delivery of the lungs. 
Only 20% of donor lungs are suitable for transplant, and nearly 300 people a year die waiting for a lung transplant. At full capacity, Mayo Clinic Jacksonville's facility will restore around 900 lungs annually. 
In the past four years, Mayo Clinic says it has invested about $600 million at its Jacksonville campus and added more than 1,000 jobs. It employs about 6,000 people in Jacksonville.