Property owner Eugene Sur and St. Augustine developer Cadenza Partners LLC plan to develop the more than $30 million Harbor Lights Jacksonville,  a mixed-use project west of the Intracoastal Waterway next to Palm Cove Marina.
The master-planned development proposal revises previous plans for the property with retail, commercial, multifamily and rebuilding the waterfront Marker 32 restaurant.
Nick Sartori Jr., managing member of Cadenza Partners, said Tuesday the development is conceptual and the details will need to be adjusted. 
"We envision a residential lifestyle that thoughtfully blends into convenient dining, shopping and entertainment options," he said in a news release.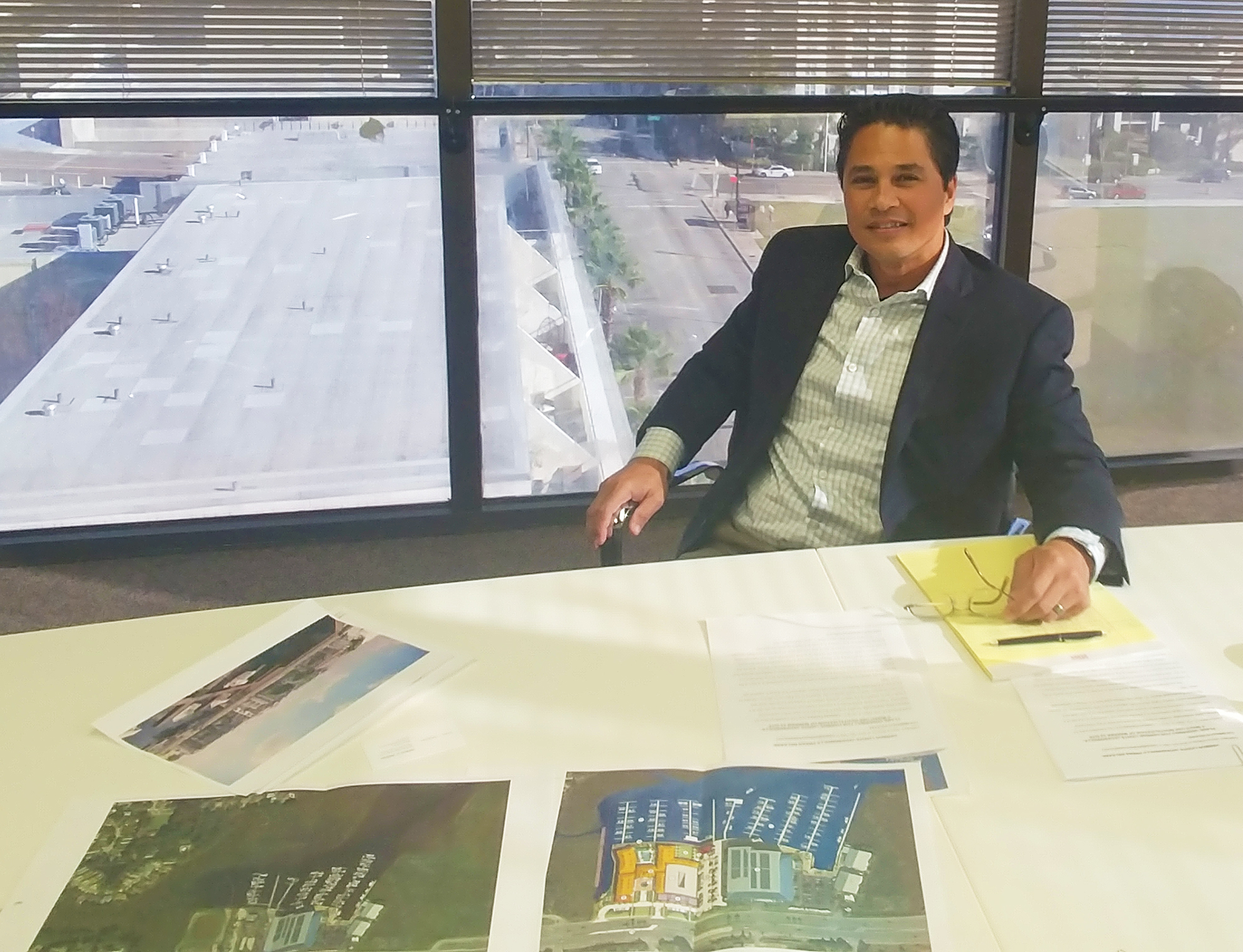 The 7.79-acre marina property is at 14537 Beach Blvd., along the north side of Beach Boulevard between the Intracoastal Waterway and San Pablo Road.
The proposed development comprises a five-story apartment building with amenities; a three-story building with first-floor retail and two residential floors adjacent to Beach Boulevard; a single-story commercial building; outdoor event space; a new two-story Marker 32 restaurant;  a boardwalk; up to 115 boat slips; and a five-story parking structure in the center of the development.
It proposes up to 215 multifamily units and 21,000 square feet of enclosed nonresidential uses along Beach Boulevard.
The multifamily portion will be one-, two- and three-bedroom apartments, condominium units or both, averaging 1,000 square feet, Sartori said.
Land use attorney Thomas Ingram, with Sodl & Ingram PLLC, said the project reflects a demand for the marina lifestyle, the trend for people who prefer to "lock and leave" and to live "near Mayo Clinic, the Beaches, and Gate Parkway, the center of employment in the Jacksonville MSA."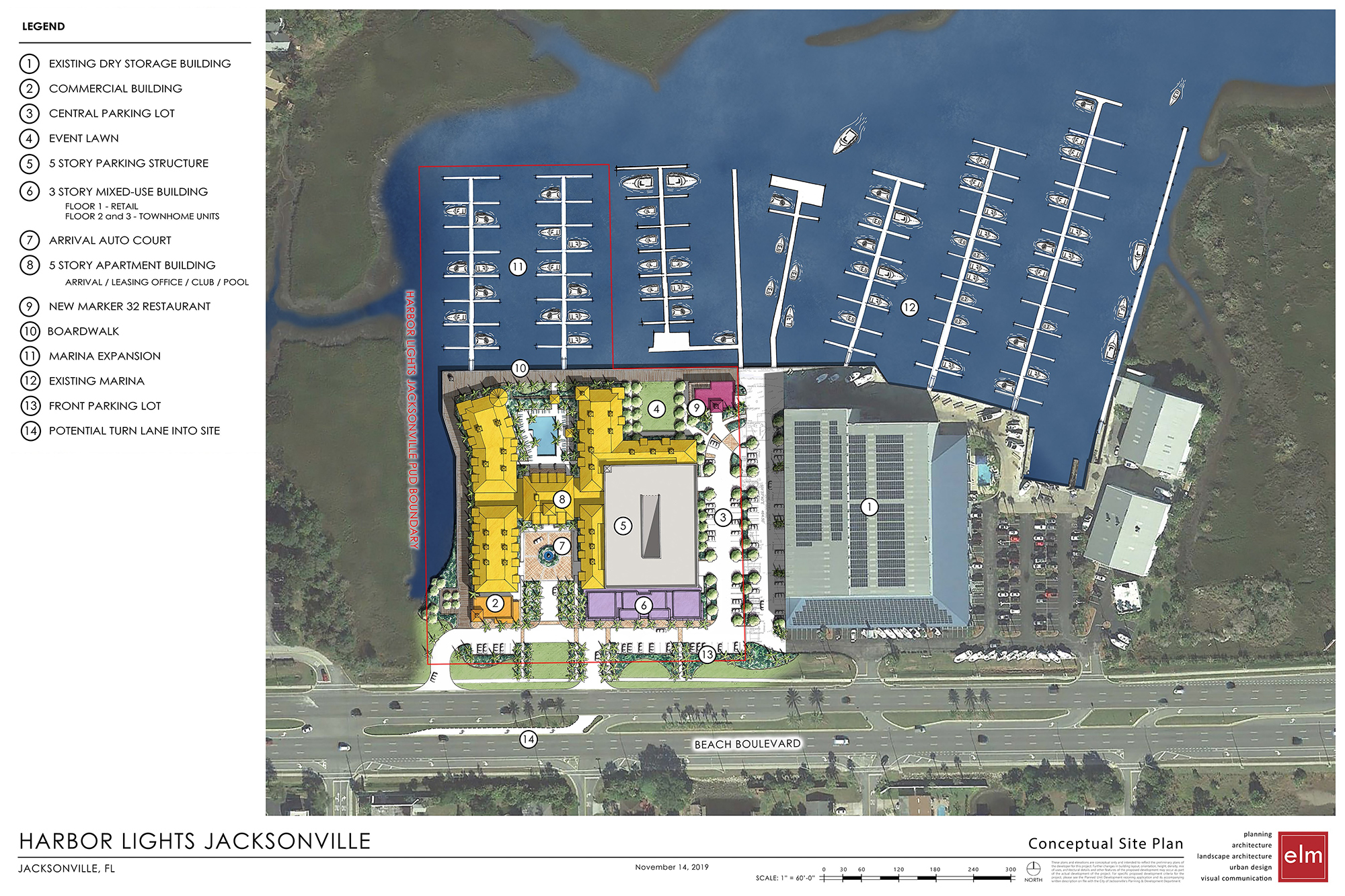 The property has long been targeted for redevelopment. Plans fluctuated over time in response to market conditions.
A 19-story tower was proposed in the 1980s. In 2004, before the Great Recession,  seven-story condominium buildings and marina slips were envisioned.
The current proposed development is in city review for revision of the existing planned unit development zoning. The PUD rezoning covers the western 5.7 acres of the property originally approved by Ordinance 2004-523-E for 64 condominium units in three seven-story buildings with 115 marina slips.
Allowable nonresidential uses include retail sales and service, restaurants, offices, galleries, museums, veterinarian with boarding, specific recreational and existing uses.  
The current use of the property to be redeveloped comprises Marker 32, golf cart sales and storage, boat trailer storage and dredge material storage. Ingram said there are no near-term plans to change the existing operations.
I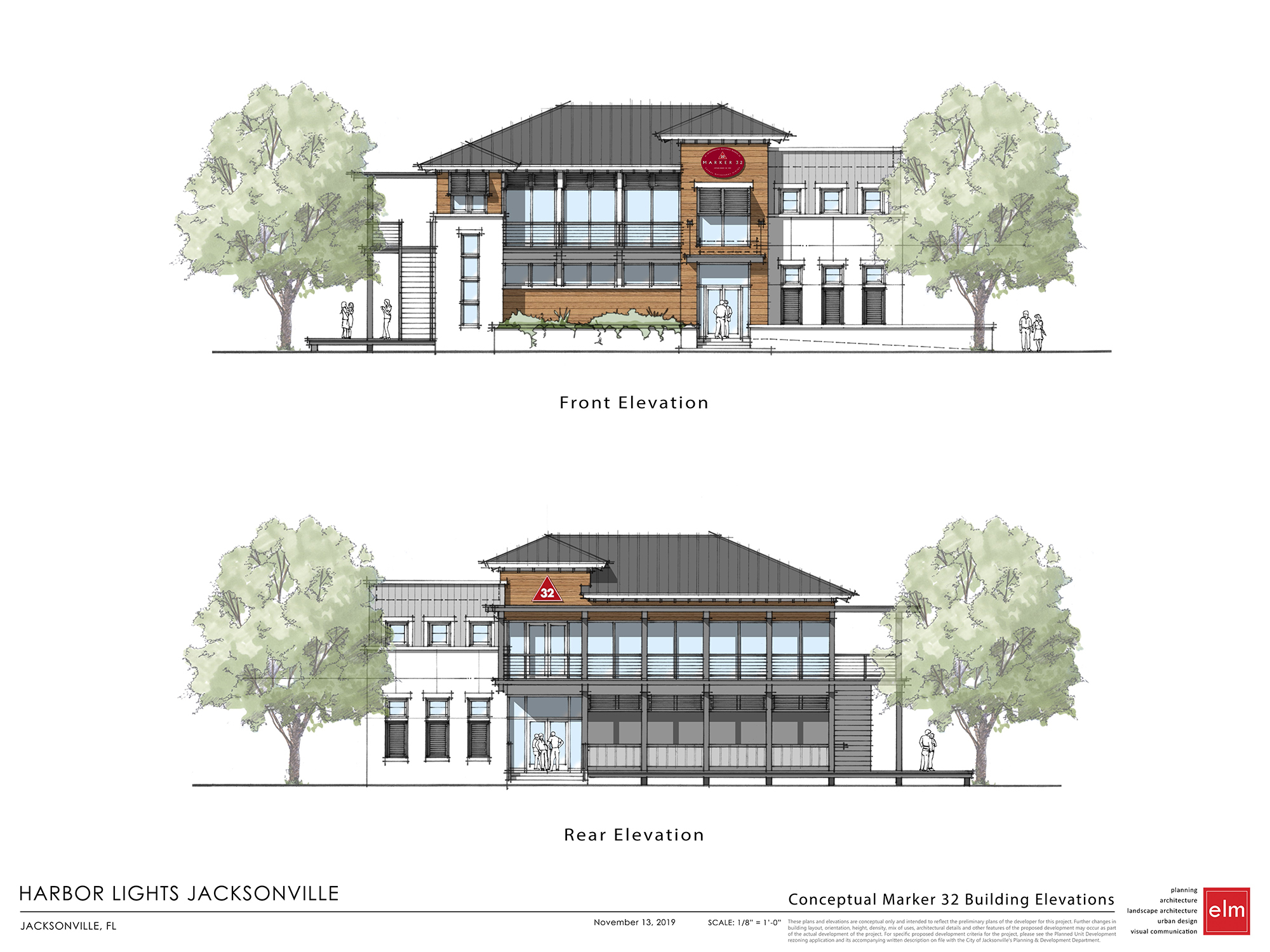 ngram anticipates the process of rezoning through the city Planning Commission, City Council Land Use & Zoning Committee and then the full Council will proceed through early next year.
Full entitlements for the marina and civil engineering permits should be complete in about a year, he said. 
Initially, site work will commence along with building the Marker 32 restaurant adjacent to its existing location. Other vertical construction is anticipated to begin in 2022 and last two years.
Marker 32 restaurant will continue operating during construction.
The sequence of development is subject to change, as market demands change.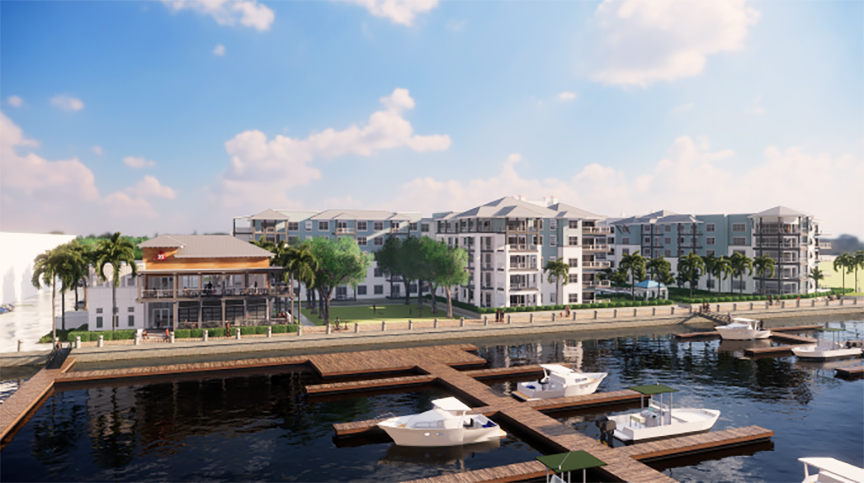 Palm Cove Marina to the east is not part of the development. 
Sartori views the property as underutilized, given the location. He said Cadenza Partners serves in an advisory role for development.
Cadenza Partners is a consulting real estate development firm providing land entitlement, asset management and financial and operational business strategies.  
Jacksonville-based Ervin Lovett Miller is the project architect and planner.
The project is in response to market timing and the ability to assemble contiguous parcels, Sartori said.
Tiny home rental community
The Guillory Family proposes a 50-lot tiny home rental community on property it owns in Hyde Grove, southwest of Hyde Grove Elementary School. 
The city is reviewing plans to rezone 5.67 acres at 2109 Navaho Road, south of Wiley Road and west of the Wiley Road Playground.
The Jacksonville Planning Commission recommended approval Thursday to change from residential medium density-B to planned unit development for the community. 
The development proposes four clusters of lots grouped around courtyards with grassed parking spaces and parallel parking on Navaho Avenue. Lot area will be determined by maximum lot coverages. A minimum home size is not required.
The rezoning request reserves the option to comply with the RMD-B zoning requirements. 
Habitat for Humanity of Jacksonville received a $81,180 mobility fee calculation certificate in August for 50 single-family tiny homes on Navaho Avenue. 
HabiJax Chief Operating Officer Angie Leatherbury declined to comment in August and has not returned a call for comment this week.