The next step in the possible sale of Jacksonville's city-owned utility is on hold until the end of January.
The JEA board tabled a decision Dec. 17 on how to proceed with its ongoing invitation to negotiate. 
The board instructed JEA interim CEO Melissa Dykes to review the yearlong strategic planning process and complete JEA staff's research on the five scenarios being considered to restructure the utility. 
The move was characterized by board members as an attempt to restore public trust in the process that JEA ratepayers and the City Council have criticized for a lack of transparency. 
In her opening statement at a news conference after the board meeting, board Chair April Green apologized to JEA employees and the public.
"Transparency is key for us going forward," Green said. "We will try to expedite the transparency with the current strategic process and we'll continue to push for that. But it looks like the end is near and everything will be revealed."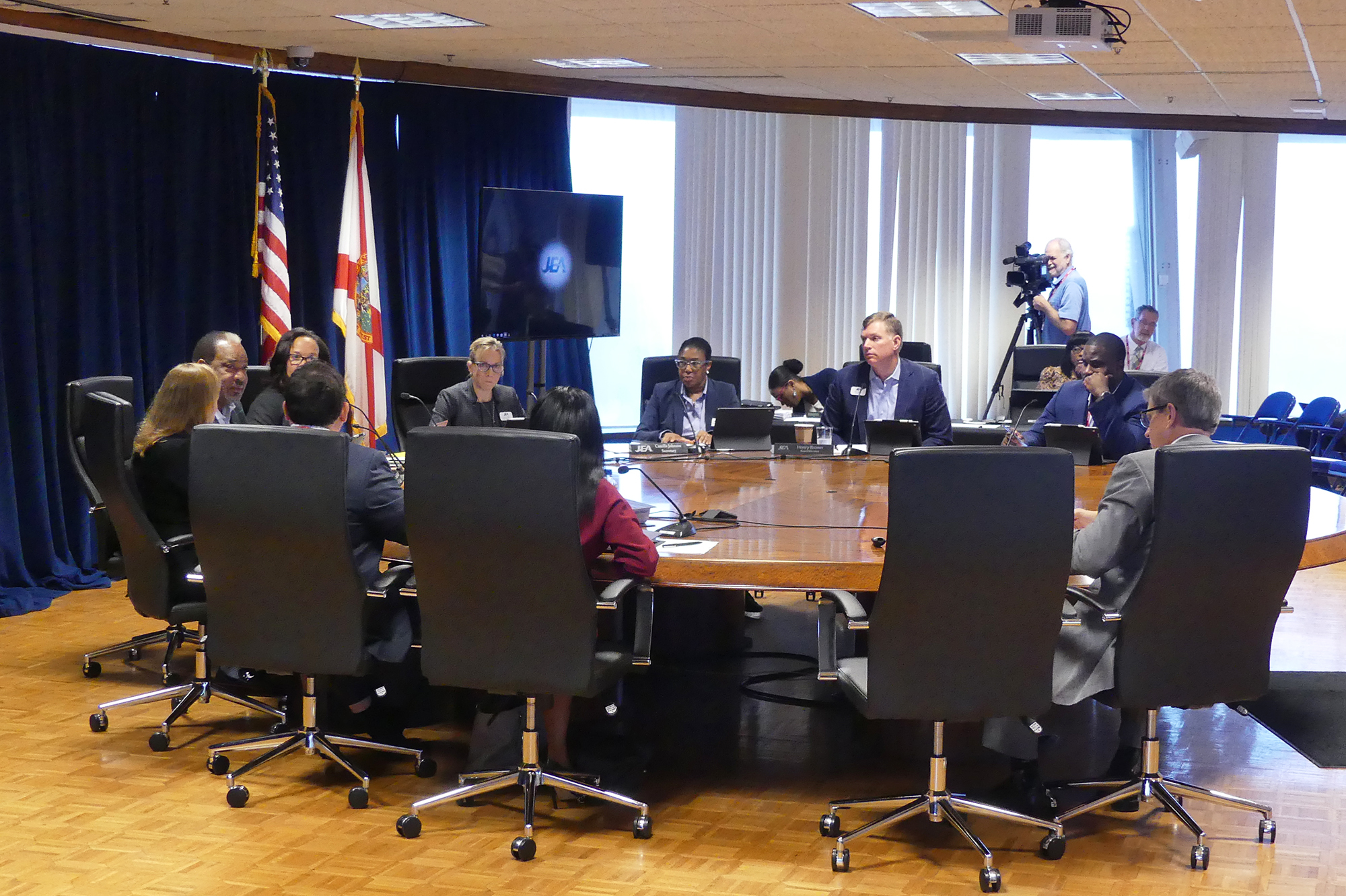 One option includes moving forward with negotiations with nine private companies to sell the utility. A sale would require approval by Council and a voter referendum. 
Other options Dykes will examine include JEA becoming a community-owned cooperative or a publicly traded company by making an initial public offering. 
Dykes will present the in-depth look at the five possible structures at the board's January meeting. This will be one of Dykes' first assignments as the head of the utility, as she takes over from former CEO Aaron Zahn, who was fired by the board at the meeting.
Dykes told board members that she also would include possible City Charter changes in her review of the scenario where JEA remains a municipally owned utility. 
Council member Danny Becton asked Dykes for that during a Dec. 9 Council fact-finding hearing. At the time, Dykes could not list changes city policymakers could implement that would allow JEA to grow as a city-owned utility.
She expects to have those proposals drafted within two weeks.
JEA procurement officials anticipate negotiators will have bids, including monetary offers, from the nine companies seeking to buy the utility ready for the JEA board's January meeting.
At that time, the board also will have to decide whether to accept or reject a proposal by Mayor Lenny Curry to turn the strategic planning process over to Council.
In a Dec. 12 letter to the board, Curry suggested sending information for the five scenarios for JEA to Council, allowing its 19 members to decide what could be sent to voters.
Curry recommended sending a "top tier" of bids to the Council. 
Council also could choose to keep JEA in its current state.
If the board decides to send multiple scenarios to Council, it would require the board to amend the invitation to negotiate process it approved July 23.
At the news conference, Green said the board will make that decision at its next meeting.
Board member Dane Grey, who was appointed by Curry in October, said he supported the mayor's request. The Dec. 17 JEA meeting was his first as a board member.
Board member Henry Brown recommended suspending negotiations with the nine bidders while JEA staff continues to evaluate and finalize strategic planning. 
He argued the move would be prudent given transparency issues with the possible sale. 
"It might make sense with this leadership change that we take a break on the ITN while we finish our full analysis of all the strategic planning options," Brown said.
"Once we finish those options and are able to present those fully to the public, then we're able to make a determination of whether to restart the ITN or pick up from where we left off," Brown said.
Robert Hosay, procurement counsel with the Foley & Lardner law firm, told Brown and the board a pause in negotiations could have an inherent risk, implying the nine bidders could take action against JEA.
"We've reserved rights to protect JEA. But these respondents, they're significant companies that have invested a lot in this process. I cannot tell you what they may want to do, but certainly, they may want to look at their options," he said. 
Brown asked what would have greater risk — a temporary halt to negotiations with the "cone of silence" kept in place or informing the companies at the end of the process that JEA has decided not to sell to a private company.
"To pause it, you just elongate the process," Hosay said.