Phoenix-based Sprouts Farmers Market is a permit closer to development in Tamaya, where it intends to open its second Jacksonville natural foods grocery store.
The first is set to open in the second quarter in The Markets at Town Center. The second will open in 2020.
The St. Johns River Water Management District issued a permit Jan. 29 for HRP Tamaya Market LLC to develop Tamaya Market, the shopping center on 11.22 acres that will be anchored by Sprouts.
Harbour Retail Partners, of Wrightsville Beach, North Carolina, paid $6.73 million Nov. 16 for the property at northwest Beach and Tamaya boulevards, east of Kernan Boulevard.
Ameris Bank of Atlanta issued a mortgage of $18.64 million.
Randy Kelley, Harbour Retail Partners manager and developer, said in December the more than $20 million project could be completed near the end of 2019.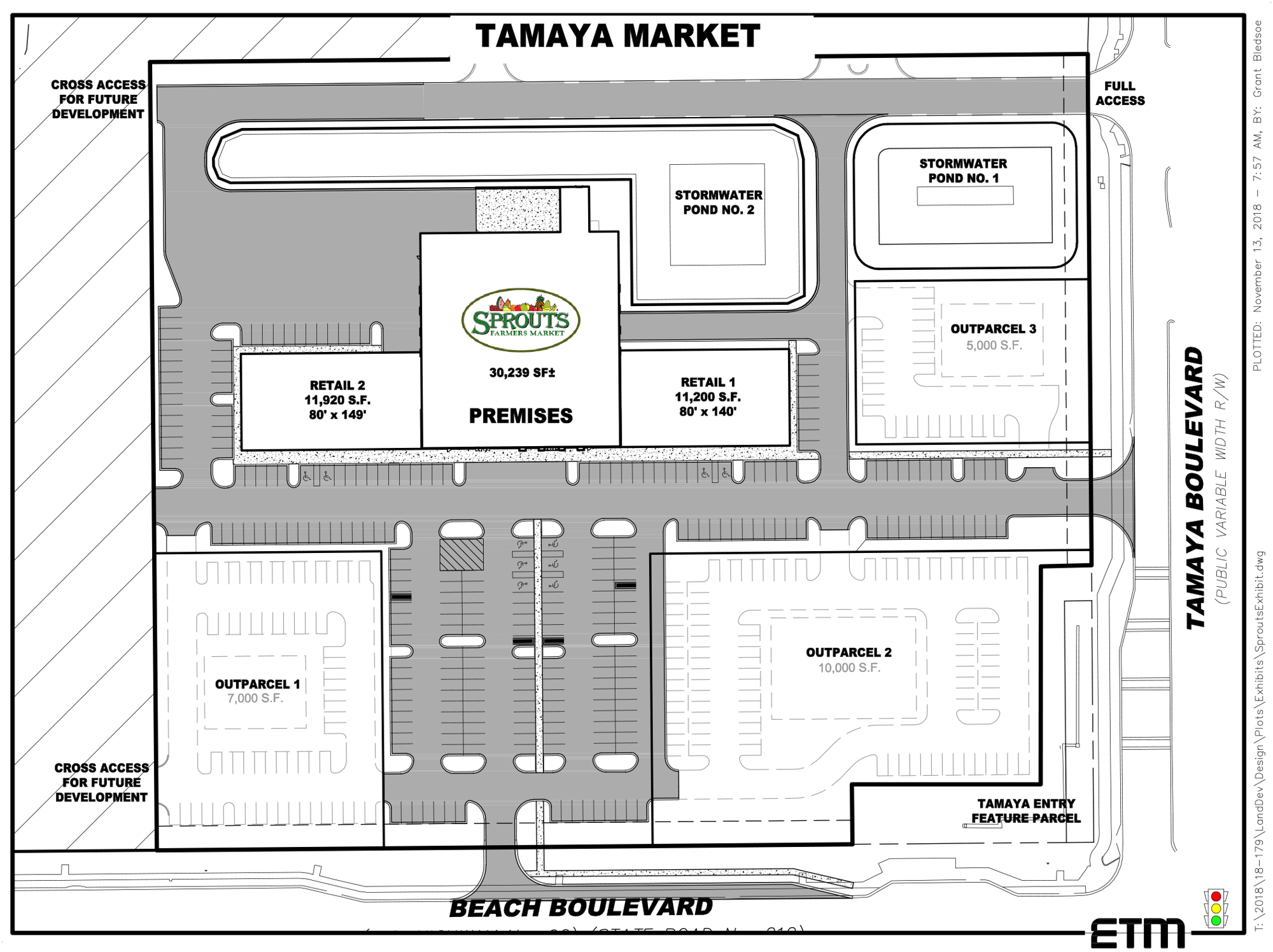 Tamaya Market is designed as a 75,000-square-foot shopping center. Plans show a 30,239-square-foot anchor store with a 12,000-square-foot retail building adjacent to one side and an 11,200-square-foot store to the other.
Another 22,000 to 25,000 square feet will be developed among the three outparcels, Kelley said.
He said there are no plans to sell the outparcels. They will be offered for build-to-suit or ground-lease.
Harbour Retail Partners, through HRP Tamaya Market LLC, bought the land from the ICI Homes group, the Tamaya developer.
Kelley said the uses would be retail, not mixed-use. There won't be a gas station because, he said, that is not allowed by Tamaya's approved planned unit development.
Kelley said the location at Beach and Kernan boulevards "has a lot of appeal, great traffic counts and lots of visibility." He said Tamaya is planned for 2,000 homes and 1,000 are built.
Kelley said the trade area was a 10- to 15-minute drive. "There are customers in every direction," he said.
Sprouts Farmers Market said it would open its first Jacksonville store at 4893 Town Center Parkway in The Markets at Town Center during the second quarter.
In January, the city issued a permit for a $2.5 million renovation of the former Best Buy in The Markets at Town Center. Catamount Constructors Inc. of Roswell, Colorado, is the contractor for the 30,162-square-foot store.
Sprouts said the store will feature its newest interior designs that highlight departments and promote customer engagement.
Sprouts focuses on its center-store produce. Departments include The Butcher Shop, Fish Market and The Market Corner Deli.
As of early January, Sprouts operated 320 stores in 19 states.