City Council member Anna Lopez Brosche is running to become the next mayor of Jacksonville. 
Brosche, who holds an at-large seat on the city's legislative body, announced Friday she would challenge first-term Republican Mayor Lenny Curry. 
"You deserve to have someone running your city that cares more about what's happening in your neighborhood than what's happening over in Tallahassee," Brosche said Friday at her campaign launch in Springfield.
"You deserve better than Lenny Curry," she said.
Before arriving at Bleu Chocolat Café, she filed and qualified to run at the Duval County Supervisor of Elections office Downtown.
Jacksonville's unitary election is March 19. If no candidate receives 50 percent of the vote plus one, the top two candidates will meet in a runoff May 14. 
Brosche, a Republican, is wrapping up her first term on council. If elected, she would become the first woman to hold the mayor's office in Jacksonville's history. 
Her challenge comes after a year of public and private disputes with the mayor, his administration and his strongest backers on the council. 
Brosche told supporters that Curry is failing to address serious crime and that his lack of transparency is hurting taxpayers. 
"I believe Jacksonville can do better and I'm the one to take us there," Brosche said. 
Through his campaign chair and political consultant Tim Baker, Curry said in a statement that he "looks forward to another four years of fighting for Jacksonville's families."
"I'm proud to stand on my record of prioritizing the fight against violent crime, creating jobs and passing four unanimous balanced budgets without raising taxes," he said.
Voters elected Brosche in 2015 as the At-Large Group 1 representative, one of five seats representing the entire city on the 19-member council.  
Like Curry, Brosche is an accountant. She is a managing shareholder of Ennis, Pellum & Associates, CPAs.
A Jacksonville native, Brosche is the first Asian-American elected to the council and was the first Filipino-American to serve on a city council in Florida. 
After serving as chair of the council Finance Committee in 2016-17, she won a close race to become council president in 2017-18. 
That's when many of the disagreements began to surface with Curry.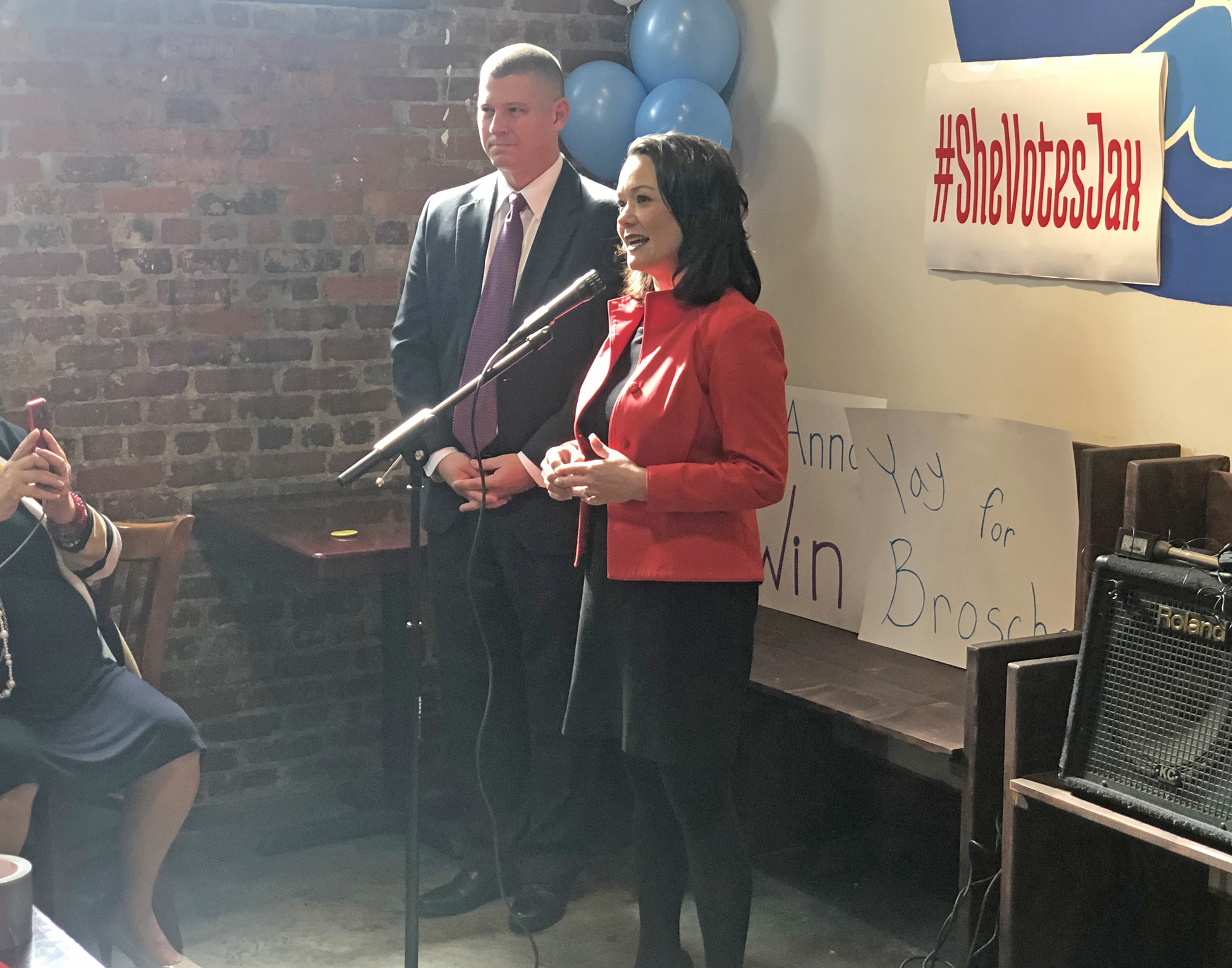 Brosche pushed back against the mayor's overhauling of children's service agencies; accused the mayor of orchestrating a push behind closed doors to sell city public utility JEA; and she led an effort to return grant money given to the city by the United Arab Emirates for hurricane restoration. 
For months, she has accused the mayor's office of not being transparent in its dealings with the public or council members. 
She reinforced that Friday. 
"Your government must adopt a customer service attitude and a culture that values you as citizens," Brosche said. "It is my goal to bring back trust in government through transparency." 
Tallahassee political consultant Ryan Wiggins is leading her campaign. She told reporters that Brosche does not have an official political action committee like Jacksonville On The Rise, which supports Curry. 
The PAC has been covering television airwaves with a "Fire Anna Brosche" commercial which mimics the popular game show "Jeopardy." 
City Council weighs in
Following Brosche's event, a group of council members released a statement on her candidacy. 
Through Baker, council President Aaron Bowman, former mayor and council member Tommy Hazouri, council member Sam Newby and former council presidents Bill Gulliford and Lori Boyer said Brosche's campaign is "simply the latest demonstration of leadership failure."
"Each of us has the privilege to serve Jacksonville in a leadership position. We know what it takes to effectively lead people, earn the respect of those you serve with, and encourage collaboration and cooperation to bring results for those who we represent. That is the leadership style of Lenny Curry and why we endorse his re-election as our mayor," the statement reads.
"After spending months sewing (sic)  division and conflict in City Council, she now wants that negativity spread citywide. As Council President, the agenda she promised was almost completely unrealized." 
The council members said Brosche has been absent from "important efforts, most recently a bipartisan push to make Jacksonville safer." 
At the council's last meeting on Tuesday, Brosche was one of two representatives who expressed concern over a new task force to address crime and safety. 
Bowman said he was "disappointed" by the actions by her and council member Garrett Dennis.
"Mayor Curry has earned our respect and our vote and he deserves to be re-elected," the joint statement said.
While Brosche is expected to be Curry's most formidable challenger, the race will be run without a strong Democrat.
Dennis, a Democrat who represents part of West Jacksonville in District 9, said he did not enter the race to focus on his own district. 
"I work for the constituents of District 9 and hearing their concerns and with prayer I felt like there's still work to do," said Dennis, who attended Brosche's campaign rally. 
Dennis said he will work to get other Democrats to back Brosche. 
He said he was not concerned about the party not having a strong mayoral candidate in 2019. 
"I truly believe that the mayor shouldn't be a partisan hack and Lenny Curry is a partisan hack," Dennis said. 
"I think Anna will be a mayor for all parties, all races, all genders and we haven't seen that in a while." 
Attracting Democrats
Brosche and Curry will need to attract moderates and Democrat votes to win in March or in the May runoff.
Tracye Polson recently ran and lost Florida House race against a Curry-backed candidate in Wyman Duggan.
She said there's plenty of enthusiasm for Brosche from local Democrats, saying they recognize her "good character."
"She is somebody who's promoting people first and not party," Polson said.
"She's got a lot of integrity, promoting transparency and reminding people that the government and government officials work for the people and not for the party," she said.
Polson said Curry's will have to answer for not addressing crime during his first term.
"I think Lenny Curry has a lot of vulnerability in that area I would encourage her to stick to the facts," she said.