Cities like to brag about their Fortune 500 headquarters. The more you have, the more dynamic your city's business climate, or at least that's the image you want to project.
Jacksonville lays claim to three: CSX Corp., Fidelity National Information Services Inc. and Fidelity National Financial Inc. But if the city's private companies filed public financial reports, Jacksonville might be able to brag about five Fortune 500 companies.
Everybody knows Southeastern Grocers, parent of Winn-Dixie and three other supermarket chains, produces enough sales to qualify for the Fortune 500. But one other Jacksonville-based company is not so obvious: Florida Blue.
According to Florida Trend's annual list of the state's largest private companies in the magazine's July issue, Florida Blue's $9.3 billion revenue last year was up 4.7%.
Southeastern Grocers' revenue was $8.5 billion, unchanged from 2017, according to Florida Trend.
If those figures are correct, Florida Blue and Southeastern Grocers were bigger than the two Fidelity companies last year.
A representative for Southeastern Grocers said the company does not comment on its sales figures. Florida Blue did not respond to email and phone messages seeking confirmation of its revenue.
Florida Blue is part of Jacksonville-based GuideWell, a not-for-profit mutual holding company.
Fortune's annual list of the largest U.S. companies included two other Jacksonville-based companies in the Fortune 1000, Landstar System Inc. and Rayonier Advanced Materials Inc.
According to Florida Trend's ranking of private companies, three other Jacksonville-based businesses would make the Fortune 1000: Crowley Maritime Corp. and Acosta, each with $2.3 billion in revenue, and Fanatics, with $2.1 billion.
The 1000th largest company on Fortune's list had just under $2 billion in revenue last year.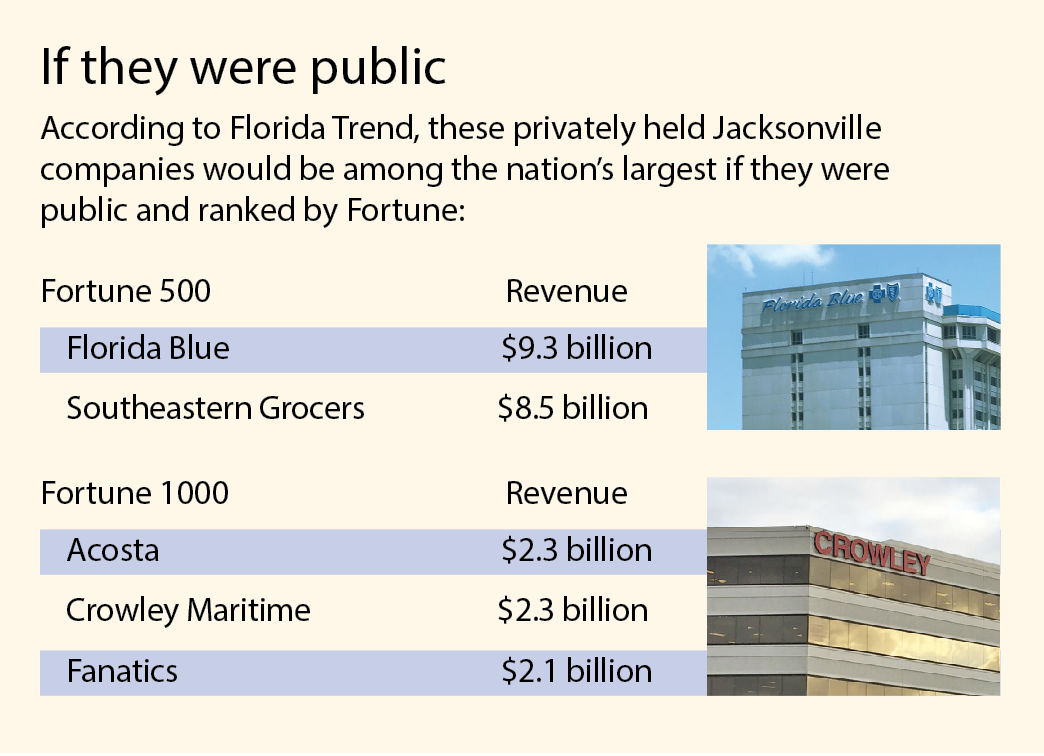 FIS-Worldpay gets European approval
Fidelity National Information Services, or FIS, got approval Monday from the European Commission for its $34 billion acquisition of Worldpay Inc., according to Reuters News Service.
The deal announced in March received antitrust clearance from the U.S. Justice Department in April. The companies hope to complete the merger in the third quarter.
FIS, which provides banking technology, and Cincinnati-based Worldpay, which provides payment processing, both serve clients in more than 100 countries, so the deal needed clearance from European authorities.
Analyst lowers Rayonier AM estimates
Rayonier AM was the worst-performing stock among Jacksonville-based companies in the first half of this year, dropping 39% after reporting an unexpected first-quarter loss.
Despite the loss, D.A. Davidson analyst Steven Chercover maintains a "buy" rating on the stock and expects a rebound from its recent record low price below $6.
However, he lowered his price target for the rebound from $18 to $12 Monday as part of an overall decrease in earnings estimates for the paper and forest products industry.
"In addition to the decline in our estimates, our lowered target contemplates additional risk from the company's elevated debt load on challenged 2019 adjusted EBITDA (earnings before interest, taxes, depreciation and amortization), the potential for hardwood fiber prices to remain elevated, rapid deterioration in global pulp prices, and lower commodity lumber realizations," Chercover said in his report.
While Chercover lowered his estimates and price targets for six stocks, he still rates each of them as a "buy."
"We recognize that cutting estimates and price targets while maintaining a generally positive stance on the equities raises eyebrows, but the stocks have been in 'bear territory' for nearly a year now, and our revised targets simply reflect the new earnings reality," he said.
Analyst upgrades Landstar stock
Landstar's stock registered a net gain in the first half of this year, but the stock did drop about a month ago when the trucking company lowered its earnings forecast for the second quarter.
The recent decline prompted Raymond James analyst Patrick Tyler Brown to upgrade the stock last week.
"We are upgrading shares of Landstar to Market Perform from Underperform, as we believe the stark deceleration in the spot truckload market year-to-date (rates off about 20% year over year excluding fuel) is now largely priced into the stock," Brown said in a research note.
"Moreover, while we continue to acknowledge that Landstar is one of the most levered companies to the industrial economy in our coverage, with carriers seemingly limiting further capacity additions, we suspect truck spot rates may soon find a bottom, absent an accelerating macro slowdown," he said.
Brown also said with Landstar's "impressive free cash flow generation and aggressive share buyback strategy, we now see a balanced risk/reward skew."
Stein Mart gets Nasdaq letter
As expected, Stein Mart Inc. said Monday in a Securities and Exchange Commission filing it received a letter from the Nasdaq Stock Market indicating it could be delisted if its stock price doesn't increase.
Stein Mart received the letter because its stock price has closed below $1 for 30 consecutive business days. 
The company has 180 days to regain compliance with Nasdaq requirements for minimum stock price. If the stock closes at $1 or above for 10 consecutive days, it will be back in compliance.
Even if the price doesn't improve by the time the 180-day period is up Jan. 6, Stein Mart could get a 180-day extension.
The possibility of delisting was brought up at Stein Mart's annual shareholders meeting two weeks ago. Company officials said they expect several sales initiatives will improve financial results in the second half of this year, and that should lift the stock price back into compliance.
Monday's SEC filing said "no determination regarding the Company's response has been made at this time."
Analyst touts Marker Therapeutics
Although Marker Therapeutics Inc. remains several years away from having its cancer therapies available in the market, the company continues to attract analyst attention.
"We believe Marker's take on adoptive T cell therapy deserves a spot on investors' radar," Oppenheimer & Co. analyst Matthew Biegler said in a report last week as he initiated coverage of the company with an "outperform" rating.
"We believe Marker's novel MultiTAA cell therapy technology could represent a commercially viable option for treating various hematological malignancies and solid tumors," he said.
MultiTAA stands for a multi tumor-associated antigen approach the company is developing to treat a form of leukemia.
Biegler said Marker could have the therapy ready for a commercial launch in 2023.
Biegler set a $15 price target for the stock in 12 to 18 months, which would be about double its $7.87 trading price at the time of his report last week.
Marker, formerly known as TapImmune, moved its headquarters from Jacksonville to Houston in early 2019.
International Speedway earnings down
Before the Coke Zero Sugar 400 race last weekend at the Daytona International Speedway, the racetrack's parent company reported slightly lower earnings for the second quarter.
Daytona Beach-based International Speedway Corp. said revenue for the quarter ended May 31 fell 2.1% to $168.1 million, and adjusted earnings fell by a penny to 36 cents a share.
The company, which operates 13 car racing venues, agreed in May to a $2 billion buyout by NASCAR Holdings Inc., the governing body for stock car racing.
Both privately owned NASCAR and publicly traded International Speedway are controlled by the family of NASCAR founder Bill France.
The merger calls for NASCAR to buy the remaining International Speedway shares not owned by the France Family.
The companies hope to complete the merger by the end of this year.