For SmartBox Company CEO Brandon Stallings, starting a business while in college was, at the time, about getting rich and retiring at 35. 
Seven years later, the vending machine business Stallings ran out of his truck, house and a storage unit has grown into a company that provides health food micromarkets, high-tech vending machines and a custom snack box delivery service. It's on track to break $1.2 million in revenue this year.
In May, Stallings was recognized as the U.S. Small Business Administration District Young Entrepreneur of the Year, and he has no plans to stop anytime soon. 
"Now, I don't want to (retire)," said the 29-year-old. "I wouldn't want to do that even if we got 'really, really rich,' whatever that meant back then. I love SmartBox. I love what we've created."
SmartBox provides a "one-stop shop" for office break rooms. The company fills its vending machines, micromarkets and snack boxes with food and drinks that are free of artificial ingredients, preservatives and refined sugars.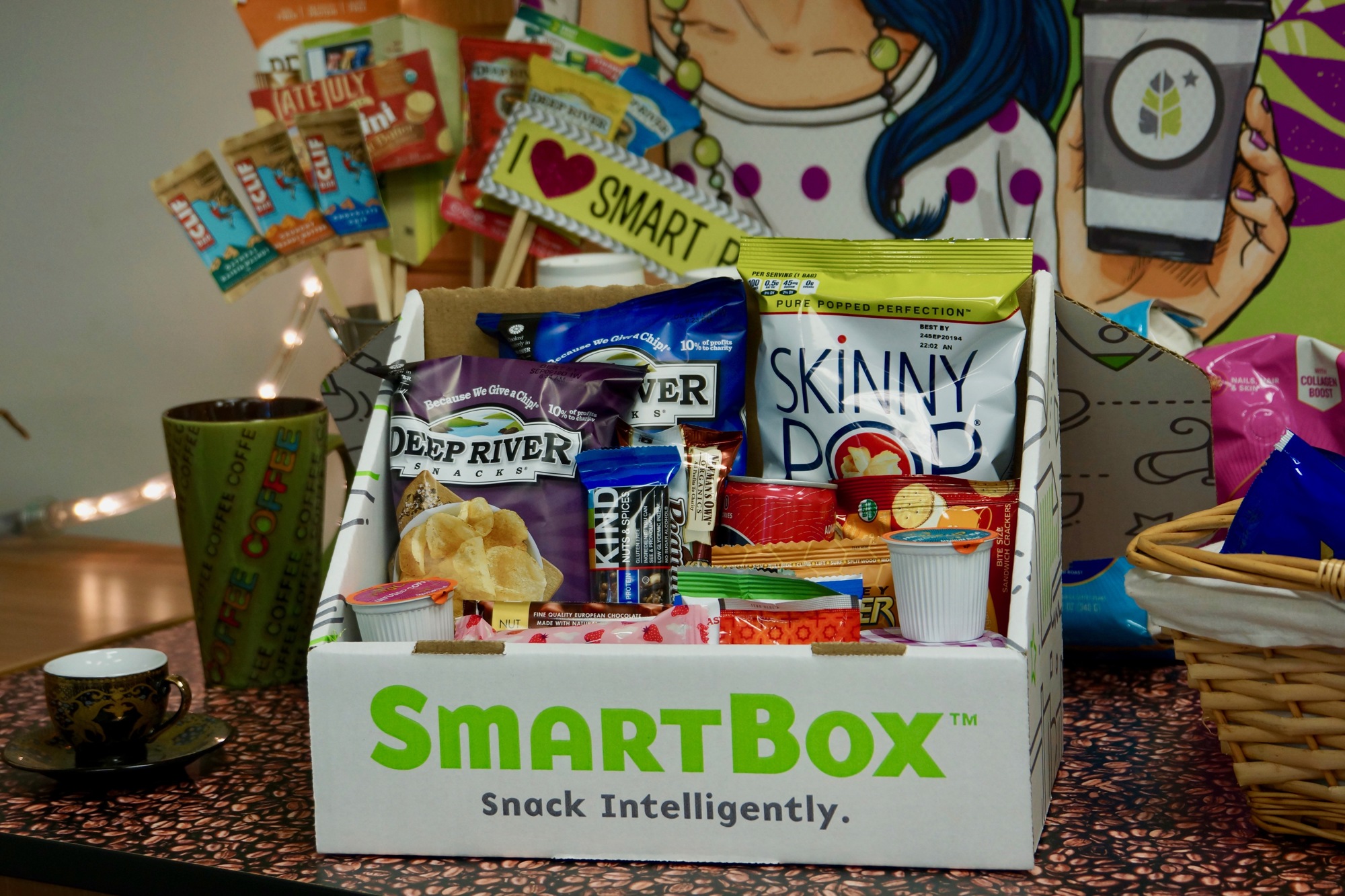 The vending machines allow users to see nutritional information before purchase and accept cashless and mobile payments.
SmartBox has offered vending machine installation since it began, and Stallings said it continues to thrive. 
The company is on pace to double its vending machine footprint this year with more than 25 installations. 
The GoMarket micromarket provides customers with an in-office cafe, complete with locally prepared meals, as well as the snacks that are available in a vending machine. 
In 2018 the company introduced SmartBox Express, a snack box delivery service. Customers can choose the snacks they want, how frequently they want them and have them sent to their office or home.
Stallings said it's the company's varied, technologically advanced services, healthier products and competitive prices that set it apart from other vending companies. He said the products the company sells through its services won't be found elsewhere at a lower price. 
"It's not just about the products, because anybody can put certain products in a machine," he said. "How do you truly make yourself different and unique?"
SmartBox provides its services to Jacksonville companies like Baptist Health, JEA and England-Thims & Miller.
In the beginning, Stallings said it was difficult to break into the Jacksonville market and build trust among potential clients since so many had relied on the same vendors for years. 
"(It was) a competitive environment that reacted very hostilely to SmartBox," he said.
Now, the company is receiving a lot of orders, Stallings said. That's in large part because of the company's digital presence, as well as networking in the community.
The company has appeared at trade shows, joined the First Coast Worksite Wellness Council and the Society for Human Resource Management.
That exposure gets him "into the face of the decision-makers," he said. "This is a local product that can really fit companies that are headquartered here, most especially."
Stallings has had challenges of his own learning to manage and grow a company he started as a college student.
Running a company from a young age helped teach him lessons that he said benefited the company in the long run, working to gain the trust of prospective clients.
"There are some things that I've been exposed to – the risk and reward, and the competitive nature of the business – that has hardened me over the years and it's only going to serve to benefit myself and SmartBox," he said. "It will only make good things happen for us."
Stallings financed the venture with the help of his father and investors as well as a loan.
His dad is Jim Stallings, CEO of PS27 Ventures, a private investment company focused on innovations in the expanding wellness and sustainable living market.
Brandon Stallings wants the company to continue its growth, but he doesn't see it becoming a "corporate giant one day." The business model, probably wouldn't allow for that to happen, he said. 
As for himself, he has goals of one day becoming his own version of Tesla founder Elon Musk.
"I think I can do that," he said. "I think I have the brain for it. Not that I want to be anything, I want to be what I am. And that is unique, and unlike anything else."