The city has reached a deal with Jacksonville Jaguars owner Shad Khan and his investment company, Iguana Investments Florida LLC, to help finance a more than $450 million development in Lot J near TIAA Bank Field.
Mayor Lenny Curry announced the agreement Wednesday in a video address posted to the city's social media platforms. Negotiators for Khan and Curry have been working on the deal since Jaguars and Iguana President Mark Lamping unveiled the latest plans for Lot J in April.
Details on the incentives, including how much money the city proposes to extend to the Lot J developers, were not available Wednesday afternoon. 
The incentives will need approval by the Downtown Investment Authority and City Council before the agreement can be completed.
"The City of Jacksonville, as it often does for Downtown development, will be a financial partner through incentives that are tied to infrastructure construction, completion-based grants and tax rebates known as REV (Recaptured Enhanced Value) Grants," Curry said.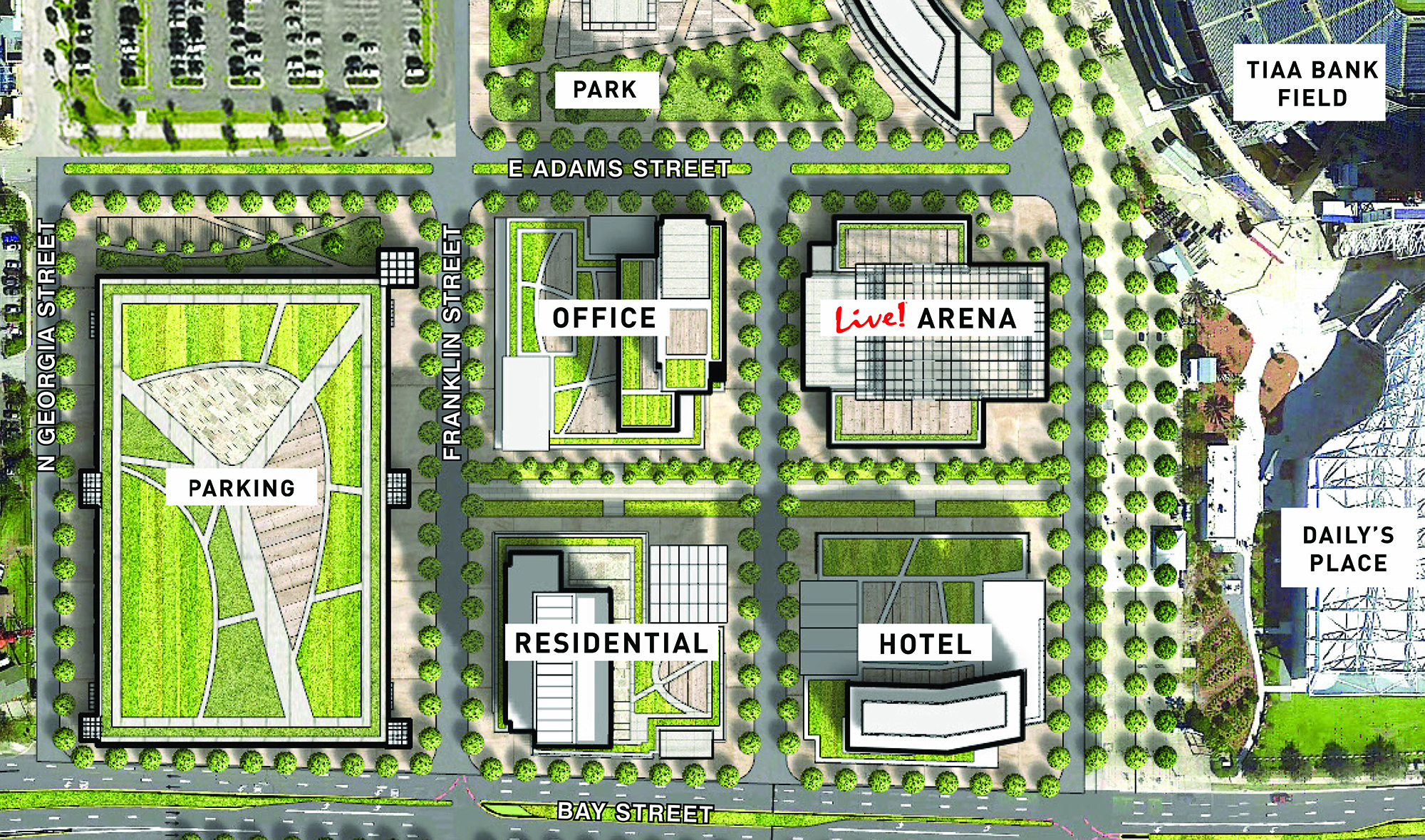 Curry told members of the JAXUSA Partnership on Tuesday that a Downtown announcement was coming.
"Stay tuned this week. With Downtown properties that are ready for development, and some that we are preparing for development, we are going to make news this week," Curry said.
Curry said during the video Wednesday the deal will result in "an array" of mixed-use facilities that accommodate office, hotel, residential and entertainment uses.
A rendering released Wednesday shows the four-quadrant layout on Lot J, west of Daily's Place. The concept remained consistent since April 2018. 
Khan first announced plans for a 250,000-square-foot entertainment venue on Lot J in January 2018.
Lamping's outline of Lot J's components unveiled at the April 18 State of the Franchise showed an estimated 300-unit residential tower, a 200-room boutique hotel and an office tower.
The Live Arena will be modeled after a similar multilevel entertainment, food and drink venue in the Kansas City Power & Light District. That project is by The Cordish Companies, which is working with Iguana on Lot J. Cordish is based in Baltimore.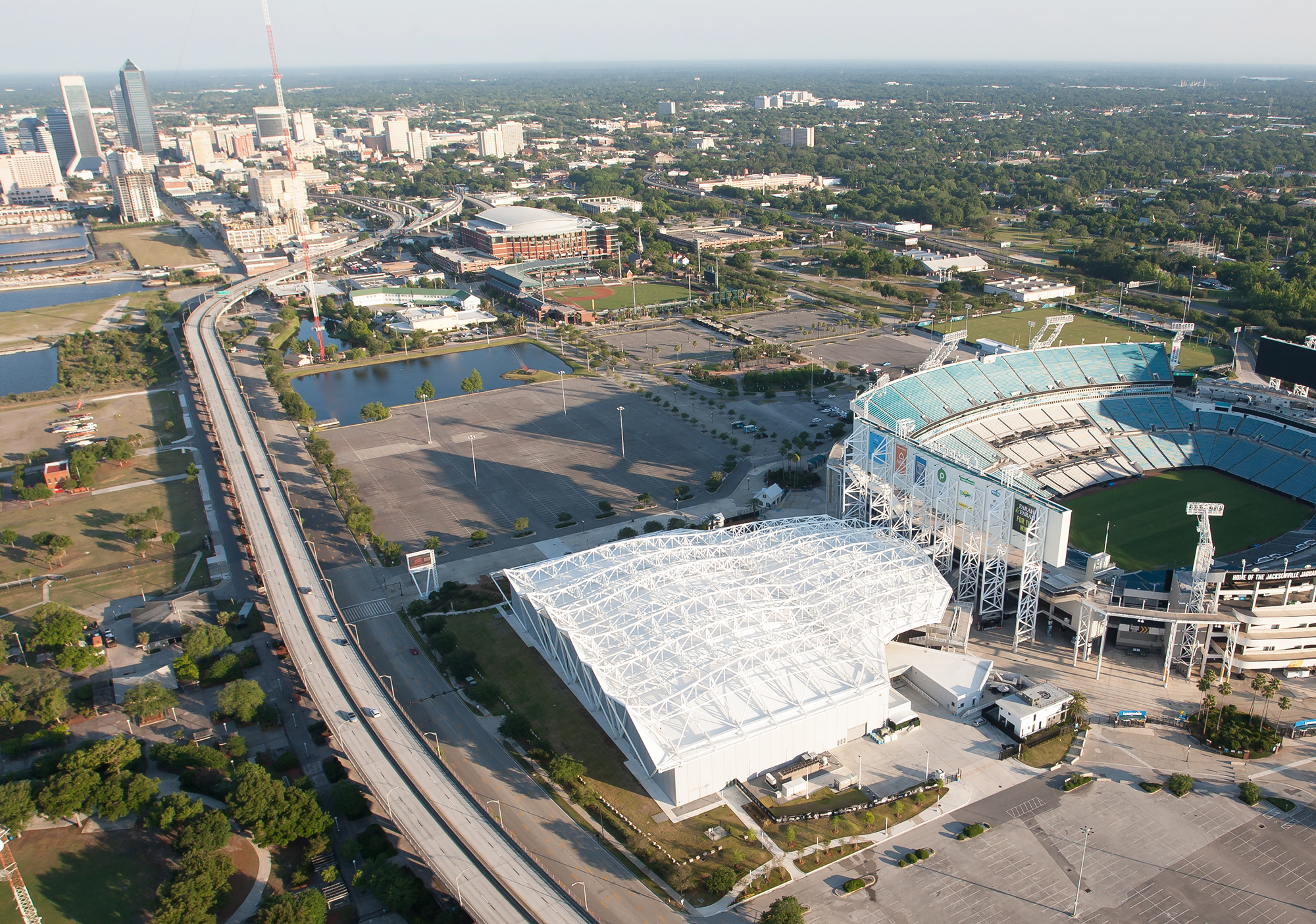 Lamping said in April that Cordish has agreed to operate the Live Arena at Lot J. A hotel operator already is secured for the 200-room boutique hotel.
The rendering also shows a parking structure as well as proposed development at nearby Metropolitan Park. Redevelopment of the park was proposed in April 2018 as part of Khan's $2.5 billion plan to redevelop the north bank of the St. Johns River in the Downtown Sports and Entertainment District.
Metropolitan Park is restricted by the National Park Service. If the city wants to develop the land, it must find a suitable replacement site.
The $450 million capital investment at Lot J announced in Curry's statement is $50 million less than the estimated $500 million project Jaguars and Iguana President Mark Lamping outlined at April's State of the Franchise.
A spokesperson for the Jaguars said Lamping and Khan were not available for questions Wednesday but did provide a written statement from Lamping.
"We've never been closer to realizing a new Downtown Jacksonville than we are today. While today's news is not the final step, it's by far the most significant step in our mission to reinvent how we work, live and gather in Downtown Jacksonville," Lamping wrote. "Shad has for years been the biggest believer and advocate of what's possible for our downtown, and it's very clear that Mayor Curry shares the same vision. Our joint proposal with The Cordish Companies, one of the top developers in the country, is one that will make an impact on our community that will be positive, overdue and lasting. It cannot happen without Mayor Curry's support and leadership, and we will continue to work with the Mayor and his staff toward an agreement that will signal a new era for downtown and our entire region."