With no formal culinary or business training, Ladreeka Atwater started her Cupcake Connection Bakery and Desserts business out of her house in 1993.
She worked from home and then commissaries before opening a storefront bakery in 2002 at 5876 Norwood Ave. in North  Jacksonville.
Atwater created her business without borrowing a dime.
No inheritance. No lottery winnings. Just hard work and keeping her eye on the goal.
She said the struggles of a hard childhood means she makes no excuses. "If I want to do it, I just do it."
Atwater said she wanted to avoid a loan because "I was determined to own everything I have. When business is slow and you take out a loan, the loan payment is still due."
A month ago, she opened a new venture, the Majestic Event Complex, at 5870 Norwood Ave. in the same strip of businesses. Again, no loans.
Her strategy? She saw a need and aimed to fill it.
Atwater said event space can be expensive and there are few on the Northside.
She explained that customers often have an event for 200 but order a cake that will feed half that many because they are cutting costs so they can afford the rental space.
The inadequate amount of cake not only costs her money but reflects on her business.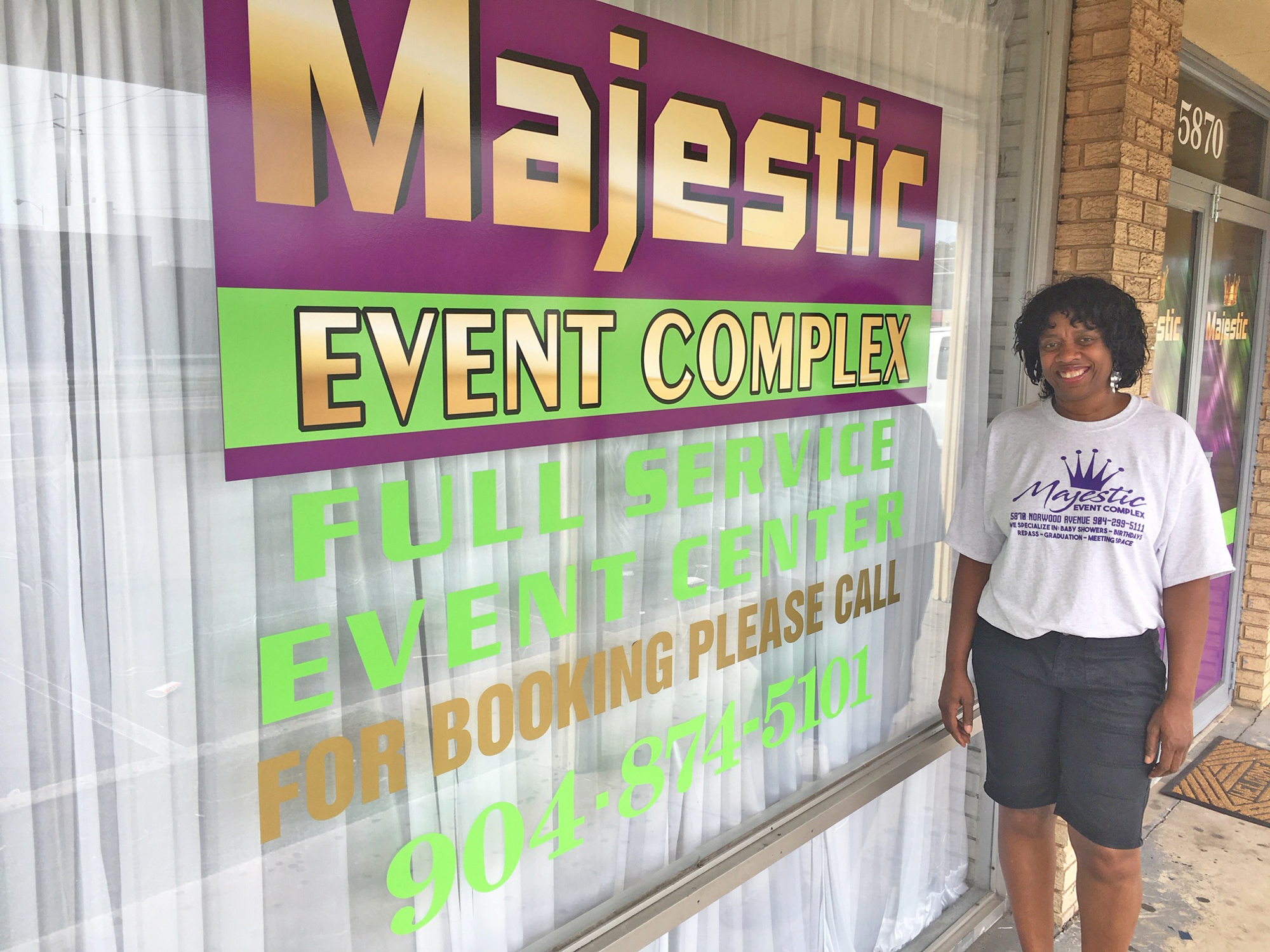 Atwater's business plan is focused on three words – product, pricing and reputation.
Majestic Event Complex is 1,700 square feet, holds 95 people and comes with tables and chairs, which she said sometimes are an additional charge at other facilities.
Atwater is offering reduced pricing for the summer for new customers. Her contact information is on her website, YourCupcakeLady.com.
Atwater said she is full-service. She can decorate and cater, for a fee.
"I don't just provide a list of vendors. People know what my food tastes like. They know the quality," she said.
Atwater worked for UPS and the U.S. Postal Service before starting her business.
She said she sustained on-the-job injuries that made postal work difficult. With two young boys, she saved every available dime for two years to fund her dream of becoming a baker.
Atwater said she was no Betty Crocker as a child, working in the kitchen just long enough to learn the basics.
A graduate of William M. Raines High School, Atwater started baking in high school to earn extra money and continued when her children were in school.
Before opening her business, she invited family to the house on Sundays to try her recipes.
A single mother, her two sons are now grown.
Antoine Atwater is the Andrew Jackson High School football coach and D'Angelo Sullivan, who previously worked with his mother, soon will leave the U.S. Army and return to bake with the business.
Her business plan is rooted in the Bible. "The Bible tells us that we have to be good stewards of the small and God will increase the large."
Ladreeka Atwater' said she is willing to work long hours and learn new skills.
For example, she said she knew nothing about Facebook until she made a bet with D'Angelo. The wager was for two weekends off if she could create a Facebook page and recruit 5,000 friends within a short time.
Motivated by the time off and the potential source of income, she won the bet and told her son exactly which weekends he would be working for her.
"I had to learn social media. The young people live and breathe social media," she said.
"I learned because I ask questions. I called the guy who prints my business cards and asked him for 12 minutes to teach me Instagram."
Before the 2008 recession, Atwater said she had several corporate clients and was a Super Bowl vendor. With the recession, the loss of corporate business cost her $125,000 that year.
She rebuilt her business by focusing on providing desserts for restaurants. She has 17 clients and soon will add four more. Restaurants wanting to partner with her must abide by her expiration date policy. She won't allow her clients to sell desserts that are past their prime because she wants to protect her brand.
Making the event center profitable will take time, she said.
Atwater needs to rent it six times a month to break even.
In addition to her grand opening, she is sponsoring networking meet-and-greet events for entrepreneurs and wants to start a board-game night as an alternative to nightclubs for people wanting to meet others.
"This is not about the money. It is for the people. If you love what you do, the money will come," she said.
She knows the Northside has a blighted reputation.
"But good things come from the Northside. I came from the Northside. There are still good things here. I could have taken my bakery across the bridge and made 20 times the amount of money but then I would have left the neighborhood," she said.
Her venture doesn't surprise her mentor, former state Rep. Mia Jones.
"She wants to create an opportunity to hold events in a quality place that is beautifully decorated. She wants people to be proud to hold events without having to leave the neighborhood," Jones said.