A proxy fight over two board seats at restaurant operator J. Alexander's Holdings Inc. ended at last week's annual meeting with both sides claiming victory.
J. Alexander's said in a news release after the meeting that Timothy Janszen and Ronald Maggard were reelected to the board.
Janszen and Maggard have served on the board since J. Alexander's was spun off by Jacksonville-based Fidelity National Financial Inc. as an independent public company in 2015.
However, Ancora Advisors LLC, which offered to buy J. Alexander's in April, said a majority of shareholders sided with Ancora's recommendation and withheld their votes from the two nominees.
"That the Company would issue a statement claiming victory, in the face of a majority withhold vote on the incumbent directors (which was recommended by all three proxy advisory firms), and in the same year that shareholders voted overwhelmingly in favor of a shareholder proposal to adopt a majority voting standard in uncontested director elections (which was not recommended by the Board), shows how completely tone deaf the Board and management are," Ancora CEO Frederick DiSanto said in a news release.
"We have said all along that our withhold campaign was a platform for shareholders to send a strong message to the Board that the status quo is unacceptable and that the Board should explore strategic alternatives.  Shareholders have made their voices heard loud and clear," he said.
J. Alexander's said in a Securities and Exchange Commission filing Tuesday that Janszen received 4.9 million votes for his election and 7.8 million withheld, while Maggard had 3.8 million for and 8.8 million withheld.
In previous announcements by Ancora, the firm has complained that J. Alexander's board remains too closely tied to Fidelity.
Other board members who were not up for reelection at the annual meeting include Fidelity CEO Randy Quirk and Frank Martire, former CEO of Fidelity National Information Services Inc., another company spun off from Fidelity National Financial.
A news release by J. Alexander's after the meeting said "the Board has heard shareholders' collective voice on the matters in connection with this meeting and intends to carefully consider the feedback received."
Ancora in April offered to buy J. Alexander's for $11.75, which it said was a 24% premium from the stock price when Ancora first indicated interest in the company.
J. Alexander's said in a news release that offer "is nowhere near a full and fair value for the sale of our company."
Besides J. Alexander's, the Nashville-based company operates the Redlands Grill, and Stoney River Steakhouse and Grill chains.
Analyst has 'positive' view of Fidelity
The divestiture of J. Alexander's, followed in the next couple of years by spinoffs of other nontitle insurance businesses, has had a positive impact on Fidelity, according to Susquehanna Financial Group analyst Jack Micenko.
Micenko last week initiated coverage of Fidelity, the largest U.S. title insurer, and the second largest firm, First American Financial Corp., with a "positive" rating.
One reason for his outlook is "FNF today is a simpler company than it was prior to 2017," before the spinoffs, Micenko said in his initiation report.
"These changes have helped drive a material improvement in annual ROE (return on equity) – where ROEs have increased from 10.6% in 2016 to 12.2% in 2017 and 14% for full year 2018," he said.
But also, he has a positive outlook for the title insurance industry "driven by both macro and company specific dynamics that are not priced in by the market today."
One macro factor is the "oligopolistic nature of title insurance" with four companies controlling 85% of the U.S. market.
Fidelity had 33% of the market last year and it has an agreement in place to buy Stewart Information Services Inc., which had 11%.
First American had a 26% share and Old Republic Title Insurance Group had 15%.
The biggest risk to the oligopoly is "the evolution of distributed ledger technology, more commonly referred to as blockchain," Micenko said.
"But retroactively inputting decades of historical property data within some sort of distributed ledger would be an extremely onerous if not impossible effort," he said.
Micenko set a $48 price target for Fidelity's stock, which was trading at $39.87 at the time of his report.
Times: Authorities investigating Deutsche Bank
A New York Times story last week said the FBI, the U.S. Justice Department and U.S. attorney's offices in New York are investigating Deutsche Bank's handling of suspicious transactions reports, which came from the German bank's anti-money laundering unit in Jacksonville.
A Times story in May said the Jacksonville office reported possible suspicious transactions by President Donald Trump and his son-in-law, Jared Kushner, in 2016 and 2017, but Deutsche Bank executives decided not to report the transactions to federal authorities.
Last week's story said the scope of the investigations by separate federal authorities is "unclear."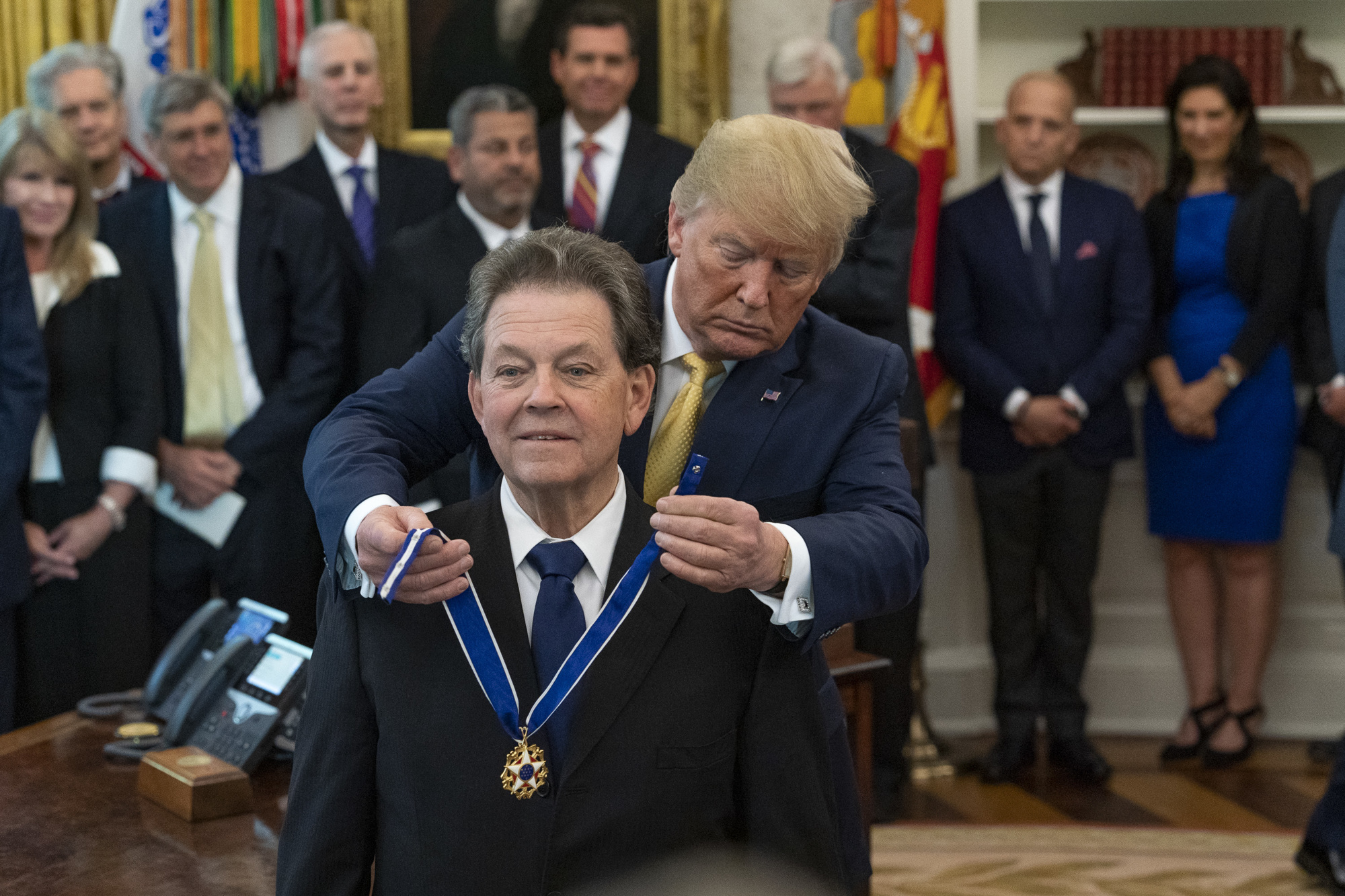 GEE Group director is awarded the Medal of Freedom
Jacksonville-based staffing company GEE Group Inc. last week said economist Arthur Laffer, a member of its board of directors, was awarded the Presidential Medal of Freedom from President Trump.
GEE Group issued a news release to announce the award but also filed an 8-K statement with the Securities and Exchange Commission about the award. That means the company considers the award a "material corporate event," according to SEC regulations.
"Form 8-K is the 'current report' companies must file with the SEC to announce major events that shareholders should know about," the SEC says on its website.
Laffer gained fame in the 1980s as an adviser to President Ronald Reagan, who advocated tax cuts as a way to increase tax revenue by spurring economic growth. He illustrated it with his "Laffer Curve." 
He is considered by many to be the father of supply-side economics.
Laffer has a longtime association with GEE Group CEO Derek Dewan. He also served on the board of Jacksonville-based MPS Group Inc., which Dewan ran before it was sold to Adecco Group in 2010.
Duos Technologies upgrades listing
Jacksonville-based Duos Technologies Group Inc.'s stock listing last week was upgraded from OTCQB Venture Market to the OTCQX Best Market.
The OTCQB listing is for early-stage companies and the OTCQX is a marketplace for established companies, according to the OTC Markets.
Duos continues to be listed under the same ticker symbol, "DUOT."
Safariland sells marine safety product business
The Safariland Group last week said it sold Mustang Survival Inc., which makes lifesaving products for marine interests, to the WING Group. 
Terms of the sale were not disclosed
Jacksonville-based Safariland provides a range of safety and survivability products for public safety, military and other markets. The company was part of Armor Holdings Inc. before Armor was acquired by BAE Systems in 2007.
In 2012, former Armor CEO Warren Kanders led a group that bought Safariland back from BAE. Safariland then bought Mustang in 2013.
Jacksonville-based National Water is acquired
Accurence Inc. said last week it acquired National Water LLC, a Jacksonville-based company that provides software to estimate water losses and flood claims.
Colorado-based Accurence, which provides solutions for insurance adjusters, said it will add staff in Jacksonville because of the acquisition, but it did not announce details.
Terms of the deal were not announced.
Georgia investment firm moves HQ to Ponte Vedra Beach
Wildermuth Advisory LLC last week said it moved its headquarters from Alpharetta, Georgia, to Ponte Vedra Beach with plans to grow.
The investment advisory firm established in 2013 has more than $150 million in assets under management.