A third concourse with six gates is on the way to Jacksonville International Airport.
The Jacksonville Aviation Authority is seeking design bids for a new concourse to accommodate more passengers at the airport, which saw business grow 16 percent last year.  
Mark VanLoh, CEO of the aviation authority, discussed the project Tuesday with the Economic Roundtable of Jacksonville at Jacksonville University. He presented "The Future of Aviation in Northeast Florida."
The airport handled 6.4 million passengers last year, which is roughly 900,000 more passengers than in 2017, VanLoh said. He said the 16 percent increase took him by surprise. 
"We did not intend to grow that fast," VanLoh said, noting that January was the airport's best month in its 50-year history. 
JAA revived a long-standing plan for Concourse B. An older Concourse B was demolished in 2009 after Concourses A and C were rebuilt in 2008, leaving a total of 20 gates.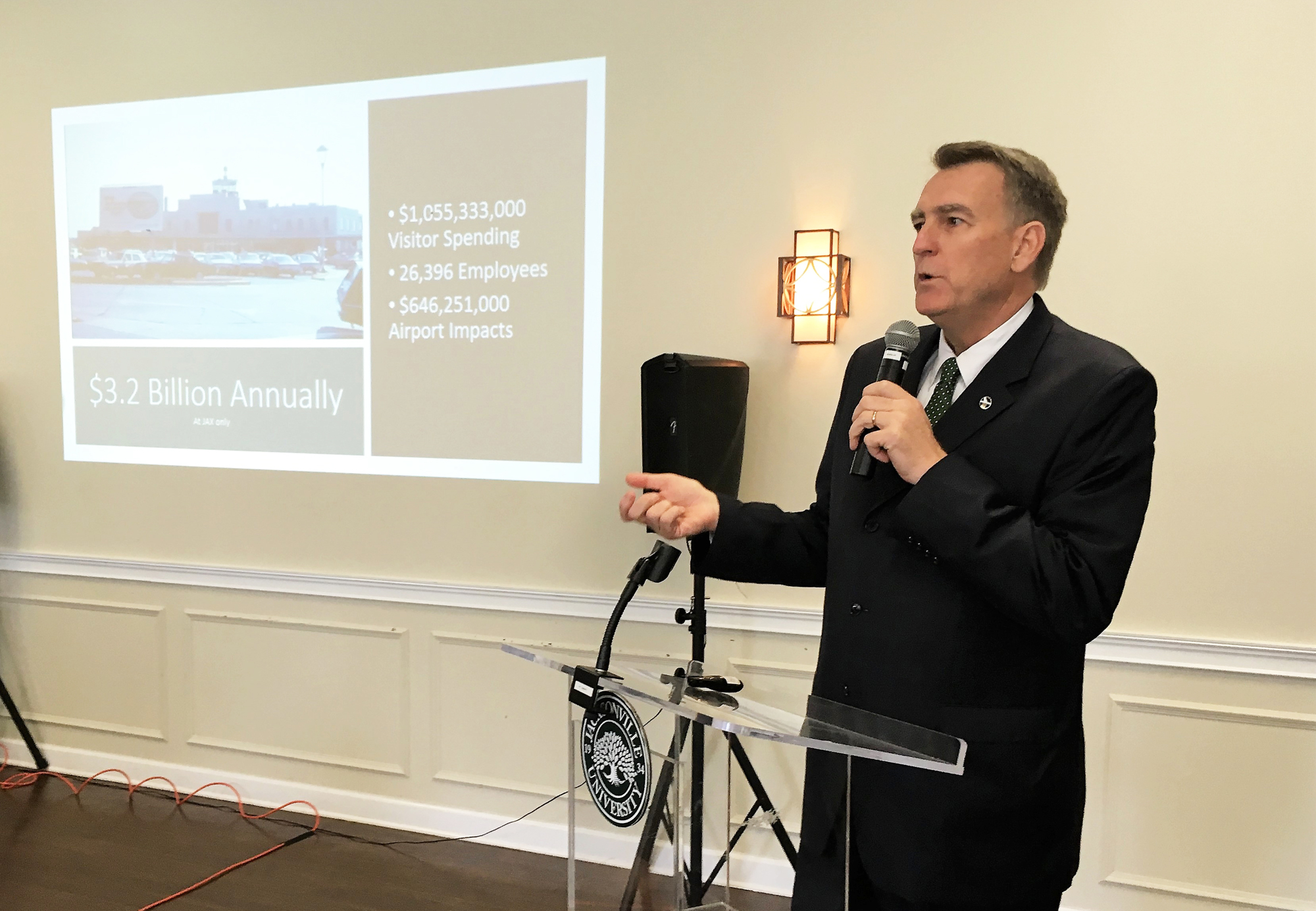 An economic downturn reduced the number of passengers and flights. 
Statements of qualifications are due April 2. Details of the JAA solicitation are at flyjacksonville.com.
The Concourse B schematic design report from December 2011 outlines six gates; 76,144 square feet of main-level space and 37,149 square feet of support spaces; and project hard costs of $86 million, although that was in 2015 dollars.
The JAA expects to select a concourse designer in May, VanLoh said after the meeting. The project cost and construction timeline have not been determined, he said.
The solicitation package says Concourse B will need to be in place by Dec. 16, 2022. 
It says that secondary areas of terminal expansion could include concessions, airfield circulation and apron expansion, a third level for additional concessions and lounge space, administrative and operational areas, baggage system expansion and other work.
The additional gates will permit more flights, which will lower the airlines' costs and produce more competitive rates, VanLoh said.
The additional concourse will require the airport to relocate its security checkpoint and add another precheck lane to move passengers through more quickly.
The airport's terminal expansion project was initiated in 1998 to redevelop the existing facilities to accommodate growth of up to 8 million passengers, according to the solicitation.
VanLoh accepted the CEO position in December, overseeing assets that generate an estimated economic impact of $3.2 billion annually. He took over for Steve Grossman, who retired in October.
VanLoh previously worked two years as CEO of the Tulsa Airport Authority in Oklahoma and spent 12 years as director of aviation for Kansas City, Missouri.
According to VanLoh, the JAA also plans to:
• Make its first launch from Jacksonville's Cecil Spaceport in April. The former Cecil Field Naval Air Station closed in 1999.
It now targets commercial spaceport operations and services military aircraft, corporate aircraft, general aviation and air cargo.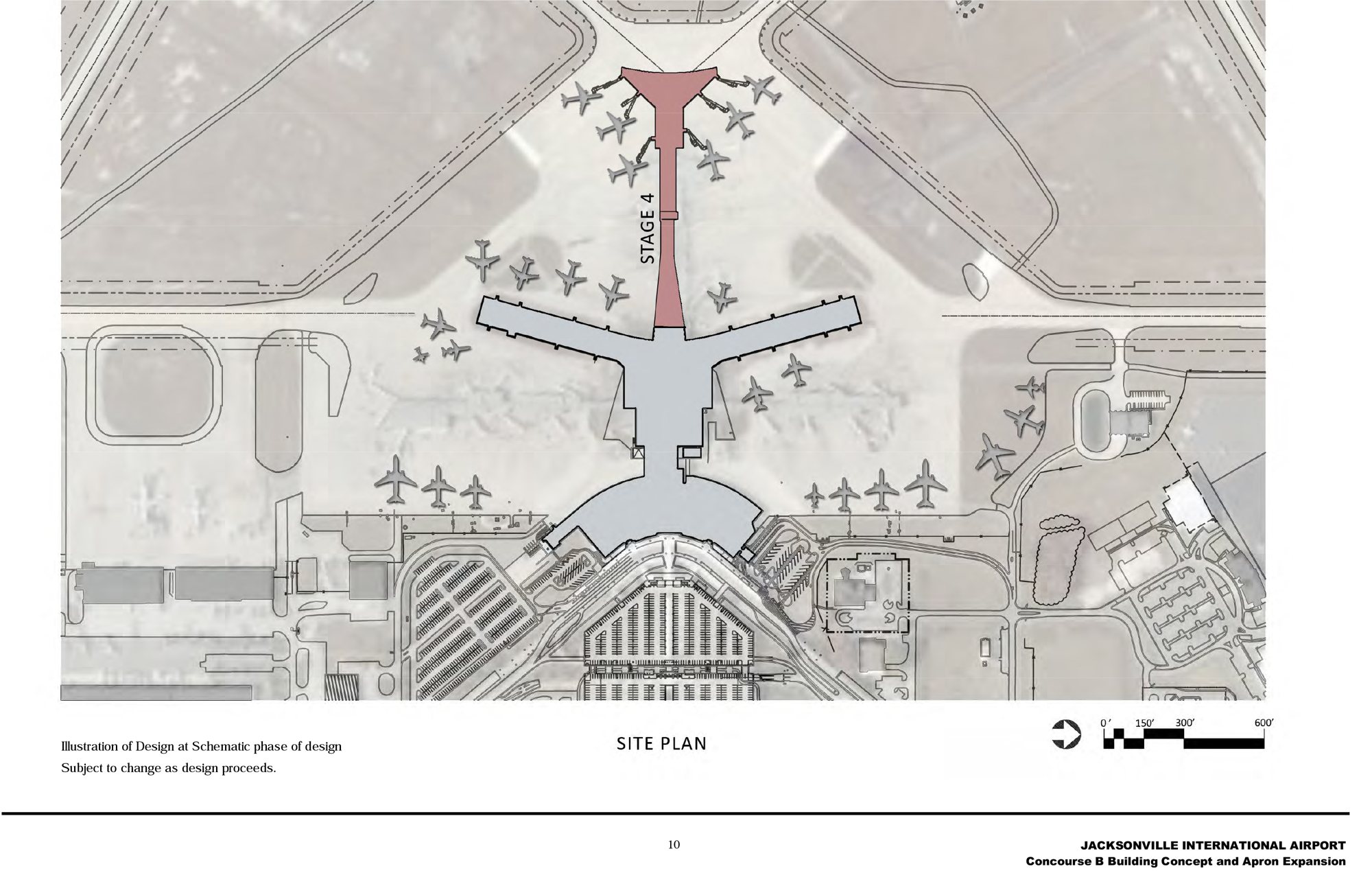 The upcoming Spaceport project will involve a horizontal launch of a brick-sized object strapped onto a jet. 
• Replace Jacksonville International Airport's restroom sinks and countertops this summer to address the facility's No. 1 passenger complaint.
• Add more restaurants and beverage shops in response to the airport's second most frequent complaint. In two years, all the airport's concessions will go out to bid.
• Increase marketing to attract airline passengers from Savannah and other areas within a few hours' drive of Jacksonville. This will offset the number of Jacksonville residents and visitors who book flights from Orlando and other airports. 
VanLoh said he's also developing strategies to provide direct flights to the West Coast.
But, to persuade an airline to bring new nonstop service to JIA, the aviation authority must show it can provide 100 passengers a day every day of the year, he said.
"It's a big investment for an airline," VanLoh said. "Many times, it takes several years."