by Maggie Fitzroy, Contributing Writer
A real estate company that bills itself as a "revolutionary way to buy and sell your home" opened an office in Jacksonville in November.
Opendoor, headquartered in San Francisco, operates in 19 U.S.  cities. 
 It purchases houses directly from homeowners, allowing them to sell without listing with a Realtor and therefore avoiding showings and "months of stress," according to its website, Opendoor.com.
Companies have been buying homes directly from owners for many years. In a lot of cases properties are fixer-uppers, owned by people who need to sell quickly and are willing to let them go for quite a bit below market value. 
But Greg Hiltz, Opendoor general manager in Jacksonville, said his company is different in that it offers cash for homes in good condition, based on market analysis.
It targets homes built after 1960 in the $100,000-$500,000 range, and he said offers reflect fair market value.
"We very much want to be symbiotic with the real estate community," Hiltz said. 
After Opendoor purchases a house and makes repairs it deems necessary, the property is placed on the Multiple Listing Service.
Buyers' agents earn a competitive commission when their customer purchases an Opendoor home. Upon closing, listing agents are paid their listing agreement by their customer.
"We pay full agent commissions," Hiltz said. "Both sides."
Opendoor works with local vendors, including roofers, plumbers and painters, if a property needs repairs, Hiltz said.
"We are not buying distressed homes or those needing major repairs. We are not knocking down walls. We want homes to be clean, safe and functional," he said.
Homeowners interested in selling their house to Opendoor can fill out a form on the company's website.
If the house meets its qualifications, the company will respond within 24 hours.
If the homeowner agrees to the offered price, Opendoor sends in-house estimators and third-party HVAC and roofing repair estimators to see if any work is necessary before putting the house back on the market.
Once repair estimates are presented, homeowners can elect to have the work done themselves and pay for it before closing or  Opendoor can arrange and pay for the work and credit back the costs at closing.
People who sell their homes to Opendoor also agree to pay a 5 to 7 percent service fee.
Opendoor usually lists a home to sell for not much more than what it paid for it. Hiltz said that is where it makes money. "We are not aiming to buy low and sell high."
Opendoor was founded in 2014 by CEO Eric Wu, who also founded a geodata analytics company, Movity, which was acquired by Trulia in 2011. 
In September 2018 Opendoor raised $400 million from SoftBank Vision Fund and as of that year raised more than $1 billion in venture capital financing.
Jacksonville is Opendoor's third Florida market, after Orlando and Tampa.
In early February, the company paid $238,700 for a three-bedroom, two-bath, 1,727-square-foot home at 12051 Livery Drive. It repaired fencing, put on a new roof, installed new carpeting in the bedrooms and spruced up the landscaping before putting it back on the market a few weeks later for $250,000.
The people who sold it to Opendoor allowed it to make the repairs, so the company credited those costs to the company at closing.
"At closing, net proceeds go down by the amount of agreed upon repairs," Hiltz said. "It doesn't change the published price," however, and therefore does not affect area property values.
Opendoor uses a smartphone app to allow potential buyers to tour its homes.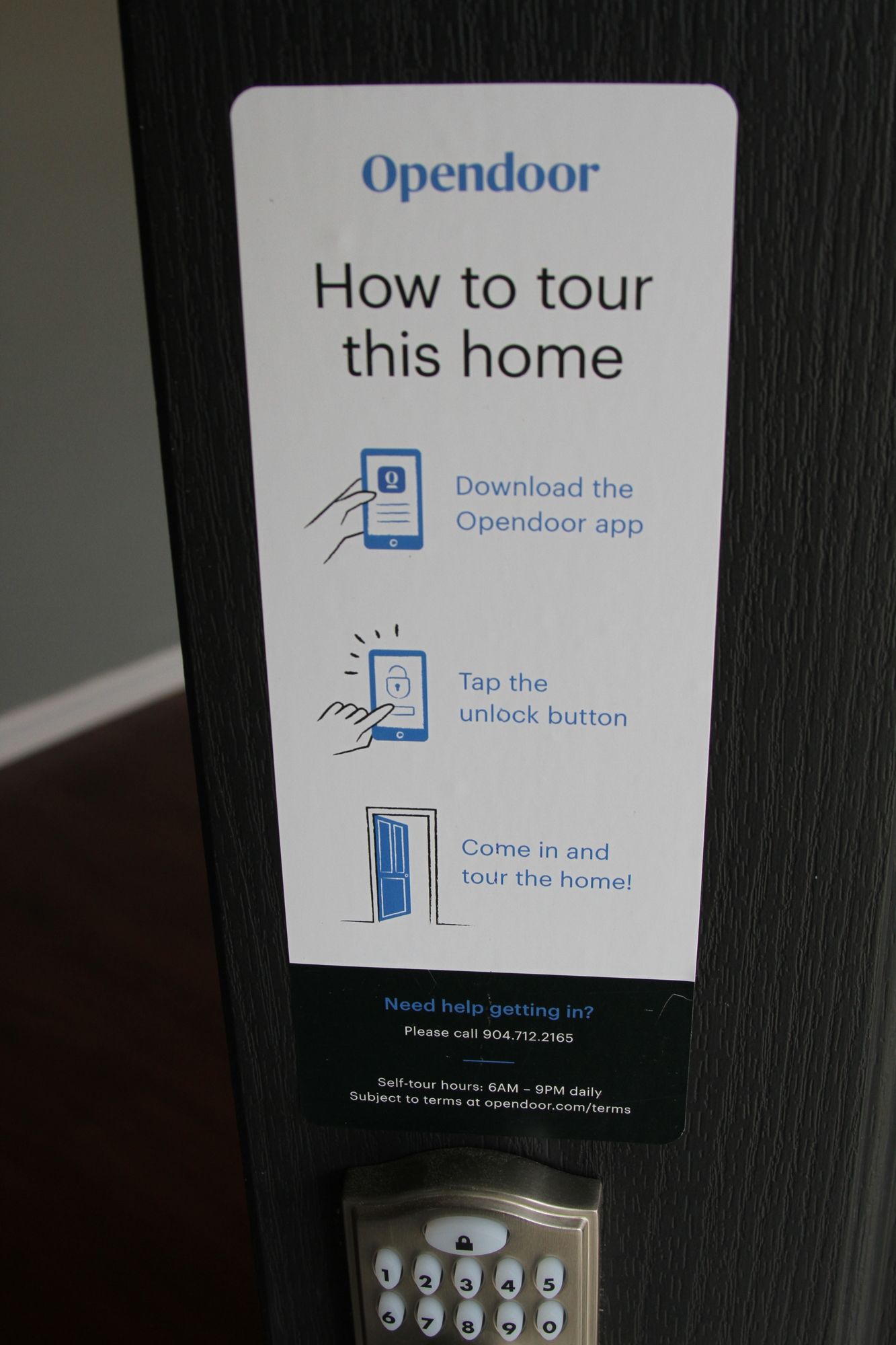 The app unlocks the front door, and tours are allowed between 6 a.m. and 9 p.m.
Realtor Katie Tarpley, with Better Homes and Gardens Real Estate Lifestyles Realty, toured the Livery Drive home with her customers.
They liked the home and made an offer, she said. Opendoor counteroffered, which her customers rejected.
Opendoor and her customers were $4,000 apart in price, said Tarpley, who said the company's business model seems to leave little wiggle room for negotiating.
"You are doing business with an investment entity, not a human being," she said. While Opendoor might be "great for some people," it has its limits because "the human element plays a lot in real estate."
Todd Shealy, broker and owner of Focus Real Estate Group, said by fixing up homes and incorporating big items into the situation, such as a new roof, the home is made more appealing to buyers.
As for sellers, in his opinion, "they are targeting people who have a lot of equity," and therefore the flexibility to take a reduced amount of money for the home by paying for agreed-upon repairs.
"It would not be for everybody," Shealy said. "It's flipping. Flipping at its finest."
As such, he doesn't expect Opendoor will have a significant impact on the Northeast Florida real estate market.
"There are a variety of business models within the real estate industry and Opendoor is simply one of them," said Northeast Florida Association of Realtors President Jeanne Denton-Scheck. 
"Having a variety of business models gives consumers the freedom to choose which type of firm and service level best suits their particular needs," she said.