After 15 years of designing and selling apparel under the name 8103 Clothing Inc., owner Mark Braddock is using his experience to help other independent artists, makers and clothing designers build their brands.
Inside a space at 1500 Beach Blvd. in Jacksonville Beach, Braddock recently began launching curated events called 904 Pop Up where customers can purchase products from local and regional brands that might not have access to traditional retail spaces.
The weekend events draw hundreds of people, providing exposure for the brands.
"There's a lot of new streetwear brands, new lifestyle brands and urban brands in the area that really don't have an engine to be able to push their products," Braddock said.
There are a limited number of events in Jacksonville, he said.
"They're not curated or focused on independent and urban apparel designers," he said.
Braddock, 34, is on his second run in Jacksonville. For more than a decade, he operated 8103 Clothing through online sales and at two flagship retail locations in Jacksonville Beach.
He moved his life and 8103 Clothing to Northern California in 2016 where he took part in local street fairs and pop-up events.
"I was doing a street fair called Truckee Thursdays every week," he said, referencing the town of Truckee, California.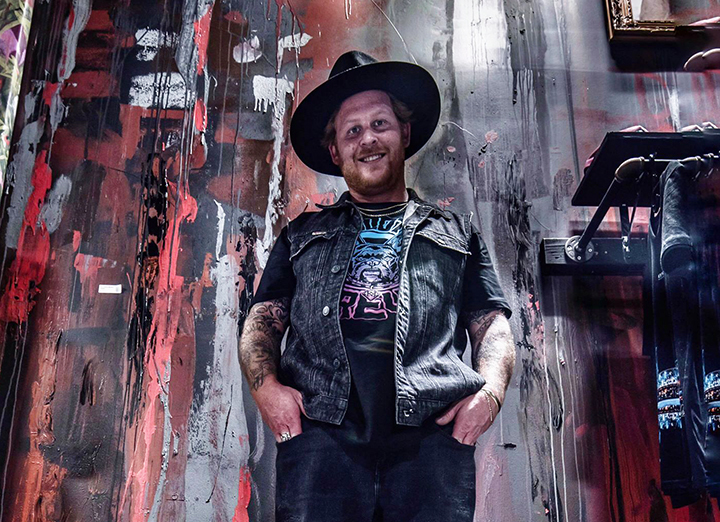 Braddock said the events showcased hundreds of vendors, including clothing brands, food trucks, breweries and creators in a closed-off area comparable to where large festivals are held in Jacksonville Beach.
"It was really a community-driven event that the whole town basically participated in," he said.
Braddock moved back to Jacksonville in 2018 with plans to open a short-term retail shop.
"Initially, this was just going to be a pop-up shop for 8103 Clothing," he said. "We're working on something more long-term right now."
Braddock said when he moved back he noticed the independent clothing, maker and craft scene was rapidly growing and in some cases, didn't have a physical outlet to showcase products.
"These are people that often go home from their nine-to-fives and these are their passion projects," said Braddock. "And they really just need more of the culture as a whole to embrace them."
By January, Braddock lined up brands for the first 904 Pop Up. It featured artwork and businesses from Jacksonville to St. Augustine.
"Jacksonville is urban, and to create an event that embraces the culture from Jacksonville Beach to St. Augustine and Downtown Jacksonville is what the 904 Pop Up is all about," he said.
Mover & Shaker Co., which offers custom-made pins, patches and apparel aimed at the high-end cocktail and bartending industry, was featured in January.
"We're a brand for bartenders by bartenders," said co-founder Nick Hogan. 
"We really take pride in the nerdy craft cocktail culture and try to play into the icons and staples behind the history of cocktails," he said. 
Hogan said events like 904 Pop Up give his company a chance to showcase its products outside of online and social media.
"It's really the best place to meet your customers face-to-face to see what they think about your product and get immediate feedback," Hogan said.
"The 904 Pop Up has been really awesome because all these collectives get together and learn from each other or at least get that introduction," he said. 
Third Pop Up and First Flea Market
 Mover & Shaker is taking part in the third 904 Pop Up from 6-11 p.m. Saturday alongside 8103 Clothing, Upland Clothing Co., Genetic Soles and Abrasion Clothing Co.
The theme is centered on the works of five local and regional photographers with exhibits by Shutter Styles, Martin Torres, Connor Cornell, Malc Jax and Martin Morales.
"We have a fashion photographer, a photographer that shoots primarily out of helicopters and a photographer that does a lot of traveling overseas to Nicaragua for surf trips," Braddock said.
"It's a well-rounded, curated selection of photographers with different styles, so each has their own lane here."
On Sunday, Braddock is launching the first 904 Flea Market, "the little brother to the 904 Pop Up that could eventually become the big brother," he said.
The event runs 10 a.m. – 5 p.m. and will feature artwork completed by Buffalo Healy Art and Mobarick Abdullah Art.
Brands include Duval Product Apparel, Generation Jaguar, Abrasion Clothing Co., Upland Clothing Co., Thrift Shart, Ratch Vintage, Duval Digs, Premium Boys Club and 8103 Clothing.
"I created the 904 Flea Market to create another engine to be able to accommodate for more local creators," Braddock said.
Local focus
 Braddock said he learned hard lessons growing 8103 Clothing and wants to use that knowledge, along with his social media marketing skills, to help others avoid those mistakes.
"In this independent space, we're not millionaires or hundred-thousandaires," said Braddock.
"Using my experience and knowledge across the board from event planning, celebrity collaboration, printing, design and manufacturing, I felt a need to be able to help others that are trying to do this too," he said.
His 8103 Clothing line continues to grow.
Last fall he completed a deal to sell licensed merchandise for the Jacksonville Jumbo Shrimp – a rare feat for a local brand.
He'll be throwing out the first pitch at a game in April.
Braddock said he intends to continue growing the 904 Pop Up and 904 Flea Market.
"8103 is now a cultural driver for Jacksonville, and hopefully the Southeast as a whole," he said.
"If we all scratch each other's backs, we can all win, and that is the recipe to being able to strengthen the culture."