Thirteen months after reaching agreement to buy another title insurer, Fidelity National Financial Inc. still can't say when the deal might be completed.
Jacksonville-based Fidelity's $1.2 billion deal to buy Stewart Information Services Corp. was rejected in January by the New York State Department of Financial Services, one of a number of state regulators that have to sign off on the merger.
The company also needs approval from the U.S. Federal Trade Commission, which has asked for additional information.
The merger would increase Fidelity's dominant share of the U.S. title insurance market to about 42%, so the company has to address antitrust concerns.
"We will continue to respond to the FTC's second request and maintain discussions with all other relevant regulatory bodies to seek approval of the proposed acquisition," CEO Randy Quirk said last week during Fidelity's quarterly conference call with analysts.
Quirk said Fidelity filed a new application with the New York regulators but said little more about the approval process.
"We remain confident that the Stewart acquisition will create meaningful long-term value for our shareholders. We will not be able to further comment or take questions on Stewart," he said.
Fidelity reported first-quarter adjusted earnings of 43 cents a share, a penny higher than the first quarter of 2018 and 3 cents higher than the consensus forecast of analysts, according to Zacks Investment Research.
Ameris merger moving swiftly
While Fidelity's big merger process plods along, a major acquisition for Ameris Bancorp apparently is moving toward a swift completion.
Ameris agreed in December to buy Atlanta-based Fidelity Southern Corp. (no relation to Fidelity National Financial) and it expects to complete the $751 million deal by the end of June.
During Ameris' quarterly conference call last week, CEO Dennis Zember said the integration of Fidelity Southern's operations is going well even before the deal is completed.
"The integration of the two companies is proceeding at a very fast pace and once the legal merger is consummated, we will be very far down the road putting the two companies together financially and culturally," he said.
Ameris, which has its executive offices in Jacksonville, expects the acquisition of Fidelity Southern to bolster its presence in Atlanta. Zember said the company already is making inroads in that market.
"Our presence and our image in Atlanta is driving the inbound phone calls from customers and bankers that we hoped it would," he said.
Ameris reported first-quarter adjusted earnings of 90 cents a share, up from 73 cents the previous year. However, the earnings were below the consensus forecast of 92 cents, according to Zacks.
Deutsche Bank ends merger talks
Another potential bank merger that would have impacted Jacksonville was called off last week.
Deutsche Bank said it ended merger talks with another Germany-based bank, Commerzbank.
"After thorough analysis, we have concluded that this transaction would not have created sufficient benefits to offset the additional execution risks, restructuring costs and capital requirements associated with such a large-scale integration," Deutsche Bank CEO Christian Sewing said in a statement.
Deutsche Bank confirmed in March that it was talking to Commerzbank after months of rumors that German regulators were pushing for the merger to help financially struggling Deutsche Bank.
Deutsche Bank announced the merger talks ended two days before it reported first-quarter earnings, and Sewing said the results show the bank is improving its finances on its own.
"As our preliminary first quarter results demonstrate, we are moving in the right direction under our own steam. In a very difficult financial market environment, we grew net income by more than 65% year-on-year to approximately 200 million euros," he said.
Deutsche Bank employs more than 2,000 people in Jacksonville but has announced plans to reduce U.S. operations to cut costs, as well as cut jobs throughout its global operations.
The bank's total employment was 91,463 at the end of the first quarter, down from 97,130 a year earlier.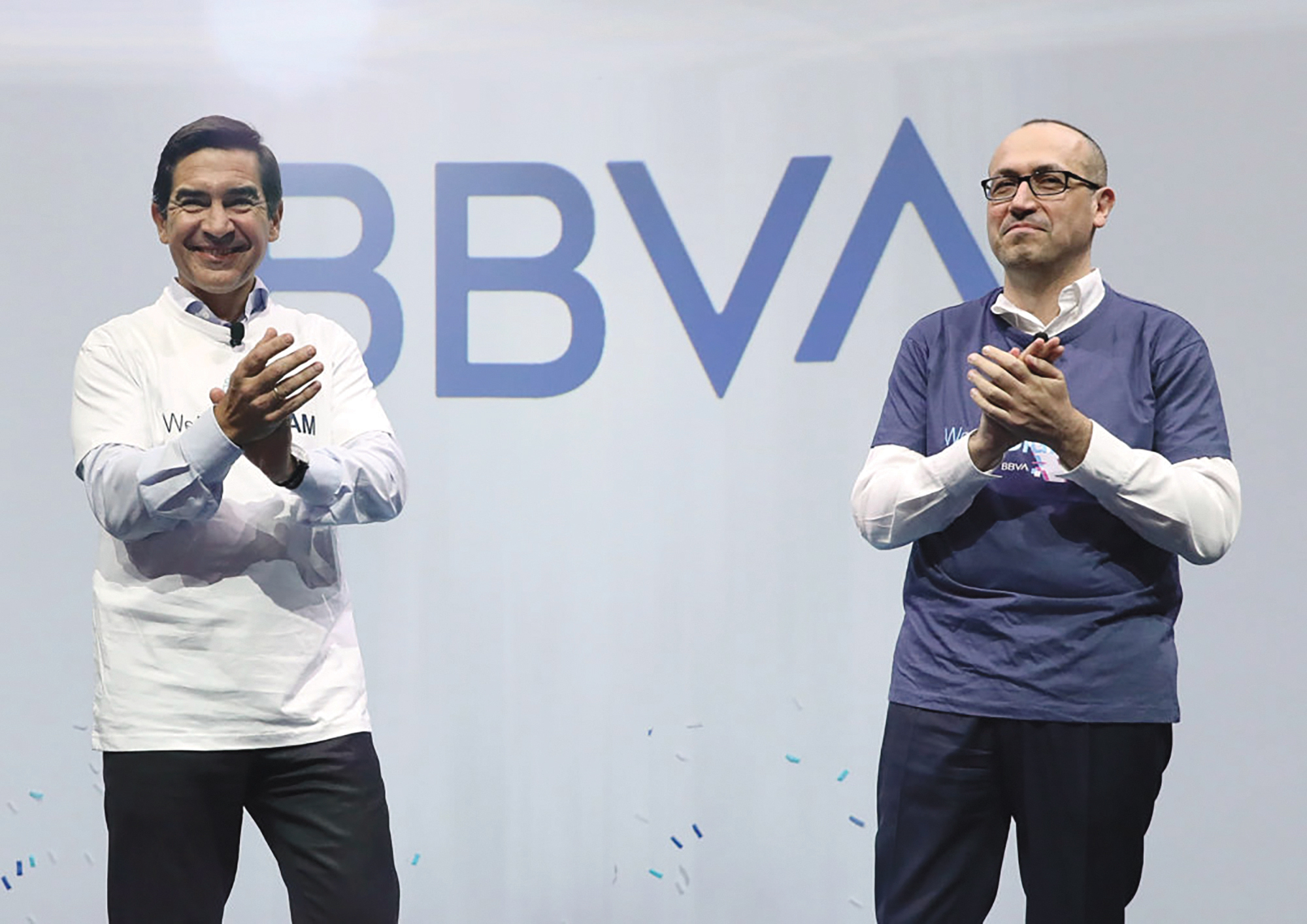 BBVA is dropping 'Compass' from name
BBVA Compass bank branches are dropping the "Compass" from their name, as part of a plan by Spain-based Banco Bilbao Vizcaya Argentaria, S.A. to brand all of its global operations under the BBVA name.
The global bank operates under different local brands in the U.S., Argentina, Mexico and Peru. But the company said last week it is dropping all the local names in the coming months to unify its operations.
"Becoming BBVA is simply the next step in what we've always said is an ongoing digital transformation process," said BBVA Compass CEO Javier Rodríguez Soler  in a news release.
"Operating under a single brand further brings the power and strength of BBVA around the world to our clients here in the U.S."
Birmingham, Alabama-based Compass Bancshares Inc. entered the Jacksonville market in the mid-1990s when it made several acquisitions of small banks, beginning in 1994.
BBVA bought Compass for $9 billion in 2007 and has been operating BBVA Compass as its U.S. subsidiary.
BBVA Compass is the fourth-largest bank in the Jacksonville market with 25 branches and a 4.37% share of deposits in the metropolitan area, according to Federal Deposit Insurance Corp. data.
Landstar System beats forecast
Landstar System Inc. last week reported first-quarter earnings of $1.58 a share, up from $1.37 the previous year and above the company's forecast range of $1.51 to $1.57.
Revenue of $1.033 billion was below the first-quarter 2018 revenue of $1.048 billion, but expenses also dropped.
CEO Jim Gattoni said in a news release that the Jacksonville-based trucking company is facing a difficult industry environment.
"We began the quarter facing very difficult year-over-year comparisons plus decelerating rates of growth in both truck revenue per load and truck loadings that began in late 2018," he said.
"Truck capacity became more readily available at the end of 2018 and that market condition carried through the 2019 first quarter putting additional pressure on rates. Landstar performed very well during the 2019 first quarter given the softening environment."
Landstar projects second-quarter earnings of $1.56 to $1.62 a share, compared with $1.51 in the second quarter of 2018.
Waste Management mum on Advanced Disposal details
Officials of Waste Management Inc. talked publicly last week for the first time since announcing its $4.9 billion agreement to buy Ponte Vedra-based Advanced Disposal Services Inc.
But they still aren't giving much insight about the integration of the two companies.
"We can't say a whole lot about some of the details of it for obvious reasons," CEO Jim Fish said in Waste Management's quarterly conference call.
"We'll give details where we can but suffice it to say, this is being looked at as being transformational and the two companies are so complementary from a cultural standpoint that it really makes a ton of sense for us."
Waste Management has not indicated its plans for Advanced Disposal's headquarters office in Nocatee. Advanced Disposal moved into the office in 2013, and its lease expires in 2020.
Fish said the deal gives Waste Management, the largest U.S. waste disposal company, 3 million new customers.
"It's a lot more difficult to get three million organic customers than it is to pick them up through a great acquisition like this," he said.
"We are very, very excited about this," Fish told analysts.
"This is really something that we haven't done in a period of 20 years, a deal of this size."