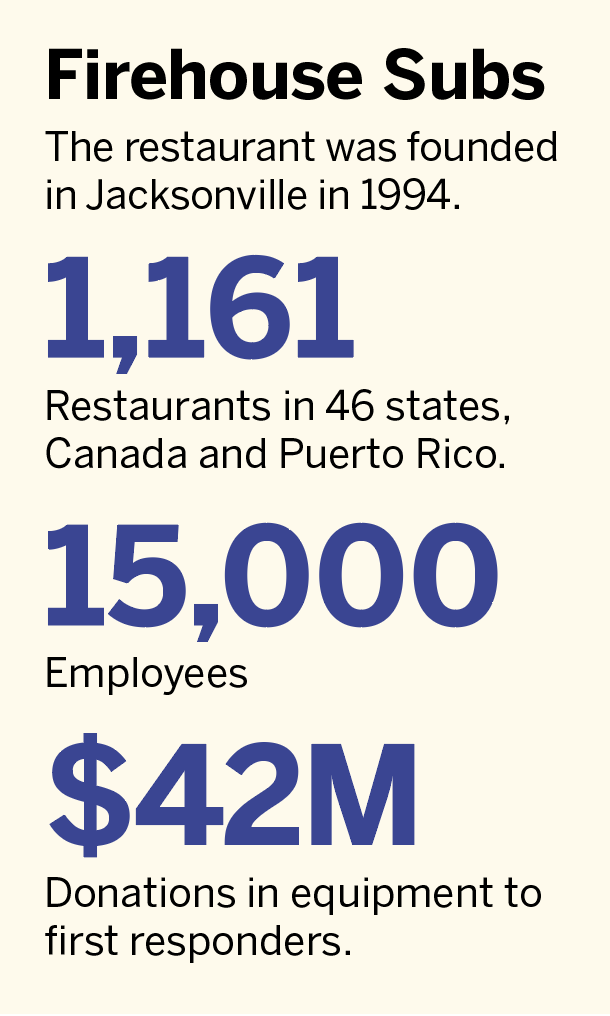 By Dan Macdonald, Contributing Writer
The success of Firehouse Subs isn't dependent solely on customers liking the product. 
They also have to like Firehouse Subs, the company, which has been operating for 25 years.
Don Fox, Firehouse Subs CEO, shared that insight with the Southside Business Men's Club in April.
Brothers and former firefighters Robin and Chris Sorensen founded the company in Jacksonville in 1994.
It has grown to 1,161 restaurants in 46 states, Canada and Puerto Rico. It employs about 15,000 people.
Fox joined Firehouse Subs in 2003 when the chain had 65 restaurants. 
He came from Burger King, which at the time was the nation's second-largest hamburger chain behind McDonald's.
Fox said the catalyst for Firehouse Subs' growth was verbalizing the company's mission statement: "To carry on our commitment to and passion for hearty and flavorful food, heartfelt service and public safety."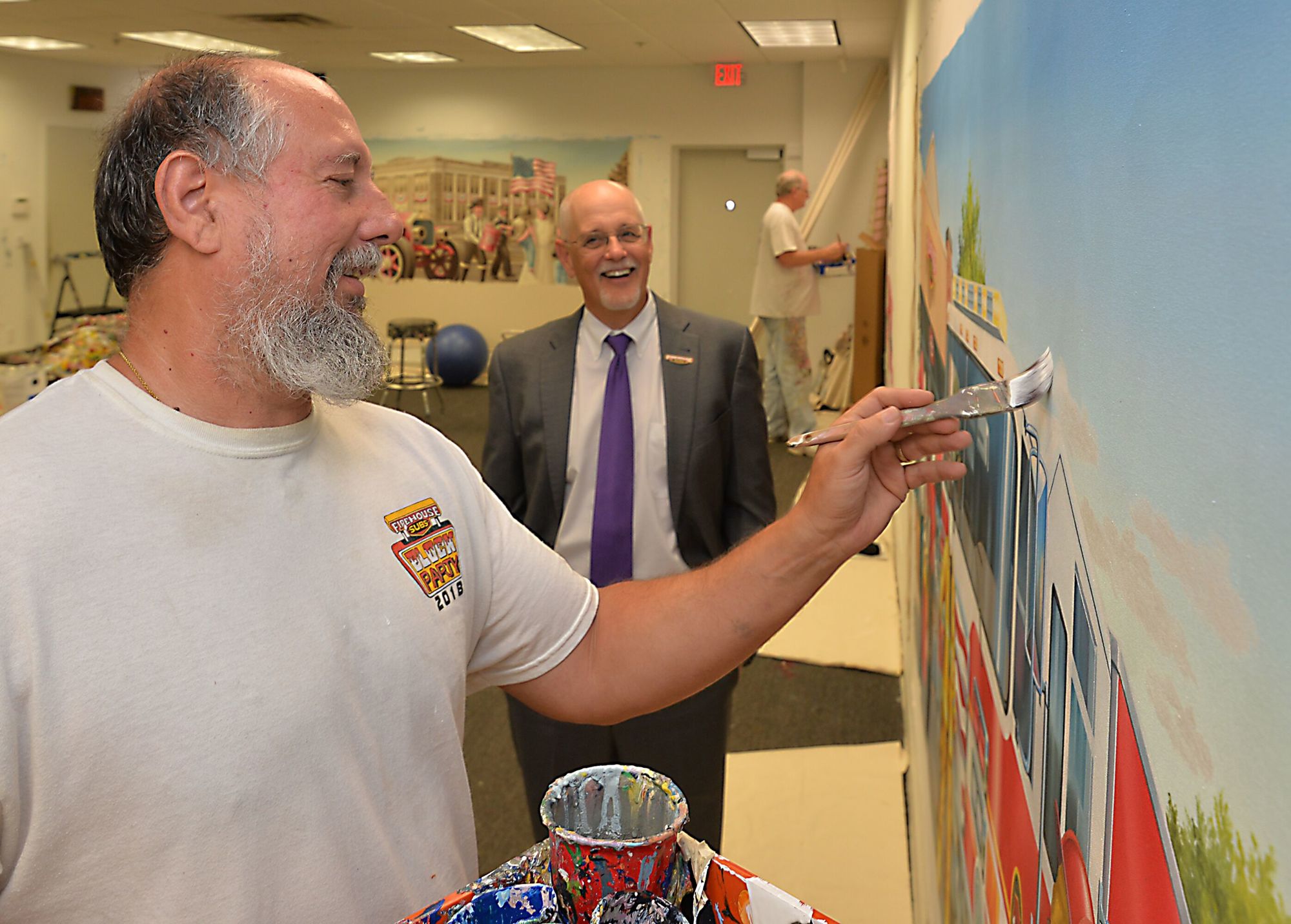 Without an understanding of this message, Fox said it wouldn't be possible for each franchisee to replicate the company's focus on food, service and community outreach.
To date, the company has contributed $42 million of equipment to first responders around the nation. More than half has been raised by customers participating in the company's "Round Up" program where the bill is rounded up to the nearest whole dollar amount with the extra going to the Firehouse Subs charitable fund.
To that point, Fox said, "Our advertising agency asked us a really great question. 'If Firehouse Subs just ceased to exist, who would really care?' Franchisees would have lost investments, employees would have lost jobs. But they will pick up and move on. As we reflected, we realized that the biggest difference maker is that chances are there would be no one there to pick up that philanthropic mission."
After the speech, Fox sat for an interview. These are edited excerpts.
What are your growth projections for the next five years?
We will probably add about 350-400 restaurants. The variables will be the availability of real estate. We are not so much in the mode of finding new franchisees. Rather it's about the existing franchisee developing more restaurants.  That is why acquiring real estate is the primary driver.
How do you plan to achieve that growth?
It's about executing a healthy business model that can deliver a good return on investment and that we are constantly growing sales. If we do that on our end, franchisees will find us to be a worthwhile investment and they will continue to reinvest and build more restaurants. If we fail on our end, they are not going to take the risk of expanding.
Can you expand upon the importance of the need for a mission statement?
We are carrying on the commitment and passion of the founders. If we lose that, no matter how big we get, the company is never going to perform at its full potential. A company we admire greatly is Chick-fil-A. It is a terrific example of how a brand of (several) thousand restaurants can maintain that strength of its culture.  Go to any Chick-fil-A restaurant and you'll see that consistency of service and execution. It's all about the people. Our goal is the same. Having that mission statement is the first step. It is important to us so anyone joining our organization knows what we are about.
The company is privately owned. What is the exit strategy? Do the Sorensens intend to sell or go public?
There are no plans (to go public). We have no debt. There is no need. We are proud that all of our decision-making is long range. Our philosophy toward operating would perhaps be at odds with being a public company. Couple that with no financial need to do it and that keeps us operating quite nicely as a private concern.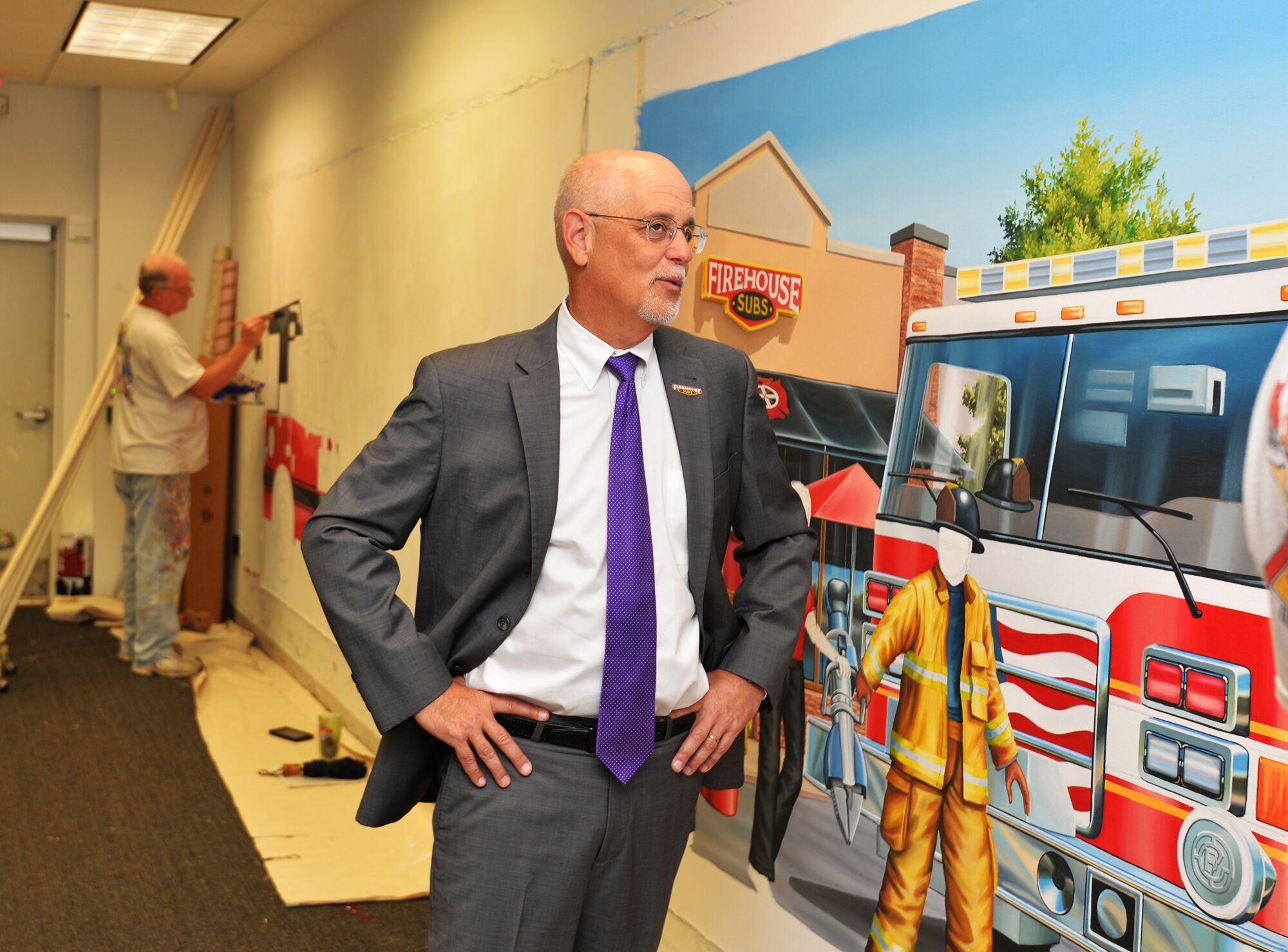 Would becoming a public company compromise the mission statement?
I have quite a lot of pity for CEOs that are running public companies. The nature of most publicly owned companies is to be short-term focused on the next quarterly earnings call. They are usually not thinking much outside of a year. I've seen so many restaurant companies drastically change their brand for short-term results. It doesn't usually work out so well.
What is the future of the fast-casual restaurant sector in which Firehouse Subs operates?
The major change in the industry is the tendency for the consumer to consume food off premises. In 2013, our peak was 53% of our business was dine-in. We are down to 38%. One of the biggest headwinds is the emergence of e-commerce. You have 13% to 14% of commerce in e-commerce and delivered goods. One of the key drivers of people going to restaurants is people going out to shop. They visit a restaurant. That is part of the reason that third-party delivery services, like Uber Eats and Grubhub, did more than $10 billion in sales last year. Restaurants that are not getting into that game are losing traffic.
What are your thoughts on kiosk ordering?
I think that it will be a passing fad of sorts because the future is that people will be ordering (from apps on their mobile devices). You can now walk into our restaurant, take out your phone, order your food and pay for it there and just pick it up while you are there. We launched a platform last year called "Rapid Rescue." It's for people who order online and pay online. We have a rack with their orders assembled and packaged and they walk in, grab it and they are gone. Customers love it. In Jacksonville, 10% of our sales will be done through that process.
What are the headwinds that Firehouse Subs expects?
By doing business with delivery services we are paying fees that are typically 25% to 30% of the check that the customer is not usually aware of. The customer is also paying a fee of $5, which is common. On a $20 order we are paying $6 or $7 ourselves for having the privilege of Grubhub or Uber Eats deliver the order. As long as the economy continues at a good pace, we will enjoy the benefit of that. Operating costs are fairly constant. It is more about the availability of labor rather than the cost of labor. We just need more people.