A Miami investor is proposing Jacksonville's first Northbank high-rise in almost 30 years that would tower over Downtown's tallest buildings.
Real estate investor Ramon Llorens presented conceptual designs for a 54-story, mixed-use tower at the site of the former Downtown Greyhound terminal to Downtown Investment Authority CEO Lori Boyer.
Boyer said Monday that Llorens and a Miami-based architect presented plans for the 1.46-acre site during a meeting at her office in October. 
Llorens did not respond to a request for comment Monday.
Boyer divulged the project Monday morning on First Coast Connect with Melissa Ross. The live hourlong program airs on WJCT 89.9, a Jacksonville Daily  Record news partner.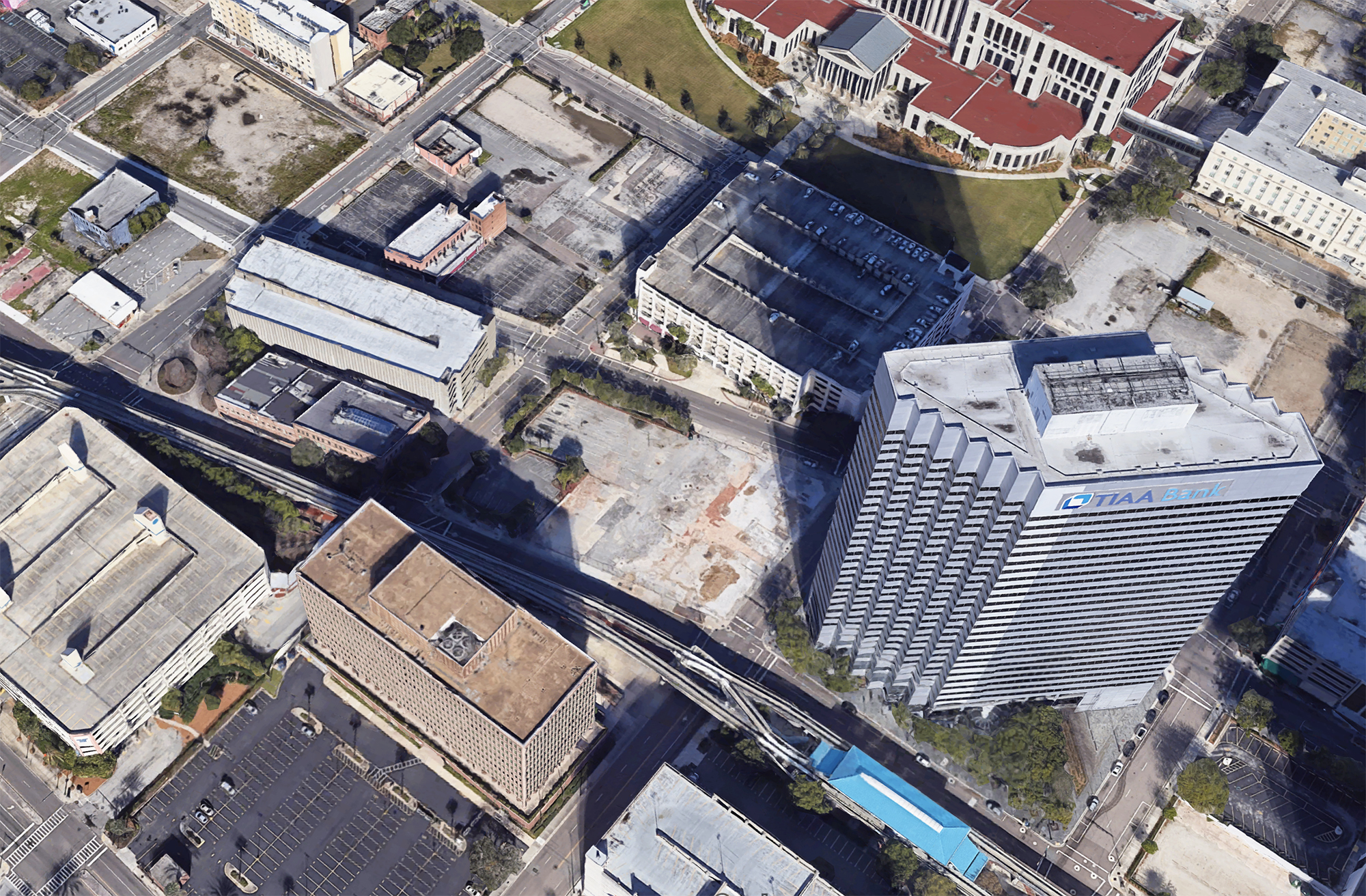 In an interview after the program, Boyer said the tower would include multifamily residential units, corporate office space, hotel rooms and a parking garage, as well as ground-level restaurant space.
"I think it's conceptual, but it may be more definitive," Boyer said. 
Llorens purchased the former Greyhound station site at 10 N. Pearl St. in December 2017 for $2.78 million under the company AK Pearl LLC. The terminal was demolished in September 2018.
The proposed tower would be the first high-rise built in Downtown's Northbank since the 42-story Bank of America Tower at 50 N. Laura St. was completed in 1990.
That tower is owned by Hertz Jacksonville One LLC and is valued at $72.54 million, according to the Duval County Property Appraiser. The land is valued at $1.78 million. It's the city's tallest building at 617 feet.
The last two high-rises built Downtown are on the Southbank — The Strand, a 28-story apartment building completed in 2007, and the 37-story Peninsula condominiums finished in 2008. 
Since September 2014, through ownership groups, Llorens acquired Jacksonville holdings that include the 30-story TIAA Bank Center Downtown; a Downtown parking garage at 336 W. Bay St.; a 2.78-acre parking lot at Hogan and West Bay streets; a 1.48-acre Downtown parking lot at 317 Water St. by the Omni Jacksonville Hotel; Southbank riverfront commercial buildings;  the former Ford Motor Co. plant and property near the Sports Complex; and 250 acres along New Berlin Road in North Jacksonville.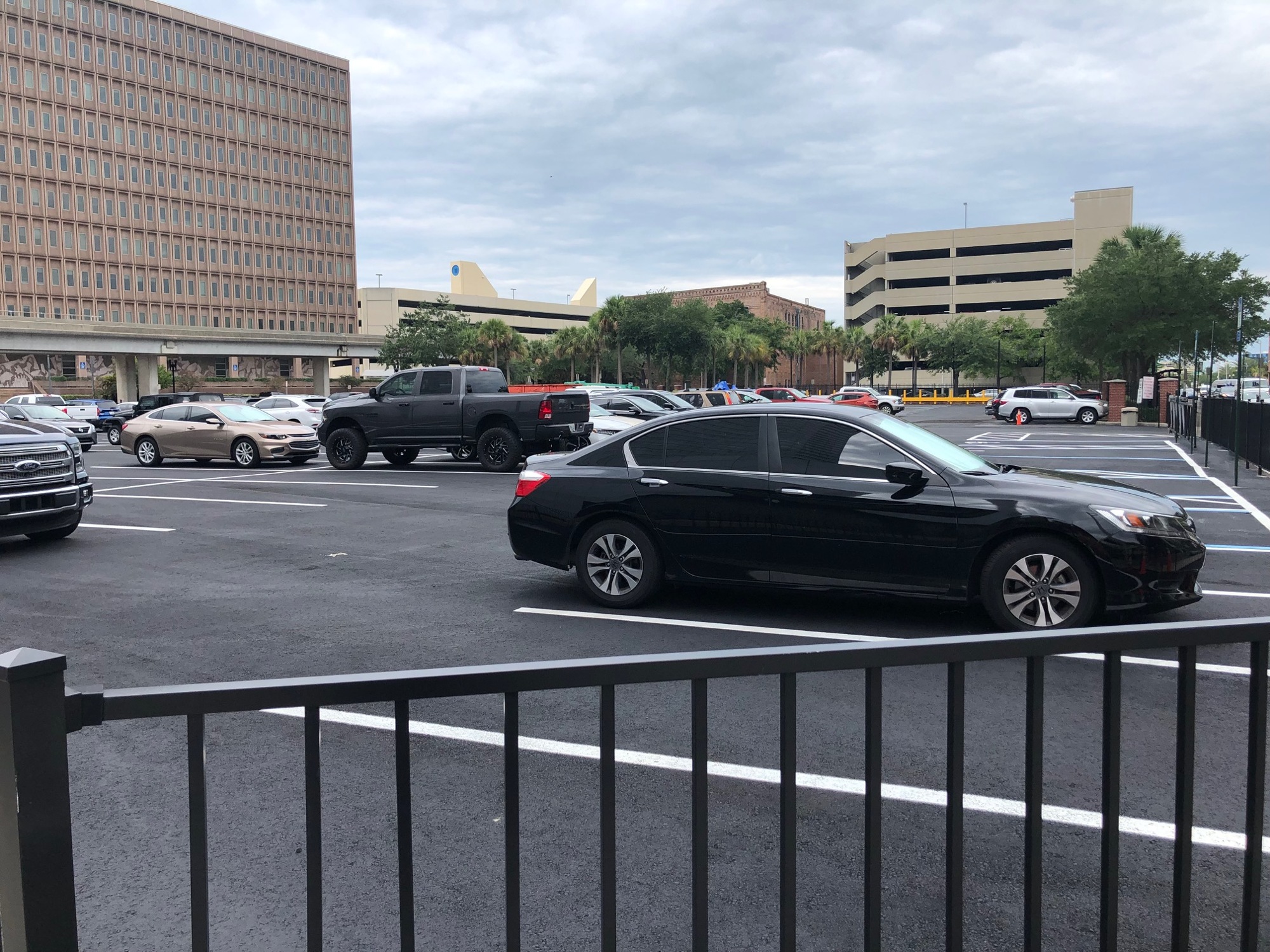 AK Pearl faces a code compliance citation from the city after converting the former Greyhound site into an unpermitted parking lot in May.
The issue is scheduled to go before city Special Magistrate Municipal Code Enforcement Board 10 a.m. Dec. 5, according to the city's Municipal Code Compliance Division.
A May 20 letter to AK Pearl from DIA Operations Manager Guy Parola states the land was supposed to be grassed in accordance with a city ordinance following the terminal demolition.
The bus station demolition was authorized by a city building permit, but "the surface parking lot was not permitted."
Parola wrote the surface lot is prohibited by the city's zoning code and was constructed without the required permits.
The Downtown Overlay Zone states that "all commercial surface parking lots in the Central Civic Core shall be prohibited."
According to Boyer, city code does have a provision that would allow for a temporary surface parking lot to facilitate construction. 
"If he were building something, there may be some leniency, but that depends on the time frame," Boyer said.
Staff Writer Scott Sailer contributed to this report.