Florida State College of Jacksonville wants a second chance at $600,000 in loans from the Downtown Investment Authority to support its student housing at 20 W. Adams St. 
The loans would cover any shortfall between revenue and operating expenses at its 60-bed student housing rentals in the historic Lerner Building Downtown.
The DIA board will consider a resolution Wednesday to allow DIA CEO Lori Boyer to negotiate and issue the loans from the Downtown East Tax Increment Trust Fund, first offered in November 2015.
The city and DIA offered FSCJ and building developer 20 West Adams Street Development a combined $1.2 million in financial assistance in 2015 to renovate and restore the property. 
DIA documents state the project's total capital investment was $6.4 million.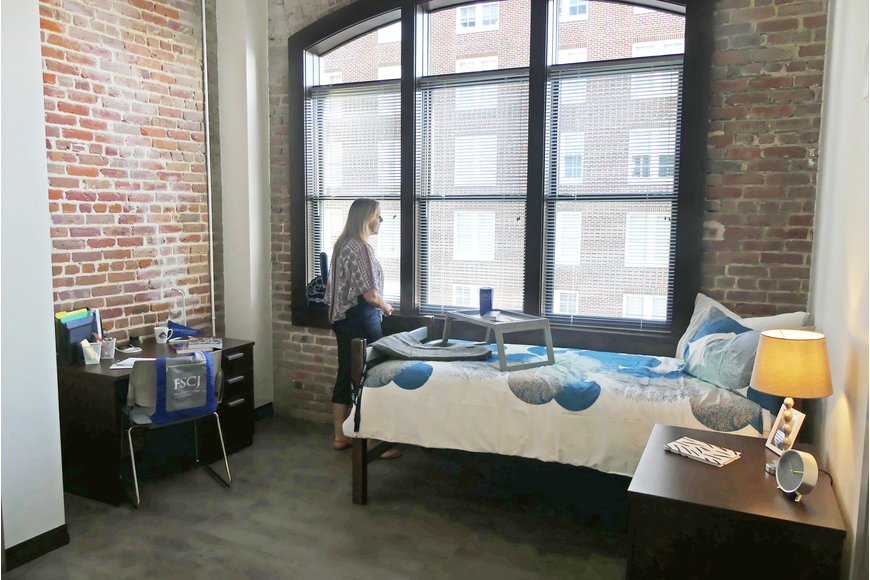 The developer was awarded $600,000 from the city's Downtown Historic Preservation and Revitalization Trust Fund. FSCJ was approved for two no-interest loans totaling $600,000.
The college didn't execute those loan agreements, but now school officials have asked the DIA board to renegotiate and implement two new no-interest, five-year loans to help subsidize the student housing project.
The request comes as Jumpin' Jax House of Food co-founder Howland Russell announced Oct. 31 the local restaurant would lease the former 20West Cafe space on the ground floor. It will be his third location. 
FSCJ opened 20West Cafe in April 2018 as a training restaurant for the school's culinary students. The college closed it in June, after 14 months of operation, after financial projections showed it would not be self-sustaining and would consume significant college funds.
The DIA resolution says the loan is justified because it moves closer to the authority's goal of increasing Downtown density. 
According to the proposed term sheet, each loan will not exceed $300,000. The first loan will be repaid no later than June 30, 2024. The total principal of the second will be due no later than June 30, 2029. 
FSCJ's annual payments will be no higher than $60,000, according to the agreement.