New York-based Acreage Holdings, a medical marijuana cultivator, processor and dispensary, chose Baker County for its first production facility in Florida.
Acreage broke ground on the facility Oct. 29. 
Acreage will repurpose the former Hanson Roof Tile manufacturing facility for cannabis cultivation. The facility is on 15.4 acres at 13907 Arnold Rhoden Road in Sanderson. 
The cannabis will be grown indoors in the automated, climate-controlled facility to support Acreage's dispensaries throughout the state. 
Acreage will employ 80 to 100 people. Job openings include grow specialists, extraction personnel, maintenance and security. 
The first phase of the project is a temporary pod-based system under a 1,500-square-foot canopy. It will employ 15 people with the first harvest expected by March.
The second phase is a 7,000-square-foot canopy-covered pod-based system. It will employ another 15 people with an April harvest.
The final phase is 33,000 square feet. It will employ an additional 80 people with a harvest by August.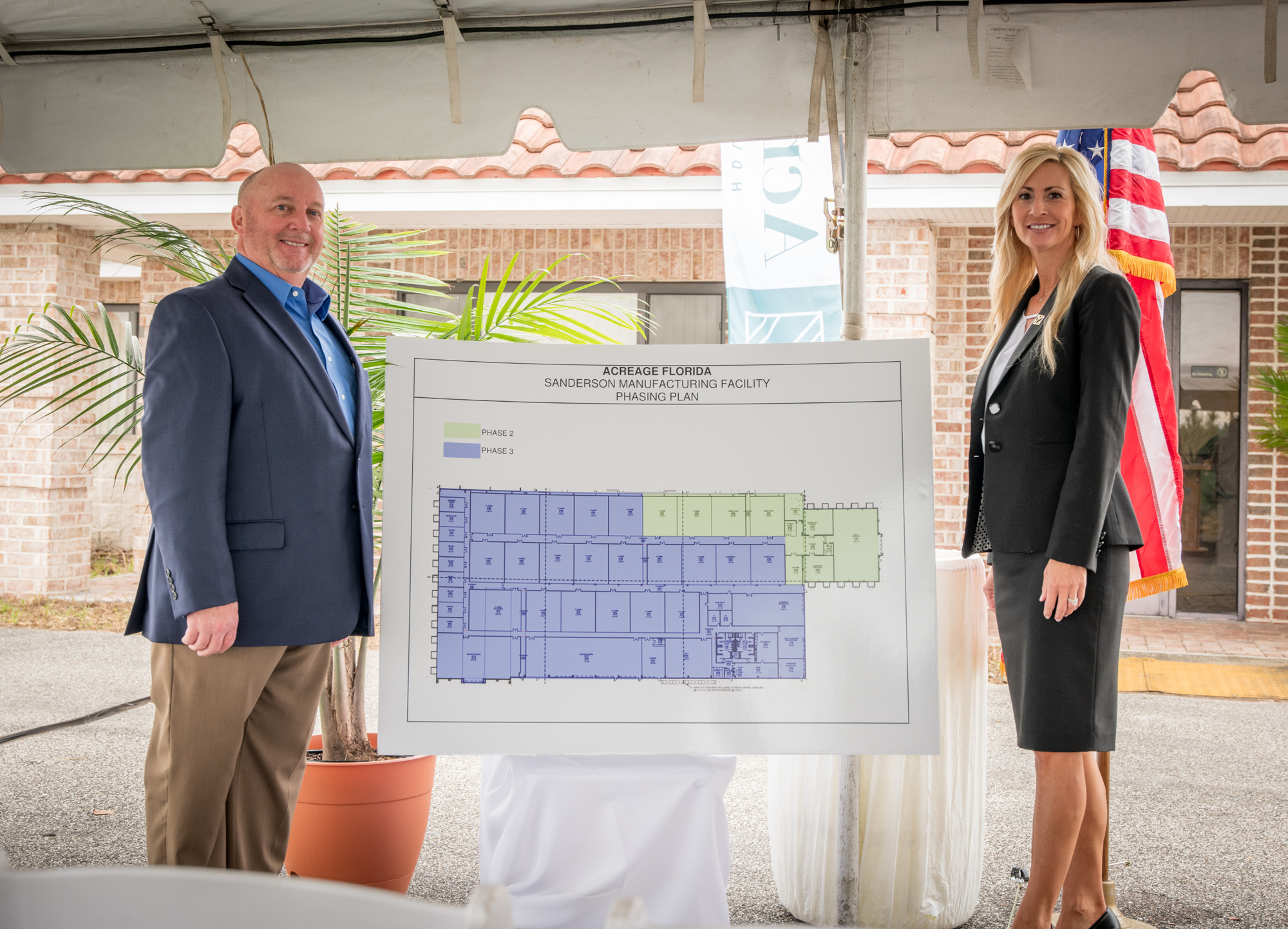 Rhonda Kratz, Acreage Holdings Florida general manager, said the company has seven dispensaries in the works throughout Florida. One is planned in Northeast Florida, but Kratz declined to state where. It won't be in Baker County. 
Baker County was an ideal location for Acreage's first Florida facility because of its warm climate and the way officials welcomed the company, Kratz said.
"It was important for us that we had a partnership with the local government and the local chamber of commerce," Kratz said. "I think based on the number of jobs we're going to bring, there's some excitement brewing in Baker County."
Darryl Register, executive director of the Baker County Chamber of Commerce, said he was pleased to welcome the company. The chamber typically targets advanced manufacturing, logistics and distribution companies to bring to the area. 
Register said job creation is important to develop the area's economy. 
"Just the fact that they're going to have close to 100 jobs is big for Baker County. They're going to hire as many locals as they can," he said. 
Acreage held a two-day job fair in Macclenny, Register said.
Kratz said there are 389,000 patients enrolled in Florida's medical marijuana program and 7 million people voted for its legalization. There are 185 dispensaries open in the state and each licensed company is eligible to open 35 each statewide.
She said the medical marijuana industry in Florida is wide open, making it an ideal for expansion. 
Over time, she said she expects the company to add production facilities to fuel its dispensaries in other parts of the state. 
"There are so many tremendous opportunities for us to bring new patients into the program through education and awareness and sharing information about what medical cannabis can do," Kratz said. "It's a robust industry."