The Downtown Development Review Board will consider two Brooklyn projects at its next meeting Aug. 20.
Landscape architect Joe Loretta seeks conceptual approval for a mixed-use development called The Hub Brooklyn, which would be at southwest Riverside Avenue and Forest Street.

The application shows it could include two food vendor buildings, outdoor courtyard seating, and a design studio with two rooftops for special events. 
While it does not specify the food vendor tenants, plans show they could be a coffee shop and street taco shop. 
"The HUB is a quaint gathering place composed of open courtyards and covered patios," a description of the project reads. "It's a place to meet friends for coffee and artisanal fare, a refuge from the office grind, a spot to refresh after walking the Emerald Trail, perhaps cocktails and al fresco before the evening's big event."
The site is 0.21 acres. The building is projected to be two floors and about 11,000 square feet. Superior Construction Company Southeast LLC owns the property.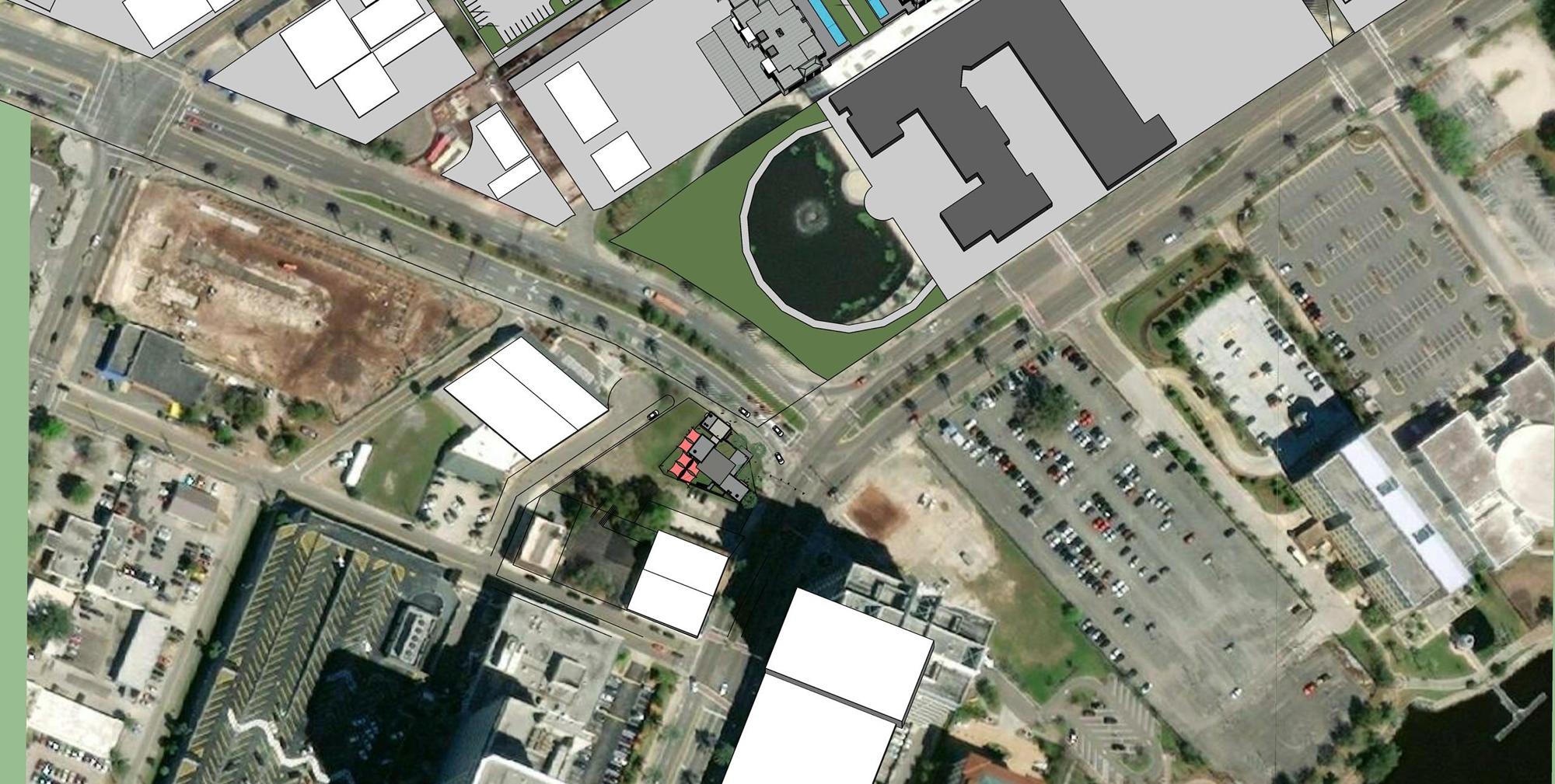 It would be across Forest Street from the 220 Riverside apartment complex, and the Vista apartments that are under construction. The site is next to the Forest Street parking garage, and across Riverside Avenue from the future Fidelity National Information Services Inc. headquarters. 
Plans show space for 201 seats. Of those, 163 are indoors or under cover. 
According to the project proposal submitted to DDRB, "The HUB proposes to make an architectural statement."
It would offer "a place for creativity and connection to the community."
Park Street road diet
Civil engineering firm Prosser Inc. requests final approval for the Park Street Road Diet project, which will redevelop the roadway between Forest Street and Stonewall Street. 
Park Street connects the LaVilla neighborhood to Brooklyn and to Riverside.

The proposed improvement includes lowering the speed limit, adding more bicycle and pedestrian accommodations and parking.
Prosser also proposes to reduce travel lanes from four to two, add shade trees, provide continuity to the Emerald Necklace Trail and provide parking for adjacent businesses, according to the DDRB application. 
The plan also would remove the traffic lights on Park Street between Pierce and Stonewall streets. 
"The Park Street redesign prioritizes the pedestrian and bicyclists over the car by focusing on reduced travel lanes, traffic calming, enhanced landscaping, prioritization on bicyclists and pedestrians, and designating pedestrian crossings," the application reads. 
The Downtown Investment Authority commissioned a study that identified that portion of Park Street as an area where improvements could "initiate a dynamic revitalization process."
Prosser is working with the DIA and the city to develop the street concept.