For decades there have been hopes of developing the stretch of Downtown waterfront from the Berkman Plaza II to Metropolitan Park.
Now, projects from Jacksonville Jaguars owner Shad Khan and other developers are in the pipeline, including apartments, a hotel, a naval warship, a new Museum of Science & History and a Four Seasons hotel.
Nearby, the Lot J development is moving forward. Here's a look at where those projects stand on the brink of 2021.
Berkman Plaza II site
The city has been reviewing a demolition permit application from a local development group for the unfinished riverfront high-rise.
Jacksonville Riverfront Revitalization LLC wants to raze the 18-story condominium shell and start fresh with plans to redevelop the property for mixed-use retail, a 300-unit residential component and public park space.
The development group is under contract to buy the Berkman Plaza II that has been partially built at 500 E. Bay St. for 12 years and twice condemned by the city in 2020. 
JRR Management Partners leads Jacksonville Riverfront Revitalization. The partnership is led by Brian Wheeler, owner of GGI Tapestry LLC and a former Genesis Group partner; Park Beeler, F3 Global Solutions managing member and a former executive at The Charter Co.; and Chris Young, president of Charlotte, North Carolina-based Biotech Restorations Holdings LLC.
Beeler said a separate group of investors will be announced when the sale closes. 
Jacksonville Riverfront Revitalization expected to close on the sale by November but the deal has not been completed.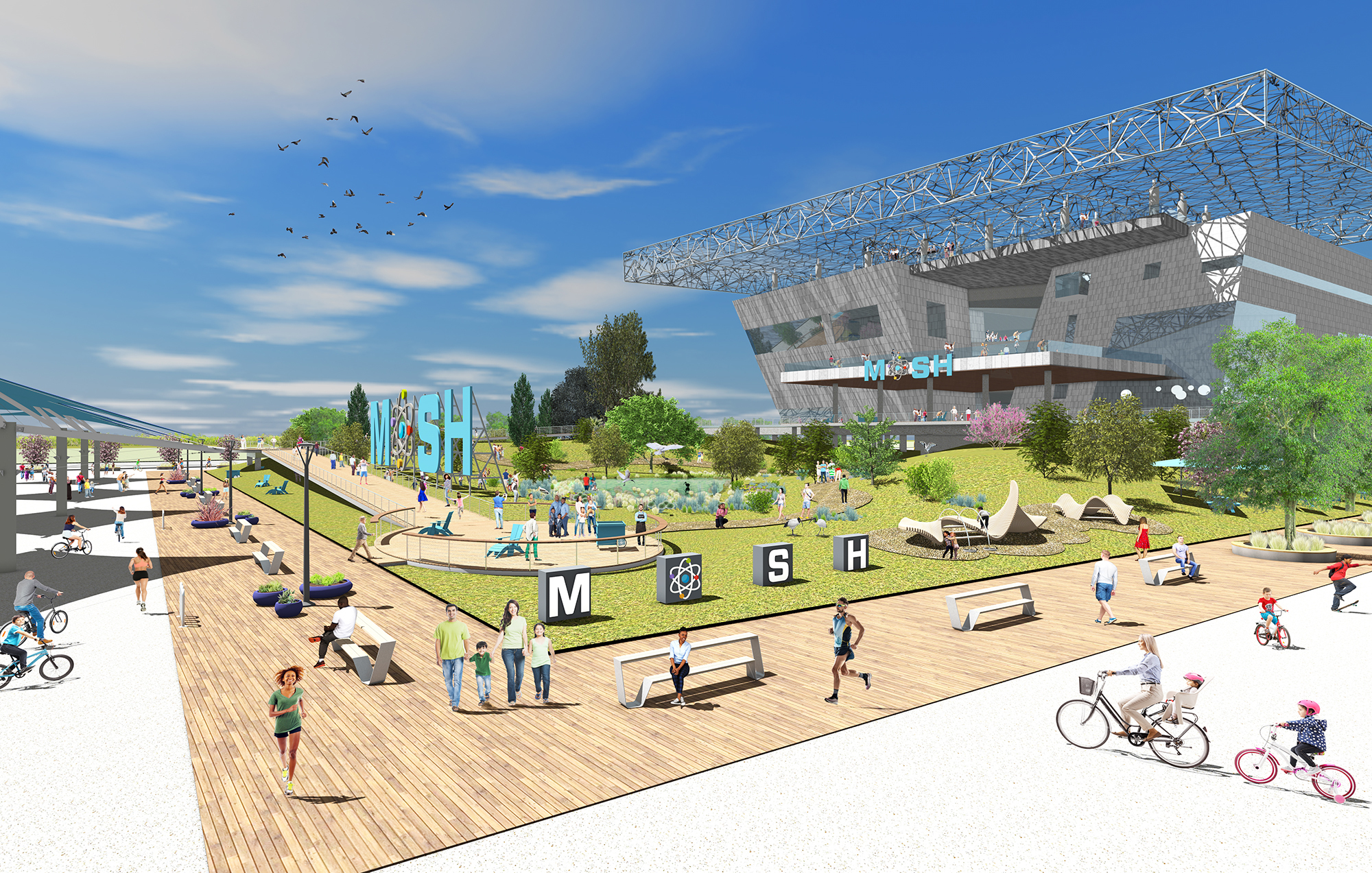 A new MOSH
Leaders at the Museum of Science & History announced a move to Downtown's Northbank to become part of an enhanced Sports and Entertainment District.
MOSH CEO Bruce Fafard said the museum is working to secure 4 acres for a proposed $80 million to $90 million facility at the Shipyards.
The museum's board of trustees rebranded its MOSH 2.0 capital campaign in November to MOSH Genesis to raise money for the new facility. 
The museum plans to integrate the St. Johns River into its interactive exhibits, exploring water quality resources and conservation. The proposed facility could host large-scale exhibits and makerspaces. Fafard has pitched a rooftop restaurant and connection to the Emerald Trail.
Jacksonville Jaguars owner Shad Khan pledged $5 million to the MOSH capital campaign. The NFL owner voiced his support for the project in November. 
Jaguars President Mark Lamping suggested MOSH could be an anchor for the proposed public park space at the Shipyards.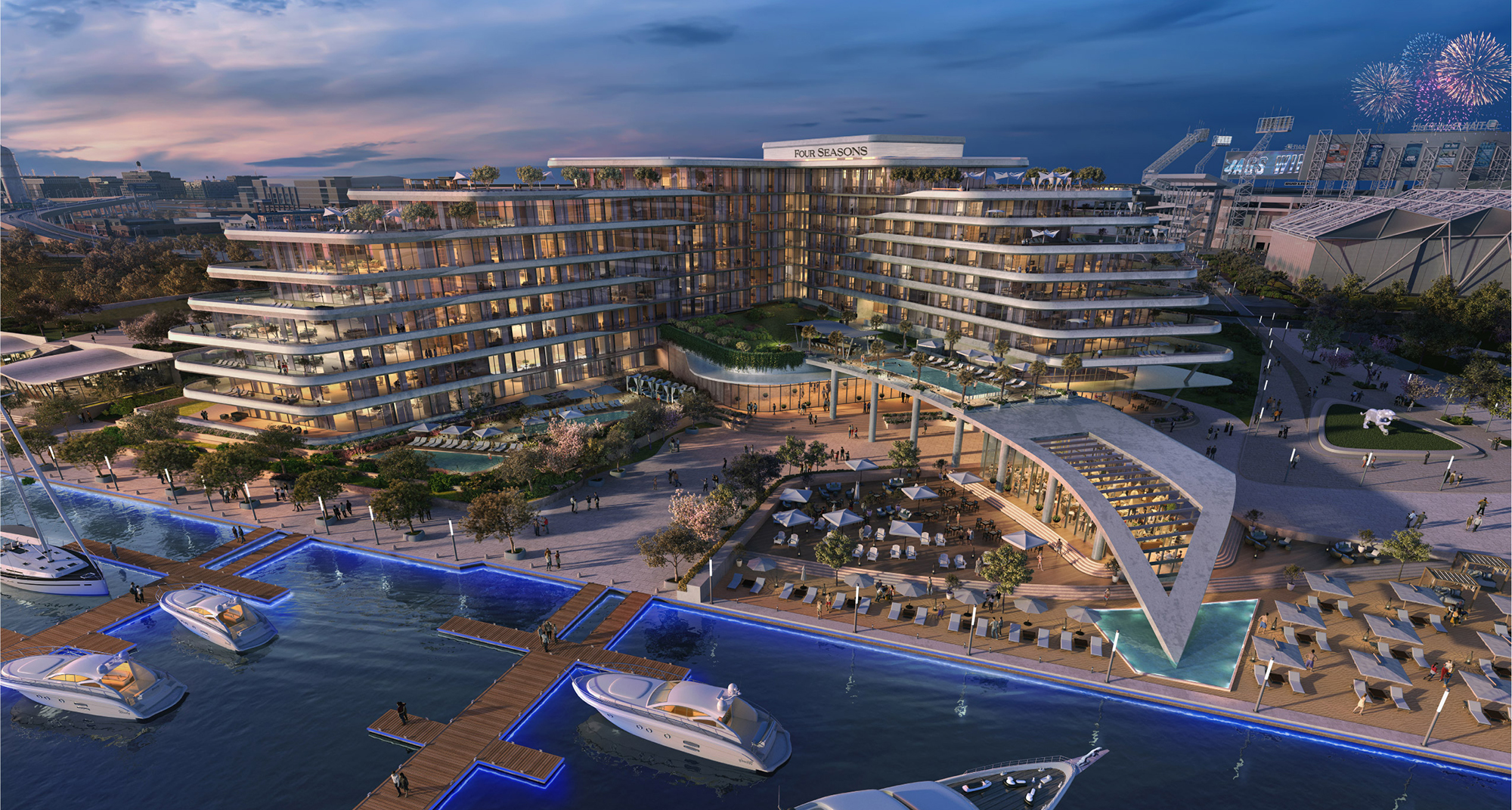 Four Seasons Hotel
A five-star, 171-room Four Seasons hotel could become the centerpiece for Jacksonville Jaguars owner Shad Khan's development projects around TIAA Bank Field.
The hotel site is shown on aerial plans at the current Metropolitan Park. 
Jaguars President Mark Lamping detailed a 116,000-square-foot hotel with another 91,500 square feet of for-sale residential space when he announced Khan's plans during a Downtown Investment Authority committee meeting Nov. 12.
Lamping said it will anchor more residential, commercial and medical space.
Khan will have to negotiate with the DIA for an estimated $151.2 million in cash, loans, tax rebates, site infrastructure work and land from the city.
Unlike Lot J, Khan and his development company, Iguana Investments Florida LLC, would be the sole developer of the Four Seasons project.
Khan also owns the Four Seasons Hotel Toronto.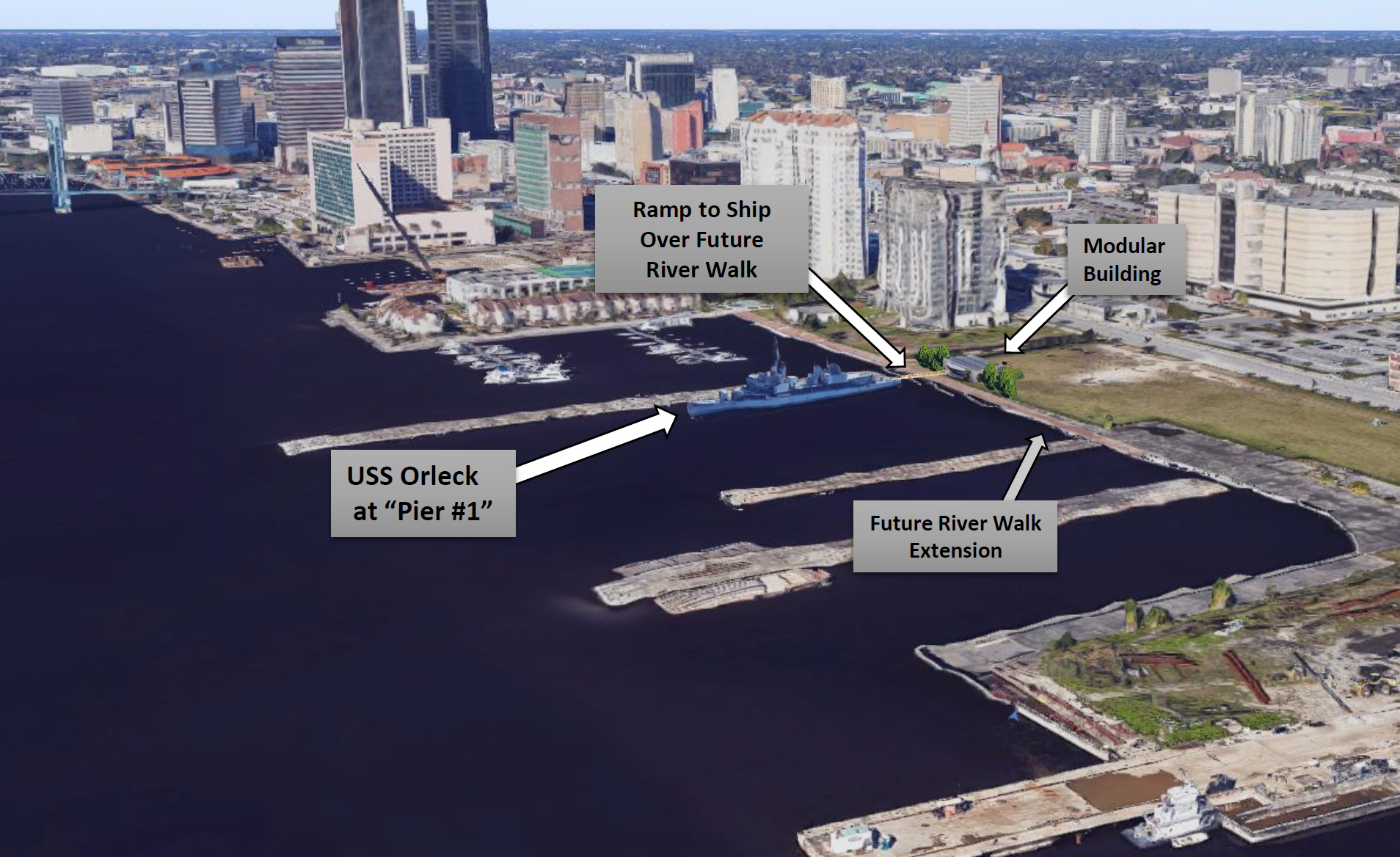 USS Orleck Museum
A public park at the Shipyards could include the USS Orleck DD-886 Naval Museum along the St. Johns River. 
The Jacksonville Historic Naval Ship Association is moving through city reviews to relocate the working museum from Lake Charles, Louisiana, to Pier 1 at the Downtown Shipyards.
The association expects to spend $2.65 million for operations and to move the ship. The Orleck needs to be towed to shipyards in Texas for inspection, hull maintenance and basic repairs before it can be moved to Jacksonville. 
The Naval Ship Association needs City Council approval for its licensing agreement.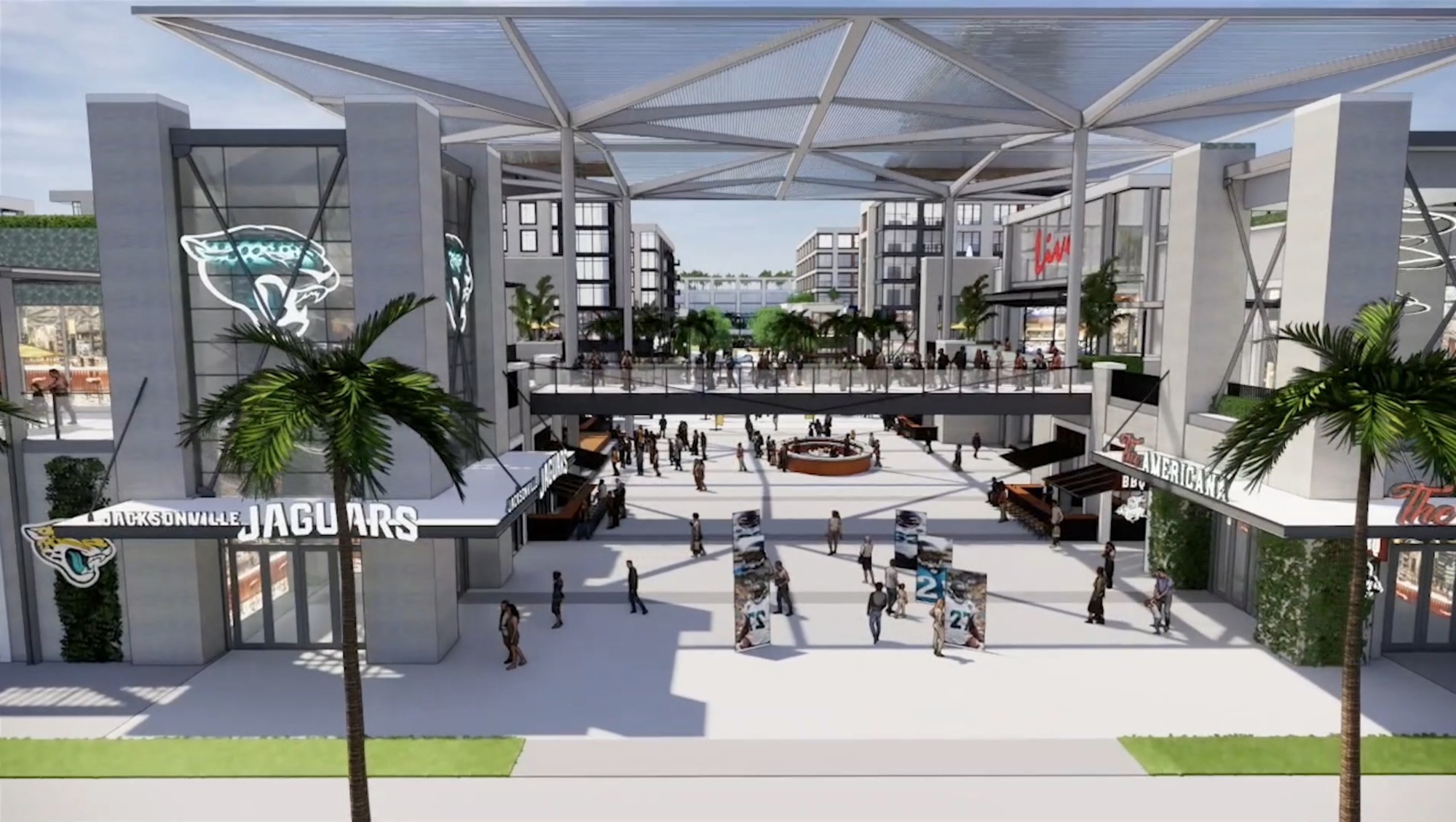 Lot J
The Jaguars and its Baltimore, Maryland-based development partner, The Cordish Companies, want the $450 million Lot J entertainment, residential, retail and restaurant project to be the catalyst for all other projects proposed in and around the Shipyards. 
City Council is expected to take a final vote Jan. 12 on a $245.3 million taxpayer-backed incentive package for the development, a deal shown in a University of North Florida poll to be unpopular with the public.
Lot J would bring a city-owned 100,000-square-foot Live! Arena with bars and restaurants and an additional 75,000 square feet of retail space to the parking lot west of TIAA Bank Field. 
Plans for Lot J include two 200-unit mid-rise apartment properties and a 150- to 250-room hotel.
 The Jaguars and Cordish said it could take up to three years for environmental remediation at the site and they expect the full project to take seven years to complete.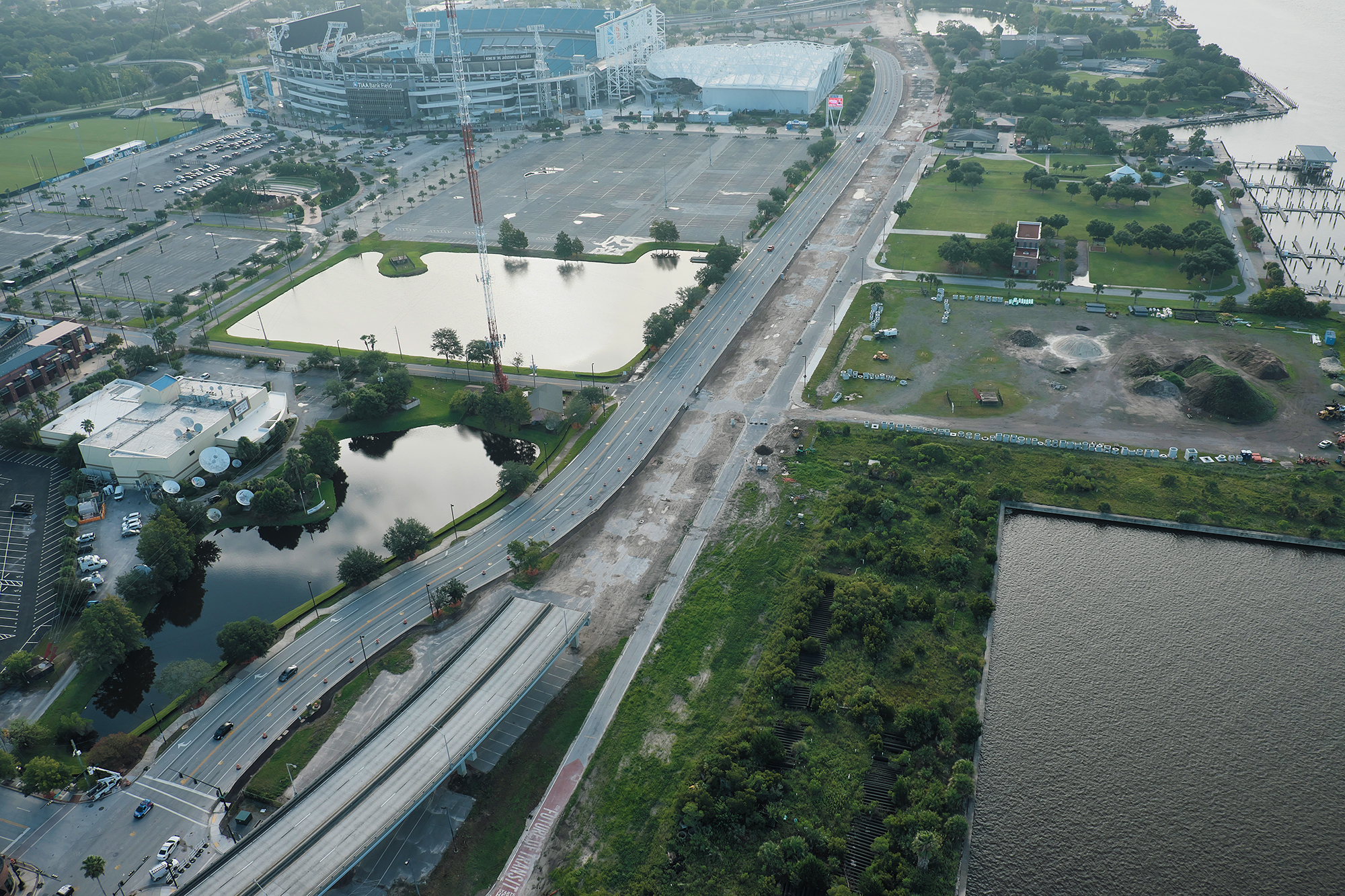 Metropolitan Park
Shad Khan's plan for a Four Seasons hotel-anchored development and a MOSH relocation to the Shipyards hinge on the future of Metropolitan Park.
The Downtown Investment Authority and city attorneys are asking the National Park Service to consider swapping Metropolitan Park for a portion of the city-owned Shipyards property.
The riverfront park is supposed to be maintained in perpetuity or given a comparable replacement to satisfy the requirements of a 1981 grant agreement that prohibits the city from selling the 24.7-acre public space.
The swap is worked into the public park space in Khan's riverfront development plans released by his company, Iguana Investments Florida LLC, but the 20.4-acre footprint is smaller than today's Metropolitan Park.
In addition to the Four Seasons hotel and residences, Khan envisions redeveloping the park with a 52,000-square-foot orthopedic medical facility, two 200-unit park-side residences, 200,000 to 250,000 square feet of commercial office space and two parking garage structures.