Ginny Myrick was president of her government relations firm when a priest at St. John's Cathedral, where Myrick has been a member for 35 years, asked for help.
Dean Kate Moorehead came to Myrick to discuss how they could revitalize the Cathedral District, the Downtown Jacksonville neighborhood in which their historic church, along with four others, is located. 
For five years, Myrick, Moorehead and several others, including an architect and city planner, met to discuss ways to turn the neighborhood around.
Those meetings culminated with a study by Urban Land Institute North Florida, which gave the group a road map for how to proceed. 
One of the suggestions was to form a nonprofit, and hire someone to run it.
Myrick became that person in January 2018 and is entering her third year as president and CEO of Cathedral District-Jax Inc.
"I ultimately left my firm, closed it down and started working on this because the dean said to me 'this is your calling,'" Myrick said. "When your priest says to you, 'this is your calling,' you really pay attention to it."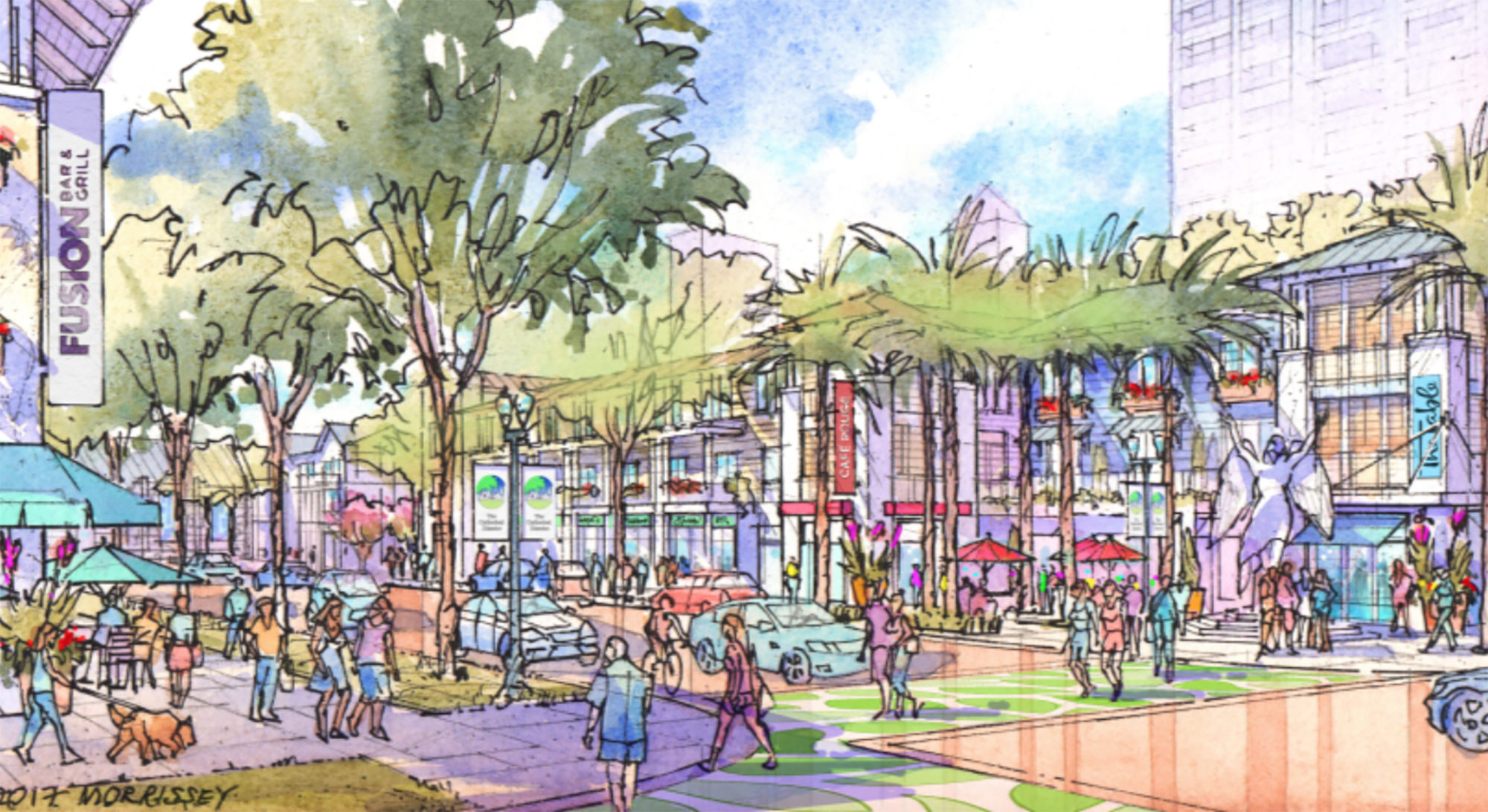 Since she started in 2018, about $41 million has been invested into the 36-block district bounded by Main, Adams and State streets and the Commodore Point Expressway.
There are 303 apartments planned or under construction, and 60 trees will be planted in the first quarter of 2020.
Vestcor purchased 1.52 acres in the district for $1.4 million in September to develop workforce housing. Myrick called that a "catalytic project," the kind ULI said would be needed to develop the neighborhood. 
Myrick said she's looking for the next catalytic project.
She wants to see a nonprofit, K-8 charter school in the area, and she's working on finding one.
She said the board of directors also is working on a public art project that would designate the entry points for the neighborhood. 
Her main focus is creating more housing. 
Myrick said she thinks it's possible to turn the district back into a "vibrant neighborhood again."
She's hopeful that with Shad Khan's Lot J project, along with efforts to bring more people into Downtown Jacksonville, that can happen. 
"Back in the 1900s, it was a residential neighborhood for people who worked Downtown," she said. "That's our goal, to make it that way again, but there's no product. No houses for people to live in. If we put the product out there, we think the people who work Downtown will want to live there."
In December, Cathedral District-Jax hosted its first event: Christmas in the Cathedral District.
 All five of the neighborhood's historic churches opened their doors to visitors, vendors sold food, drinks and crafts, and choirs performed Christmas songs.
Myrick said about 1,000 people attended and 400 volunteered for the event. 
"What really happened for the very first time was all five churches met regularly in concert with each other to produce that event," she said. "So they are invested in the district. They know what's happening, they know this a good thing for their neighborhood."
Myrick said the nonprofit would put on the event annually after seeing its success.
She's also received requests from someone who wants to host a farmers market in the district, as well as a plant market.
In the spring, Myrick said a bicycle race may be held in the Cathedral District.
But putting on events along with running a nonprofit can be difficult, she said.
Myrick plans on adding a third full-time staff member in the next few weeks, an administrative assistant to help with the workload. 
In her time in Jacksonville, Myrick has been a  City Council member, event planner, and in government relations and public policy. All that experience, she said, has prepared her for her position with the Cathedral District.
"It's quite amazing when you think about it, how it all came together at this juncture right now to do this particular project with the Cathedral District," she said.