Elevation Development LLC, an Orlando-based real estate acquisition and development firm, is proposing Premium Pointe, a mixed-use development along Florida 16 west of Interstate 95 in St. Johns County.
Premium Pointe is planned for up to 190,000 square feet of nonresidential commercial uses, 240 hotel rooms, 320 apartments and 430 townhomes to be built over 10 years.
Whittington Law PLLC is the agent and Kimley-Horn and Associates Inc. is the civil engineer.
Elevation Development is seeking to modify the 1996 mixed-use Anderson Park planned unit development west of I-95 and the shopping mall for the project.
The site is south of Florida 16, across from the St. Augustine Premium Outlets. It is north of County Road 208, west of Toms Road and east of the Grey Hawk and Whisper Ridge Preserve subdivisions.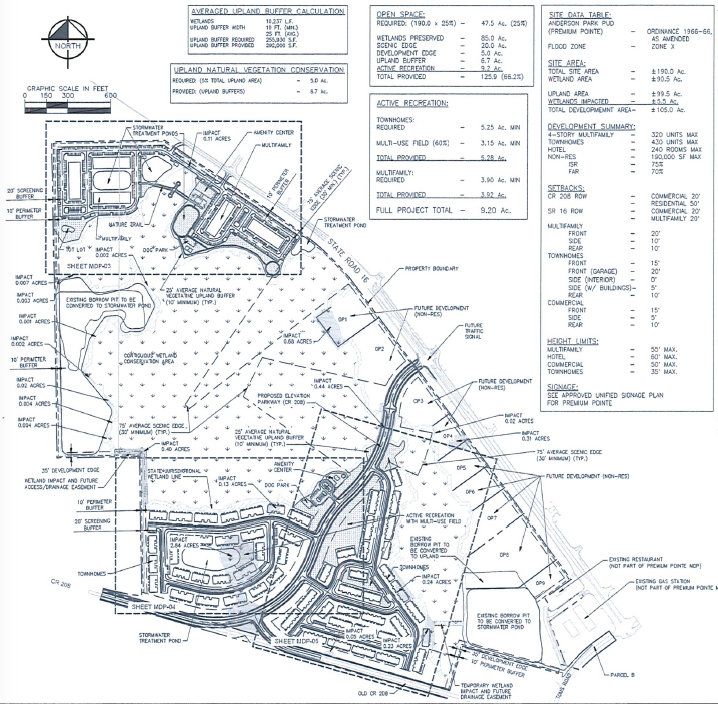 Elevation Development submitted an application to the St. Johns County Growth Management Services to modify the PUD, last changed in 2018.
The expired 197-acre Anderson Park PUD for the property allowed 670,000 square feet of industrial warehouse on 68 acres; 317,000 square feet of retail on 32.7 acres; 30,000 square feet of office on 3 acres; and 120 multifamily residential units on 10 acres.
The Elevation Development application proposes to reinstate the expired PUD and addresses for the remaining undeveloped 190 acres, which include 90.5 acres of proposed wetland preserve.
Like the previous plan, the applicant proposes to realign County Road 208 through the property to Florida 16 to reduce traffic congestion at the existing Florida 16 and County Road 208 intersection, west of the I-95 interchange.
Of the original PUD, 7 acres have been developed or are being developed for a Waffle House restaurant, a RaceTrac gas and convenience store, a 72-room Candlewood Suites and a 60-room Sleep Inn.