Winner, $2 million to $15 million | 2019 Revenue: $2.3 million
In his early thirties, Jason McDonald was working 80 hours a week as a lighting consultant when he was diagnosed with a stomach ulcer.
He had high cholesterol and was "a heart attack waiting to happen," he said. 
"That's when the doctor gave me the wake-up call and said 'Jason, if you don't change, you're going to die.'"
He had two choices: take medication for the rest of his life or change to a healthier lifestyle.
McDonald chose the latter, and with the help of his wife, Hillary, started eating healthier. 
When they realized the spices they were using to flavor their new, healthy meals were filled with MSG and preservatives, they started making their own by mixing organic blends.
The two realized their spice blends could be a business opportunity. McDonald cashed out his retirement fund, life insurance policy, the equity on his home and maxed out his credit cards to start FreshJax Cafe and Yoga Studio.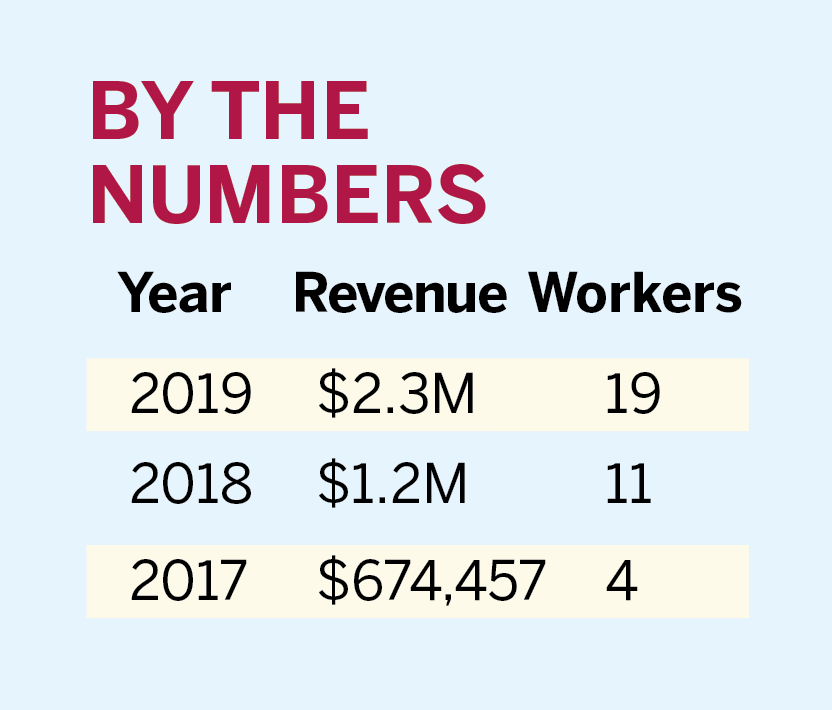 "I've been an entrepreneur, or at least had the spirit, my entire life," he said. "So I went out on a limb and put everything we had into this business, and finally it's starting to pay off."
McDonald initially launched a yoga studio and cafe, in addition to selling their spices, in a space at 11526 Lake Mead Ave., where the business still is located.
McDonald quickly learned the yoga-cafe concept was not suited to Jacksonville and faced bankruptcy.
Jim Stallings, owner of PS27 Ventures, invested in FreshJax in 2016 after convincing McDonald to change his business model.
Just like the doctor alerted him to change his lifestyle, Stallings gave him the wake-up call to focus on selling spices online.
McDonald closed the studio and cafe, sold the kitchen equipment and laid off 50 employees to focus on the one part of the business that was thriving, which was sales of the spice blends. 
"It was tough," he said. "A lot of tears were shed, but ultimately it was the smartest thing I ever did."
Stallings urged him to drop the brick-and-mortar sales. At the time, more people were making purchases online.  
McDonald found that using websites like Amazon to fulfill and market the product would allow the company to increase sales.  
"If you invested in a restaurant, chairs and aprons and knives and forks and a staff, you want people to show up," Stallings said. "It's hard for you to walk away from something like that and say it's a bad idea. But they did, and it's worked out wonderfully for them."
Three years later, McDonald's FreshJax spice company is outgrowing the 3,000-square-foot space on Lake Mead Avenue, at southeast Interstate 295 and Gate Parkway.
He wants to buy a 12,000- to 18,000-square-foot space for its headquarters and distribution center. 
With COVID-19 closures, McDonald said demand for his products grew as more people began to cook at home, but he saw some supply chain issues.
"We were very blessed to come out of this with our head above water," he said. 
McDonald, 43, said that this year, his company is on track to break $6 million in revenue. 
Starting out, the company had a handful of customers in its first year, bringing in $10,000. That grew to $40,000 the next year and $120,000 the following year because customers returned and referred others.
He said the brand is a big reason customers keep coming back to FreshJax. 
"All of that is because we have a product that is amazing and a brand that really stands for something," he said. "I feel like we've got a really good grasp of the marketplace, of our business, of our customers – especially what our customers want."
McDonald also started an initiative to donate meals to families in need through an organization called Hunger Fight. 
McDonald and Hillary, FreshJax co-founder, have a daughter, 3, and a son, 3 months old.
"My priorities are firmly set," he said. "No. 1, God; No. 2, family; No. 3, FreshJax," he said. "I do what I do to be able to provide for my family, also to donate and give back. We're here on this earth for a short time, and I want to make a world of change."