Finalist, $2 million to $15 million | 2019 Revenue: $5.2 million
Here's how to succeed in business with really trying.
Staffing saleswoman Krista Smith learned from a prospect's receptionist that he typically arrived at 5 a.m. and preferred a specific flavor of morning beverage.
"So here's Krista with two cups of Irish cream coffee from this gas station that he likes at 4:45," Smith said.
"'Good morning, can we talk?'"
Smith landed the contract, and continues to credit her clients for teaching her "essentially how to do my job."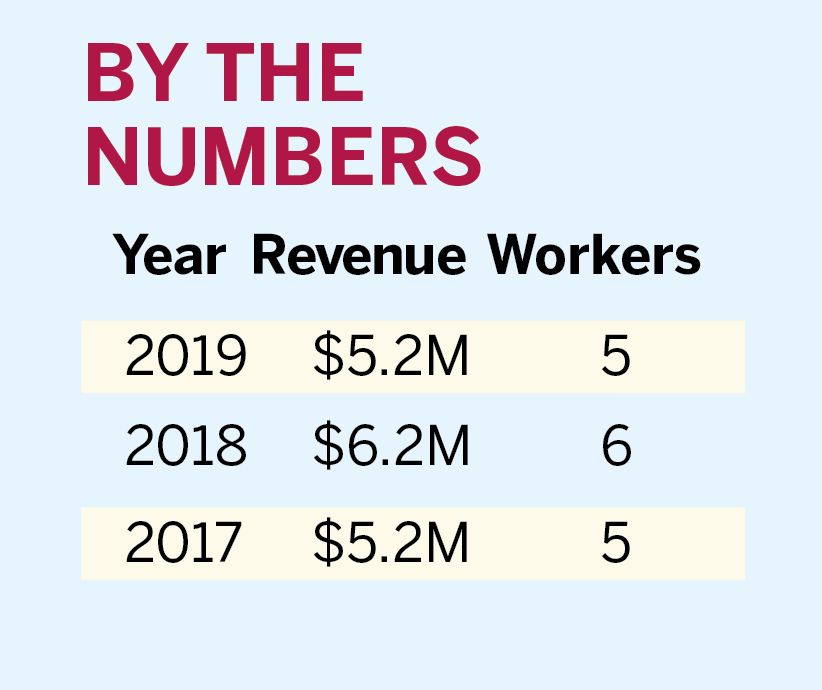 That attitude led her to start Optimum Personnel Services on  April 1, 2013, and build it to 2019 revenue of $5.2 million.
Smith, 46, places people in jobs in at least 15 industries and has served more than 150 clients in four states. 
"What keeps me waking up swinging every morning is being there to help people," she said at her 5800 Beach Blvd. office.
Optimum sends out an average of 3,000 W-2 forms a year, with 2,200 in Jacksonville and the rest in Georgia. She opened a St. Louis office this year.
She had no formal staffing training. At that previous job, she grabbed a box of business cards, knocked on doors, prospected in the rain and heat, broke shoe heels, "whatever it took, 80 hours a week. 'Do you need anything? Do you need people?'"
Staffing company president wasn't a career dream growing up. She refers to her "childhood" in quotation marks.
Smith said her parents in Chicago came from opposite sides of the track – one the wealthy side, the other not. She and a sister landed in foster care, which Smith left at 15 for her first apartment.
She married at 17 and had her first child at 18.
Smith relocated to Jacksonville 13 years ago to direct 25 regional locations for a photography studio company before she worked that first staffing job. 
She understands the need for a paycheck.
"I know very much what it's like to struggle. I do know when you put your bills in a hat and you had to pick one."
She wanted to provide a pathway for her children to succeed. "And that's what drives me."
Smith has a son, 26, who works with her along with his fiancee, and two daughters ages 28 and 19. She divorced before moving to Florida, arriving as a single mother.
Smith appreciates her ability to motivate people. "When you talk to them about their strengths and what they can do and see the potential in them that they don't even realize, they just want to do nothing more than live up to it or exceed it."
Leading by example, kindness, compassion and empathy, "that's the key for me."
The COVID-19 pandemic drove up unemployment and her concerns. Her sales dropped in alignment with her clients' industries. "I have unrelenting faith that we will rebound."
She wants to increase her staff of six to help with her promotion for no-cost staffing for two weeks to help companies reopen.
Smith said her "true calling" is Mercy Way Alliance Inc., a nonprofit she created in May 2019 to "serve the disadvantaged, previously incarcerated and people struggling with addiction issues by providing mentoring, housing, and support services." Its website is mercyway.org.
She wants to set up the nonprofit's facilities on property she owns in Northwest Jacksonville and lease in the meantime.
"She appears to have a real passion," said City Council member Brenda Priestly Jackson. "I like what she's proposing."
Smith's purpose: "If I can help someone else, give them a hand up, then I'm absolutely going to do it."