West Shore LLC, a Boston-based private equity fund multifamily investment group, paid $52.62 million for the 249-unit waterfront Isla Antigua apartments on Anastasia Island.
West Shore, through West Shore Antigua LLC, bought the 16.03-acre community June 18 at 655 W. Marina Cove Drive, which is at Florida 312 and the Mickler-O'Connell Bridge along the Matanzas River in St. Augustine.
The price was $211,325 per unit, which is more than twice the average $104,000 sales price per unit reported by Colliers International in its year-end 2019 Jacksonville multifamily market report.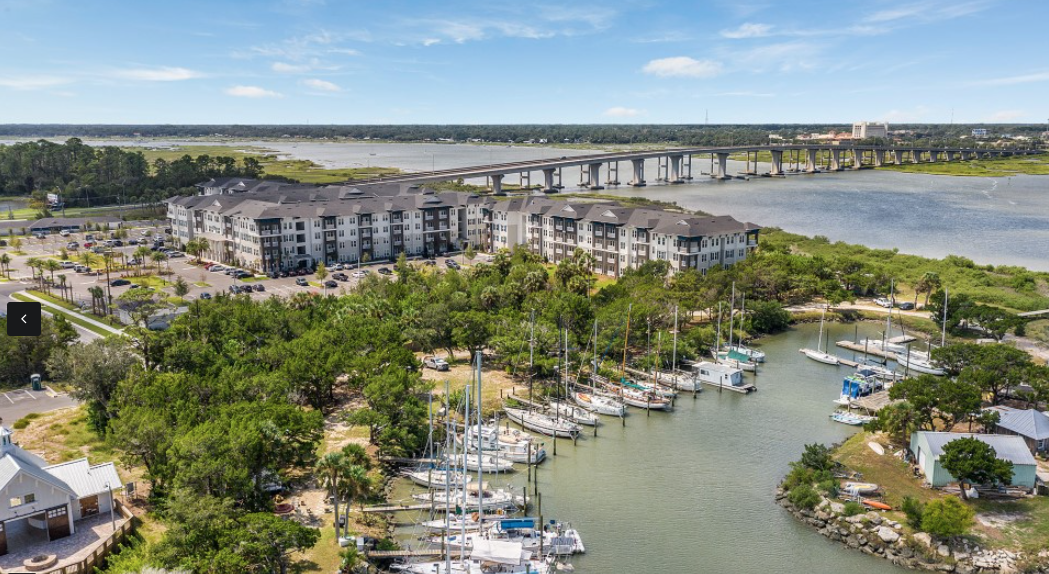 CRP/CDP St. Augustine Owner LLC, a shared ownership of Atlanta-based Catalyst Development Partners and Washington, D.C.-based The Carlyle Group, sold the property.
CRP/CDP St. Augustine bought the undeveloped property in October 2017 for $4.35 million and began resident move-ins during July 2019.
Catalyst Development is a multifamily developer focused mostly in the Southeastern U.S. with local projects including the Menlo at eTown and the SoBA apartments on the Southbank in Jacksonville. The Carlyle Group is a publicly traded global asset investment manager. 
Isla Antigua comprises one-, two- and three-bedroom units from 748 square feet to 1,387 square feet. Current monthly rental rates range from $1,235 to $2,015.
Property amenities include a clubhouse with a full kitchen, media lounge, co-working business center, conference rooms, entertainment lounge, bike storage, dry-cleaning service, parcel center, and a dog-grooming spa. 
The fitness club features a gym, rotating climbing wall, and yoga and spin rooms. 
Outdoor amenities include a swimming pool, cabanas, bark park, fire pits, a beach retreat, outdoor kitchen boardwalk, kayak launch and dock access to the Intracoastal Waterway.
West-shore.com says West Shore's investment strategy includes the acquisition of multifamily communities at below-market replacement costs in educational and medical employment centers with high population growth potential. Those locations are in demand by Gen X and millennial employees.