Despite the COVID-19 shutdown, court is in session in Duval County.
Circuit Judge David Gooding left his office at the courthouse the afternoon of March 13 and hasn't been back in the building since, but he's been convening court seven days a week.
Gooding is presiding over adoption hearings, first-appearance hearings for juveniles charged with criminal offenses and other proceedings in front of his computer at home.
He cites the leadership of Chief Judge Mark Mahon and the work of the entire courthouse staff, particularly the IT department, which is led by 4th Judicial Circuit Court Technology Director Mike Smith.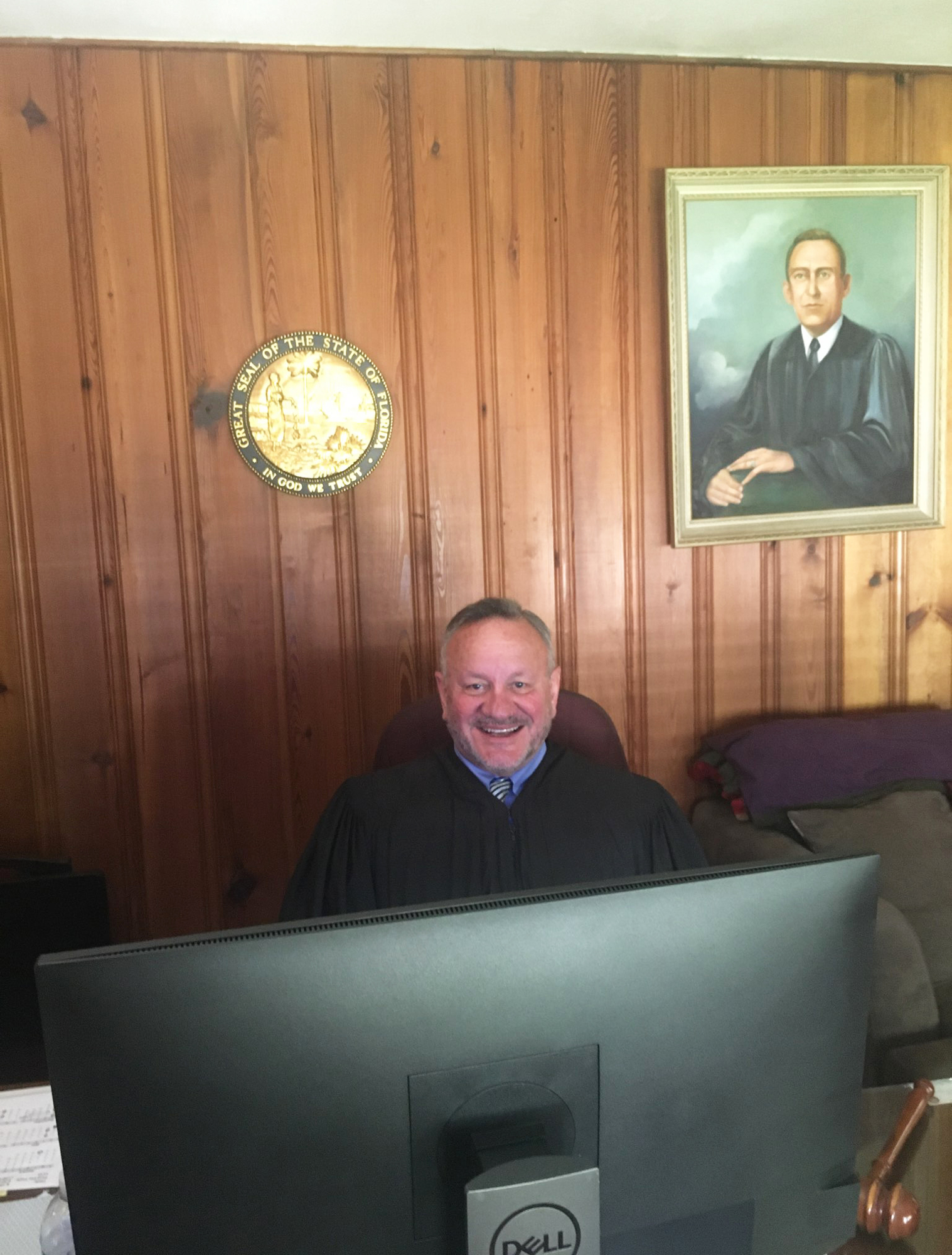 "I can't heap enough praise on Mike Smith and his team. They have done a wonderful job to keep the 4th Circuit running," Gooding said.
Each day, Gooding puts on his robe, fires up the desktop computer in his den and logs in to the remote court system. Behind him is the state seal and looking over his shoulder is a portrait of his late father, Circuit Judge Marion Gooding.
"I'm using one of my dad's gavels," Gooding said.
As of March 27, in the two weeks since Gooding left the courthouse, he issued orders that placed 31 foster children with their forever families.
The court coordinates with Family Support Services of North Florida, the lead agency for foster care and adoption in Duval and Nassau counties.
"Family Support Services has done a wonderful job keeping adoptions in process," Gooding said.
The remote system is allowing the court to maintain its usual level of service, but there is an element that's been lost.
"I miss being there in person. I love being around the kids," Gooding said.
He is conducting remote first-appearance hearings for juveniles taken into custody by the Jacksonville Sheriff's Office.
That means the accused youth can electronically appear before him while in custody at the juvenile detention center instead of having to be brought before a judge in the courtroom inside the pretrial detention facility.
To maintain the most stringent protocols to prevent transmission of COVID-19, "children don't need to be in the jail," Gooding said.
Despite the historic disruption of business as usual, Gooding said the remote system is making it possible for his court to maintain its level of service to the public.
"We haven't had to reschedule a single hearing due to the isolation orders and restricted access. We have met all of our obligations."