Chase Bank's logo could soon be part of the Downtown Jacksonville skyline atop The Barnett building at 112 W. Adams St.
Philadelphia Sign Co. of Palmyra, New Jersey, seeks a special sign exception with the Downtown Development Review Board for two signs that are larger than Downtown design code allows. 
Downtown Investment Authority staff recommends that DDRB members approve the design of two 449.6-square-foot signs, according to a DIA report.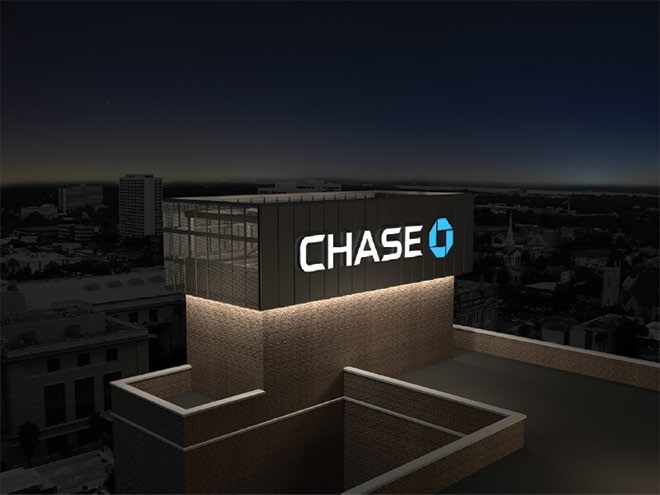 City code allows 400 square feet for wall signs of this type.
The signs will be on two sides of the tower visible from North Laura Street and Hogan Street, according to plans filed with the DDRB.
The DDRB will consider the Chase Bank sign exception at its 2 p.m. May 14 meeting.
Barnett Tower 2 LLC owns the 18-story high-rise, built in 1926. It comprises 107 apartments, called The Residences at Barnett; office use, including the University of North Florida Center for Entrepreneurship and Innovation; and other space.

The city issued a permit July 17 for Danis Construction LLC to build-out 5,402 square feet of space at a cost of almost $1.5 million for a Chase Bank branch.
Developer Steve Atkins confirmed July 18 that Chase will take The Barnett's bottom floor and put its signage on the top.
In April 2018, Atkins told the Meninak Club of Jacksonville that JPMorgan Chase & Co. will open its flagship Jacksonville location in the space.
Atkins is the SouthEast Development Group principal and managing director leading the $100 million Barnett and nearby Laura Street Trio renovation with The Molasky Group of Cos.