JEA Interim CEO Paul McElroy wants to keep demolition of the utility's existing Downtown high-rise on the table as the board works to scale down the size of its next headquarters.
On May 15, McElroy told a JEA board committee reviewing its next corporate office building that the utility's existing 19-story tower and campus at 21 W. Church St. could be put on the market during the 18-month construction of its new one.
"The buildings … are in significant need of almost demolition level reconstruction and reconfiguring," McElroy said. 
After assessing the real estate market, the CEO said JEA officials would determine if there's interest from a buyer to renovate the facility or if the board should set aside money for demolition and grading.
Built in 1962, renovating JEA's existing headquarters into a modern office space would cost $65 million to $78 million, CBRE Northeast Florida Project Management Lead C. Stewart Green told board members in a presentation May 15.
A smaller design
JEA board Vice Chair Bobby Stein and McElroy are working with the real estate firm and developer Ryan Companies U.S. Inc. to reduce the size and cost of the city-owned utility's next headquarters. Ryan is based in Minneapolis.
The existing campus, which is near City Hall, is 360,000 square feet in size.
JEA initially proposed a new eight-story, 196,900-square-foot tower that it would lease at 325 W. Adams St., near the Duval County Courthouse and State Attorney's Office. The Downtown Development Review Board approved the design in December.
The utility now proposes a smaller tower - six floors and 152,000 square feet. At McElroy's request, the smaller tower would preserve the building's proposed rooftop solar generation and LEED Gold certification, which indicates a high level of energy efficiency.
JEA also wants to lease a separate 40,000-square-foot "hardened" facility Downtown at an undetermined site. JEA officials said about 220 employees would work in that building, which would house power, water and wastewater system backups and customer communications capability designed to be resilient to hurricane-force winds and severe weather. JEA would find and own the "hardened" building while Ryan will pay to build the office tower and lease it to the utility. 
Green said the likely savings of the new plan is $10 million to $14 million. JEA also would save an estimated $19 million to $35 million by leaving its existing campus.
The 15-year lease is $160.5 million, but any changes the committee recommends would have to be approved by the full JEA board. The design changes also will need DDRB approval before construction can begin.
CBRE calculated the design changes would reduce JEA's gross rent costs by an estimated $27 million.
Doug Dieck, president of Ryan Companies Southeast Region, traveled to Jacksonville twice in the past two weeks to meet with McElroy and Stein to negotiate the changes. 
"What we started with Doug (Dieck) was a tough conversation. We have to step back and see what's best for JEA," Stein said.
The JEA board selected Ryan on April 2, 2019, to develop the headquarters. On June 25, City Council approved the sale of 1.5 acres on West Adams Street to Ryan for $2.6 million. Ryan executed the lease with the utility July 9. The company is required to begin construction by Dec. 31.
Ryan expects to close on the property purchase June 8, board documents state. City Assistant Director of Public Affairs James Croft said in March that the outside closing date would be April 30.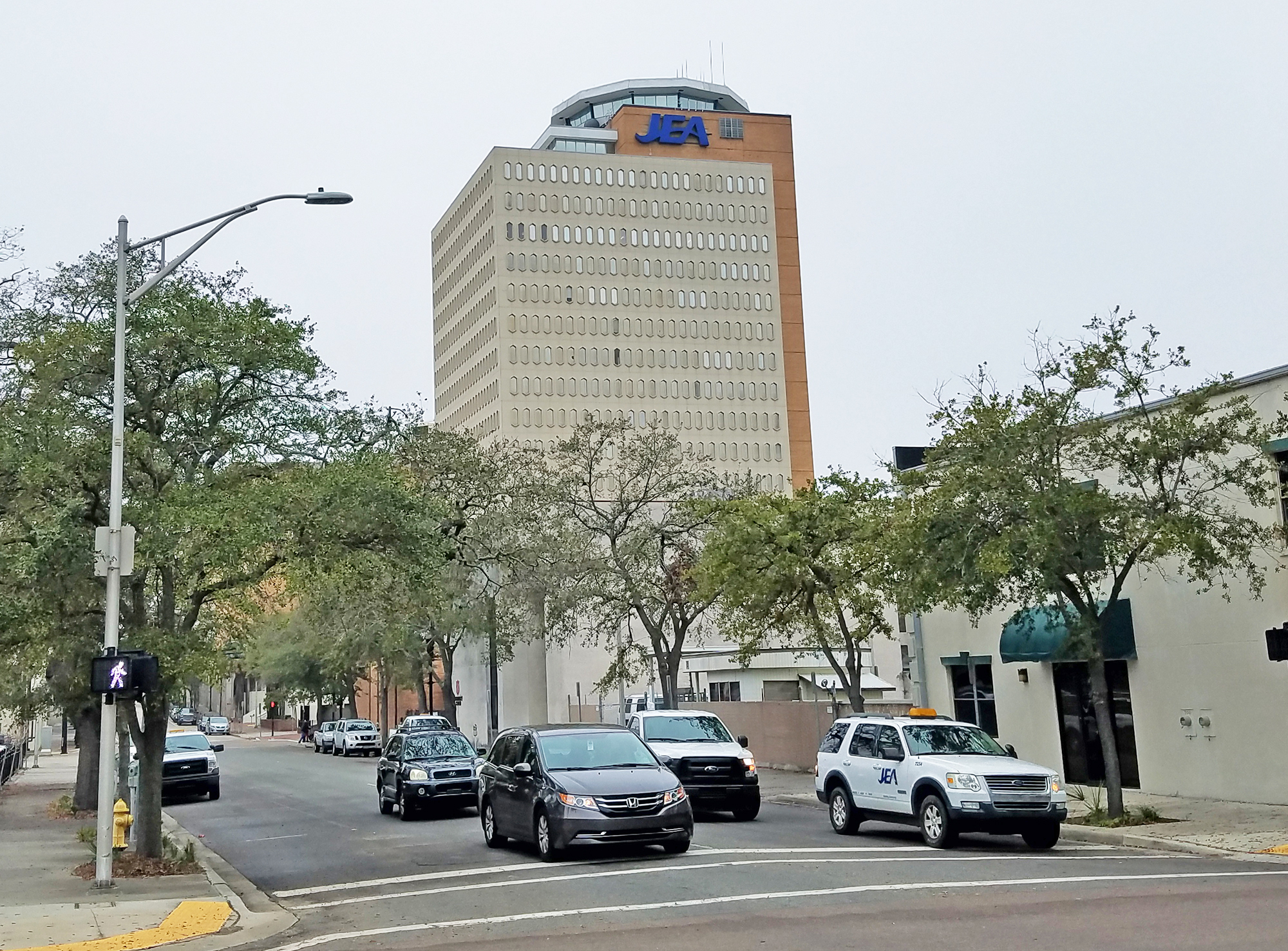 Parking, retail and COVID-19
The plan also decreases the number of proposed parking spaces in an adjacent garage from 841 to 742. The latest design calls for a seven to eight-level garage. 
Stein met with State Attorney Melissa Nelson, who asked JEA to reserve 100 parking spots for her office next door. He said assisting the state attorney with parking needs would cost about $1.5 million, but is about JEA "being a good neighbor." 
Nelson told Stein the State Attorney's Office could make payments on parking, but state policy prohibits her office from entering a long-term lease.
The parking agreement would determine if the headquarters parking garage is reduced by one or two floors. Board member Tom VanOsdol said he wants clarity before the final vote.
"I think we do need a real answer on the parking and the return on that investment," VanOsdol said. "But $1.5 million is real money. We want to be real neighbors but at $15,000 per spot, out of a fiduciary responsibility for JEA, there has to be an understanding of a real return on that." 
The new office layout is 170 square feet per employee, according to CBRE. Green said most new construction office projects his firm has worked on in the past two to three years range from 130 to 150 square feet per person.
Stein and VanOsdol said the space still should allow for proper social distancing in a post-coronavirus workplace. 
"So at 170 square feet (per person), it's probably on the upper limit of what the new build is," Stein said. "CBRE is staying on top of the virus and everything else without changing their thought process but it still gives adequate space per person." 
Board member Marty Lanahan said she wants the 7,170 square feet of retail space on the ground floor of the parking garage to be reevaluated because of concerns that tenant improvement costs would make finding third-party renters difficult.
Deadlines
Ryan Companies is coming up against a financing deadline with project creditor Wells Fargo & Co., so Stein said the board will have to finalize the amended lease terms with Ryan quickly.
Dieck said his company has to close on the loan by June 15. 
"We pushed them to extend that as far as they were comfortable," Dieck said. "There was definitely some negotiation in that date."
The JEA board plans to meet next week to consider the smaller headquarters. It has not set a date.